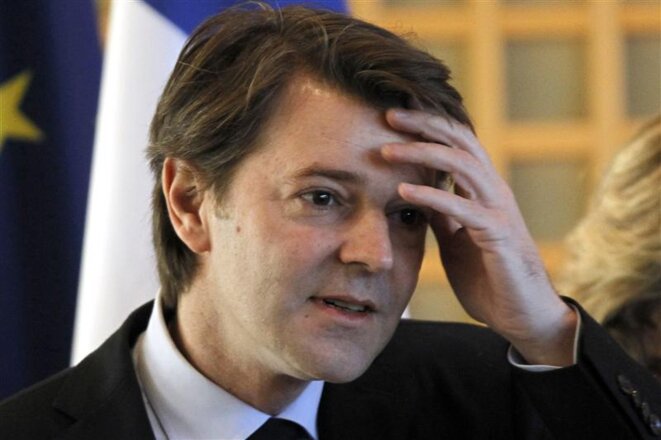 L'ancien ministre de l'économie François Baroin © Reuters
The NSA seems to be able to operate inside the French state and government at will. And naturally the ministry of finance itself is not immune to this spying. According to one document obtained, in 2012 the NSA used "non conventional" methods (in other words eavesdropping) to listen in as a senior official at the French treasury briefed then-economics minister François Baroin about banking reform. This was an item on the agenda for the forthcoming G7 and G20 meetings in April 2012.
A few weeks later the NSA was all ears again after the new socialist government under President François Hollande took power. The agency was keen to understand the new administration's intentions.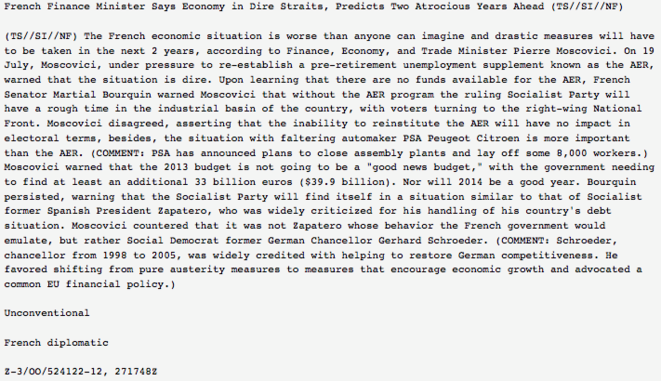 © Wikileaks
In July 2012 a classified cable (see above) provided a transcript of a conversation between finance minister Pierre Moscovici – now a European Commissioner – and the socialist senator Martial Bourquin. "The French economic situation is worse than anyone can imagine and drastic measures will have to be taken in the next 2 years, according to …. Pierre Moscovici," says the NSA summary.
"Moscovici warned that the 2013 budget is not going to be a 'good news budget,' with the government needing to find at least an additional 33 billion euros... Nor will 2014 be a good year. Bourquin persisted, warning that the Socialist Party will find itself on a situation similar to that of Socialist former Spanish President [editor's note, in fact prime minister] Zapatero, who was widely criticised for his handling of his country's debt situation. Moscovici countered that it was not Zapatero whose behaviour the French government would emulate but rather Social Democrat former German Chancellor Gerhard Schroeder," continues the NSA report.
Spying on such conversations will inevitably raise questions not just about the legality and ethics of the eavesdropping, but the value of listening in on conversations that simply echoes debates that can be found in the press. When Martial Bourquin was informed of the fact that his conversation with Moscovici had been eavesdropped he was completely taken back. "It can't be true! It's astounding! I am outraged, flabbergasted, staggered," he said. "It's absolutely scandalous. Under the rule of law how is it imaginable that a conversation between two politicians should be listened to in this way by the NSA! That you might listen to people preparing attacks, that I understand, but strictly political and personally discussions, it's unthinkable!"
Bourquin remembers that conversation with Pierre Moscovici well. "I was negotiating hard and had finally succeeding in reinstating the AER [editor's note, for allocation équivalente retraite, a payment for people who had not reached retirement age but who had paid all their years of pension contributions] in the Senate, against the advice of the budget minister Jérôme Cahuzac." The senator also recalls bringing up the name of Spanish premier José Luis Zapatero, who was accused of having broken his campaign promises in Spain. "I wanted to make it clear that we couldn't let our electorate down," said Bourquin, who is now considering whether to make a formal legal complaint about the phone-tapping.
Pierre Moscovici, too, reacted with dismay to the news that he had been eavesdropped. "These types of procedures between partners and allies are inappropriate. Conversations, whatever their nature, should not be spied on. If I have been subject to phone taps then I will demand a detailed explanation from the US intelligence services. For it that were the case I would be very shocked by it." Former minister François Baroin did not respond to Mediapart's questions.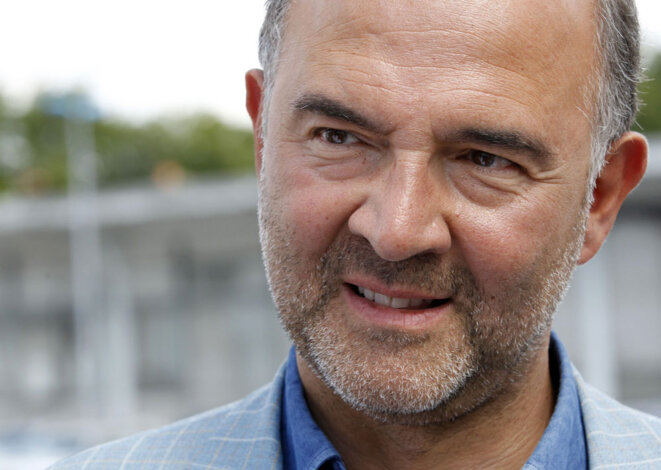 Le commissaire européen et ex-ministre de l'économie français, Pierre Moscovici. © Reuters
All top civil servants, all those who could provide the smallest piece of economic information, are tracked. For example, one note reports a conversation involving Renaud Lassus, the head of investment and trade policies at the French treasury, about Doha Development Agenda negotiations on world trade. The conversation was of no great importance, not least because the cycle of talks failed. The civil servant simply complains that President Sarkozy's view that there would be no Doha accord sat uneasily with the fact that France held the revolving presidency of the European Union, and thus Paris had to reflect a common European view. "The choice for France then becomes one of either capitulating or provoking a crisis within the EU. Paris is totally unprepared to deal with this scenario, Lassus confirmed," says the "Top Secret" document entitled "Sarkozy Remarks on WTO Deemed Injurious to France".
The existence of such documents simply confirms the extent to which the NSA has its fingers into everything and everyone, and is out of control. When contacted by Mediapart Renaud Lassus declined to make any comment.
In reading these secret notes, the stories of how various French companies have lost major commercial contracts over the years take on a different meaning. In particular it raises questions over contracts dealing with telecommunications equipment and gas and coal power stations, deals which have sometimes abruptly collapsed. No companies are named in these WikiLeaks documents so it is impossible to make a direct, objective link between the loss of markets and the American eavesdropping. But the question now arises: were these contracts not sufficiently competitive? Were their technologies sufficiently competitive? Or is it that the Americans torpedoed French commercial proposals?