On Wednesday November 30th a court in Paris finally put an end to twelve days of unprecedented censorship against Mediapart, which received a gagging order preventing publication of a new investigation into the questionable political practices of Gaël Perdriau, the mayor of Saint-Étienne in south-east France.
In her order, officially called a 'retraction', the vice-president of the Paris court Violette Baty – the same judge who had on November 18th granted the ex parte order against Mediapart – stated that in reaching her original decision she had been misinformed by lawyer Christophe Ingrain, who had applied for the injunction on behalf of his client Gaël Perdriau. In an ex parte application only the applicants are present.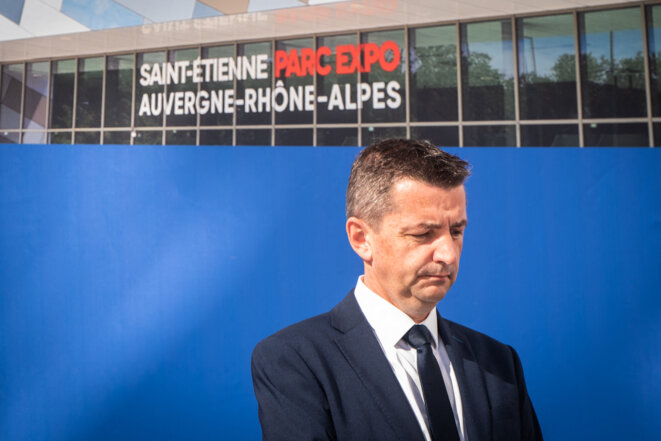 Gaël Perdriau, mayor of Saint-Étienne and president of the Saint-Étienne metropolitan district, September 24th 2021. © Vero Martin / Hans Lucas via AFP
In this new ruling the judge refers to the "withholding of information" and a "lack of information" which meant that at the time of the initial application she was not aware of all the necessary facts to justify this gagging order, an act of censorship which is unprecedented since the introduction of France's freedom of the press law of July 29th 1881.
The judge was referring to the fact that during Christophe Ingrain's ex parte application for the gagging order, in which he cited a potential breach of the mayor's privacy, the lawyer hid the fact that at that very moment his client was in the process of responding to questions from Mediapart.
Furthermore, the judge noted that our new revelations (read here in French) were heavily based on secret recordings, from which other extracts had already been used in earlier articles last September, at which time Gaël Perdriau had not sought legal redress.
"These various elements … do not show the existence of sufficient circumstances so as to justify overriding the principle of a contested hearing," writes the judge in her ruling, which orders Gaël Perdriau to pay 9,000 euros to Mediapart.
In her ruling Judge Baty acknowledged that while the procedural approach pursued by Gaël Perdriau and his lawyer to censor Mediapart was not forbidden in law, it could constitute "excessive legal punishment" in relation to the press. There was a risk that it could be misused with the aim of "introducing prior control over all publications, ending up in this case with preventive censorship".
When approached, Gaël Perdriau's lawyer Christophe Ingrain declined to comment on the ruling.
Since the publication of Mediapart's latest revelations today, the rightwing president of the Auvergne-Rhône-Alpes region, Laurent Wauquiez, the latest target of Gaël Perdriau's methods, has confirmed that he is making a formal complaint against the mayor of Saint-Étienne.
In the initial investigations, Mediapart revealed a video 'sex tape' blackmail scandal that targeted Saint-Étienne's principal deputy mayor, Gilles Artigues, a potential centre-right political rival of Perdriau's, who was unknowingly filmed with a male escort.
Related articles
Several Parliamentarians have meanwhile said that they support a demand by the centrist senator Nathalie Goule to change the law to ensure that the upfront censorship of which Mediapart was a victim can no longer be used against the press.
During the hearing on November 25th that formed Mediapart's legal challenge to Judge Baty's initial ruling, publishing editor Edwy Plenel spoke of what was at stake in the outcome. "[It] doesn't just concern Mediapart, as shown by the unprecedented, unanimous and collective involvement of our profession, of journalist unions, of media directors, of media rights lawyers, of organisations that defend fundamental freedoms."
Indeed, following the granting of the injunction some 37 journalist branches from different editorial teams and 17 organisations that defend press freedom strongly criticised what is widely seen as an historic attack on the freedom of information.
"Never before in the memory of journalists and lawyers, except during periods when democracy has been eclipsed, have we seen such a legal decision of this kind; the prior censorship of a story, carried out as a matter of urgency and by surprise, without any contested hearing and based on lies," Edwy Plenel told Judge Violette Baty.
Mediapart's lawyer Emmanuel Tordjman spoke of the "historic seriousness" of the situation. "Censorship has been abolished since 1881," he told the court, referring to the law on the freedom of the press from that year. Yet despite this fundamental legislation, which was supposed to do away with the idea of prior censorship, this was precisely what had happened in this case, the lawyer said. Emmanuel Tordjman spoke of the "devastating effects" of the initial gagging order issued by the judge, and said that if this decision was upheld and followed by other courts then there was a risk that there would simply be "no more freedom of information in France".
-------------------------------------------------------
The original article in French can be found here.
English version and additional reporting by Michael Streeter