"It's not just the fall of the House of Hollande that we are witnessing but the last days of the Fifth Republic," wrote our colleague Christian Salmon. That was in an article written back in May 2014. Here at Mediapart we have continually chronicled the slow death throes of our political apparatus, the destructive excesses of a presidential system that has no counter-powers, the perversity of institutions that leads to political irresponsibility by our leaders of both Right and Left, thus leaving space in which the extreme right can operate.
The resignation of economy minister Emmanuel Macron on Tuesday August 30th has just hastened those death throes. His departure came as no surprise, as for months he has been seeking to show that he is different, striving to break the political taboos, both large and small, of the traditional Left which he likes to describe as a "dead star". Macron himself told Mediapart as early as 2013: "Traditional left-wing ideology doesn't allow for thinking about reality as it is." Now, two years after he was appointed as economy minister, a little over four years after his arrival at the Elysée as the president's deputy chief of staff, the now former minister thinks he has done the rounds of those who have made and promoted him, chief among them President François Hollande.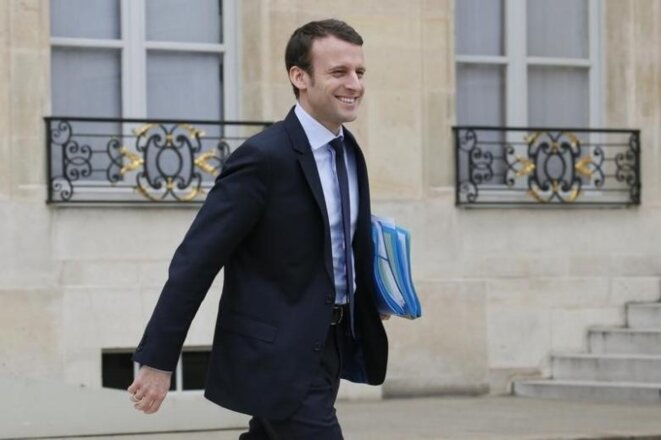 Hollande protégé turned potential election rival: Emmanuel Macron, pictured here in March 2016. © Reuters
It is unprecedented for a minister with no political career, with no party, who has never been elected, who comes from a commercial bank and the Elysée presidential office, to defy in this way the very person who has chosen him - the head of state - at this key moment at the start of the presidential campaign which concludes in May 2017. That alone is enough to underline the scale of the institutional crisis as well as the disintegration of the government's socialism.
For while François Hollande's tactical acumen is legendary, one has to observe that this time the president has stumbled. Macron, who two years ago was shown off as part of a government that wanted to portray itself as modern and reform-minded, has slammed the door while saying "goodbye to the Old World". In doing so he leaves François Hollande, the ever-shrinking president, all alone in a deserted room. After the announcements by former ministers Arnaud Montebourg and Benoît Hamon that they will be candidates on the Left for the 2017 presidential election, and the recent hints by prime minister Manuel Valls that he may yet be a candidate too, Macron's departure raises the fateful question: is there any political space left for François Hollande? And if there is, what is it, other than his own political backyard occupied by the Hollande old guard, figures such as agriculture minister Stéphane Le Foll and defence minister Jean-Yves Le Drian?
Some on the Left are delighted at the resignation of a man described as a right-wing liberal disguised as a left-wing minister. There is certainly no doubt that Macron pursued a liberal economic policy, consisting of deregulation and supply-side economics. He has openly embraced it too, and has been loudly applauded by employers and some senior figures on the Right, notably former prime minister Jean-Pierre Raffarin. At the same time he has espoused political liberalism in contrast to the social-republicanism of Manuel Valls, for example by criticising the plans to strip French citizenship from dual nationals convicted of acts of terrorism.
But the resignation by the economy minister is significant for many other reasons too, reasons that will be even more important if he manages to launch and then maintain a tilt at the presidency himself, as he intends. For a candidacy by Macron, on top of the numerous other candidates, would complete the disintegration of a political landscape that two men, François Hollande and former president Nicolas Sarkozy, want at all costs to impose and set in stone.
Back in 2014 François Hollande tossed overboard the Left and the greens in his government and ruling Socialist Party, persuaded that come the time he would know how to neutralise the ambitions of his newly-appointed prime minister Manuel Valls. Also in 2014 Nicolas Sarkozy ended his brief self-imposed period in the political wilderness to announce his return to front-line politics, taking over the now defunct right-wing UMP party from where he intended to squeeze every last drop out of his rivals.
This, then, was the line-up for the 2017 presidential election that both the current and former presidents wanted: the radical left's Jean-Luc Mélenchon, Hollande, Sarkozy and far-right Front National leader Marine Le Pen. The Elysée advisors who were working out their boss's strategy summed it up in one victorious phrase: "the mouse hole". They knew it would be tough, but the tomcat Hollande hoped that, through the political acrobatics of which he is a specialist, he would be able to sneak in through the mouse hole to get to a second term. In Tom and Jerry it sometimes happens, admittedly rarely, that Tom-Hollande manages to trap Jerry.
It is this very landscape, a traditional one that has been more or less the scenario for all presidential elections, which is in the process of vanishing before our eyes. Sarkozy finds himself subjected to a primary on the Right that he didn't want and which he could very well lose. Hollande, now deserted by the minister he created, has seen the proliferation of candidates in what he considers to be his political space. For the presidential election comes down to quite basic arithmetic: if five candidates set up camp on the left and centre (extreme left, Mélenchon, Montebourg, greens, Macron) then François Hollande is sure to be eliminated from the first round of voting in the presidential election.
The final phase of political decomposition
Thus nothing that was cooked up in the kitchens of the Elysée or Sarkozy's new party Les Républicains is going as planned. The crisis of political representation is such that the approach of the election is speeding up the disintegration and obliteration of parties, alliances and candidacies. In his own way the right-wing primary candidate Alain Juppé has himself recognised that the 2017 election is completely different from previous ones, that it is in a sense the last of this dying Fifth Republic. This has obliged him to keep repeating that he will only serve one term and will prepare for what comes next.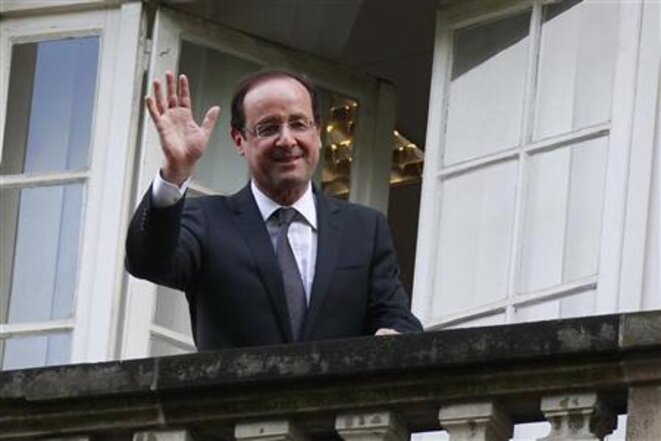 On his way out? Emmanuel Macron already speaks about François Hollande, pictured, in the past tense. © Reuters
Already Emmanuel Macron talks of François Hollande in the past ("The French people will recognise his merits") and points to the "convulsions" of a political world whose behaviour "belongs to another age". And in his own way – that of a centrist liberal – Macron's assessment is not that far removed from the verdicts reached by Jean-Luc Mélenchon and Arnaud Montebourg, that we are in the final phase of political decomposition.
François Hollande and Nicolas Sarkozy think they can still escape from being swallowed up by this process, even if it means each of them making use of the Front National as some kind of survival potion. Both are in the position of Jeanne du Barry, a prominent figure in France's Ancien Régime who tried to save herself before being arrested and guillotined in December 1793. "Encore un instant, Monsieur le bourreau! ('One moment more, Mr Executioner!')," she is said to have begged as she placed her head under the blade. The executioner immediately operated 'La Veuve' ('The Widow') as the guillotine was known.
Those are now the stakes at play in the coming weeks. From Mélenchon to Macron, from right-wing contender Bruno Le Maire to Juppé, from Hamon to former green minister Cécile Duflot, green MEP Yannick Jadot and Montebourg, will these opposing forces and personalities manage to dismantle the scenario written since 2014? In the case of Sarkozy, it is the voters of the Right who will decide. As for Hollande, he now has one foot firmly planted on the first step of the scaffold.
------------------------------------------------------------------------------
The French version of this article can be found here.
English version by Michael Streeter