France's Council of State on Tuesday ruled against the suspension imposed by a lower court of an expulsion order against an imam accused of propagating anti-Semitism and misogyny and acting as an apologist for terrorism.
While the Council's decision is limited to overturning the suspension of the order, which in theory can be challenged further, such as before the European Court of Human Rights, it in practice means that as of now imam Hassan Iquioussen can be expelled to Morocco, by force if necessary, as ordered in July by interior minister Gérald Darmanin.
At a press conference later on Tuesday, Darmanin, who had described the ruling as a "big victory for the republic", vowed that Iquioussen, 58, would "as of his arrest" be placed in a detention centre and deported.
However, the imam had disappeared before police turned up at his home in Lourches, in north-east France, later on Tuesday. He is now on a wanted persons list in France and circulated across the 25 other European countries in the Schengen Area. Some media reports said police believed he may have fled across the nearby border with Belgium.
Meanwhile, during his press conference, Darmanin refused to comment on Mediapart's report published last weekend revealing how he and Iquioussen had once enjoyed cordial relations when Darmanin sought to woo Muslim voters during his 2014 campaign for election as mayor of the town of Tourcoing, other than to say that the revelation that he and the imam had dined together was "contrary to the truth".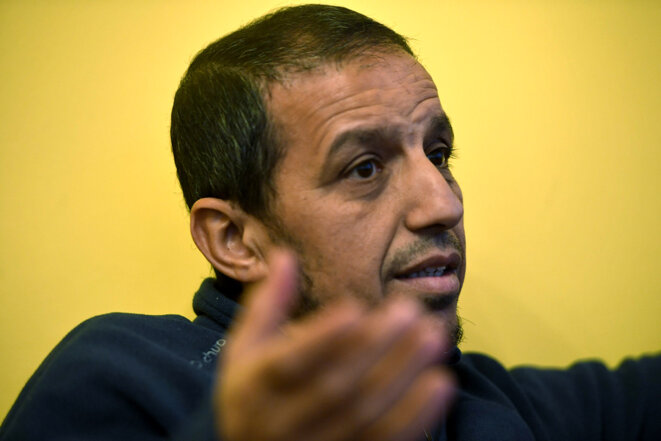 Hassan Iquioussen, pictured here at his home in Lourches, north-east France, in 2019. © Photo Pierre Rouanet / La Voix du Nord / PhotoPQR via MaxPPP
The Council of State's ruling on Tuesday capped a month-long legal battle which began in late July when Darmanin signed an order on July 29th to deport Iquioussen on the grounds notably of his past and public anti-Semitic diatribes, comments against gender equality, and acting as an apologist for terrorism. "This preacher has for years been speaking hatefully against the values of France, contrary to our principles of secularity and equality between women and men", Darmanin declared in a tweet at the time.
But the interior minister's move was successfully challenged by Iquioussen before a Paris administrative court, which overturned the expulsion order on August 5th. While critical of Iquioussen's past declarations, the court ruled that the order to deport him was based on insufficient grounds and was a "disproportionate" infringement of his "right to a private and family life", as guaranteed by the European Court of Human Rights, with regard to his five children and 15 grandchildren who live in France.
Although born in France, where he has spent all his life, Iquioussen has Moroccan nationality through his father, while he gave up his dual French citizenship after he turned 18. In June this year he was refused the renewal of his residence permit.
Darmanin appealed the August 5th Paris court suspension of his expulsion order before the Council of State, France's highest court of administrative justice, which last Friday began its examination of the case with a hearing where an interior ministry representative and Iquioussen's lawyer set out their opposing arguments. But even before the Council of State began its deliberations, Darmanin announced that if ever it found against him, he would "change the law to further protect the French [people]".
Interviewed on BFMTV on Sunday, the French government's spokesman, Olivier Véran, stepped in to the debates. While admitting that his role was "not to judge or comment – even less so in anticipation" on a decision by the justice system, said "the French would not understand that an imam who expresses radicalised views of an extreme darkness, with a capacity to harm, who detests the [French] republic so much, keeps his place in the republic". He said that if the Council of State found against the expulsion order, "it would be a very bad signal".
In their ruling announced on Tuesday, the Council's magistrates accepted that a number of the interior ministry's accusations against the imam were not backed up by clear evidence, but they concluded that an order to expel him from France was justified on the basis of his established and repeated "anti-Semitic speech" and his "systematic" comments "about the inferiority of women", which they called "explicit and deliberate provocative acts" encouraging "discrimination or hate". They concluded that existence of his large family in France was not an obstacle to his expulsion.
Reacting to the Council of State's conclusions on Tuesday, Iquioussen's lawyer, Lucie Simon, denounced in a four-part tweet "an alarming context of pressure exerted by the executive powers upon the judiciary", and thanked those associations which had given their support "to defend a constitutional state weakened by this case".
"The combat continues," she said, adding that Iquioussen was considering taking his case "again" before European Court of Human Rights. "In general, discriminations are not fought against by fuelling [yet] others," she concluded.
The French Human Rights League (LDH) which, along with the French Jewish Union for Peace (UJFP) and the Information and Support for Immigrants Group (GISTI), had publicly supported Iquioussen's battle against deportation, said on Tuesday that it "regrets this decision in that it strays from the strict application of the intangible principles of law, and thus opens the path to an extension of the field of application of expulsions to the detriment of fundamental rights, such as the right for respect of a private and family life".
Despite the "excuses" expressed by Iquioussen over a speech he made in 2004 in which he accused Jews of being, among other things, "miserly" and "usurers", and "ungrateful", and also for having been convicted of anti-Semitism in 2015, the Council of State said that such apologies "came about only in reaction to the emotion prompted by his speeches and does not include an explicit refutation of previous anti-Semitic comments". It added that the imam "had reiterated comments of an anti-Semitic character after his 'excuses' in 2004 and that the videos relaying his anti-Semitic comments remained online up until a recent date without him making an attempt to halt their dissemination".
In videos of his speeches up until 2021, the Council noted, Iquioussen "develops a systematic discourse about the inferiority of women […] Such discourse theorising the submission of women towards men, and implicating that women cannot benefit from the same freedoms and rights of men, ignores, to the detriment of women, the constitutional principle of equality".
Addressing the Paris administrative court's conclusion that deporting the imam to Morocco constituted an infringement of his "right to a private and family life", the Council dismissed that concern on the basis that Iquioussen's children "are all adults and no longer depend upon their father", while his wife, who it noted also holds Moroccan nationality, is able to travel to Morocco "and to join him there if need be".
-------------------------
The original French version of this report can be found here.
English version by Graham Tearse