Sitting around the living room table in a small house situated on the outskirts of the town of Bourg-en-Bresse, Monique and her son Fabrice agreed to describe the horrific events in detail.
"When my sister arrived for the visit, it had just happened," Monique began, letting Fabrice take up the story. "The nurse told my aunt, 'Something's happened', and stopped her from entering the room. That day my grandmother had been found on the floor, unconscious, in the ground-floor toilettes," he told Mediapart.
His hemiplegic 93-year-old grandmother, Denise, was a resident of a care home for the elderly in Montrevel-en-Bresse, a small municipality about 15 kilometres north of Bourg-en-Bresse, in this eastern French region close to the Jura mountain range. It was on April 7th 2013 when Denise had been found unconscious, her face tumefied and bloodied, and her hygienic protection pulled down. The doctor who later examined her noted she had suffered "facial trauma with a fracture, as well as traces of sexual assault".
Denise had been attacked within the care home, a place where she should have been in safety. This investigation has identified close to 100 other cases of sexual assaults of care home residents, similar to that of Denise, which occurred in establishments across France since 2013. These, all except two the subject of legal procedures, were found in in a search of national and local media reports, and also through criminal court and administrative tribunal documents relating to the convictions of perpetrators of crimes within care homes.
The list is not exhaustive, as no official data is available on the subject, and in all probability it is just a small number out of a much greater total.
The care homes in question, like that where Denise was a resident, are what are called an EHPAD, an acronym in French designating a licensed "housing establishment for dependent elderly persons". They provide rooms and catering, and have appropriate medical and paramedical staff to treat the needs of those they shelter, and are, variously, publicly or privately owned. Their residents, vulnerable and often trapped in silence due to their state of health, are easy prey for criminals.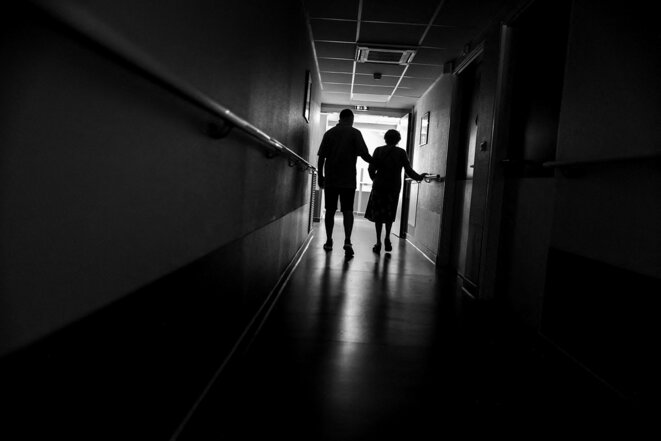 Denise never recovered and died in 2014. The criminal investigation was closed, unsolved, in 2015 (file photo). © Photo Thibaud Moritz / AFP
Denise's attacker, who has never been arrested, is believed by investigators to be someone from outside of the EHPAD.
She gave the police – in this case, officers from the gendarmerie – a detailed description of the man, from which they noted he was aged "between 30 and 35 years old, short black hair, a round face, about 1.7 metres, of European type". She said he threatened to kill her before punching her in the face and, the officers recorded, introducing his "fingers" into her vagina, which in France is legally defined as rape.
Forensic examination of objects belonging to Denise failed to find the perpetrator's DNA or finger prints. For an unknown reason, the crime scene had been "cleaned", noted the gendarmerie investigators, and Denise had been moved.
"They cleaned up," said Fabrice, 56. "They even changed her wheelchair before taking her up to her room. It was only afterwards that they called the police. They waited one and a half hours." Fabrice, who has himself previously worked in an EHPAD as a social carer, is convinced that the management of the care home had initially wanted to disguise the attack as a case of a fall in the stairs, before discovering the evidence of the vaginal penetration Denise had suffered.
The family filed a formal complaint on April 11th, four days after the assault. It was only six months later that a judicial investigation into the rape of Denise was opened. Article 222-23 of the French penal code defines rape as being "any act of sexual penetration" including that by fingers or an object. Any sexual violence committed without penetration is classified as a "sexual assault".
Denise meanwhile began fading away. Immediately after the crime she had been hospitalised, when a medical report on her condition found she was suffering from "a temporary functional deficit that was 100% total […] from immediate sequels at a neurological and psychological level, and an aggravation of the loss of autonomy".
When she eventually left the hospital, Fabrice recalled, she "let herself die", adding: "She was all hunched up, [and] didn't eat anymore, whereas she was very fond of her food. It was no longer our grandmother."
On her computer at her home in Bourg-en-Bresse, Monique showed Mediapart photos of her mother. They were happy pictures of her with her children and grandchildren during family meals together. Denise can be seen chubby-cheeked and smiling, a world apart from the photos in the gendarmerie case file which show her, injured and frail, after the attack at the care home.
Denise never recovered and died in 2014. The criminal investigation was closed, unsolved, in 2015. Her two daughters and grandson, supported by an association that offers legal assistance, Droits et Liberté, subsequently filed a complaint against the management of the EHPAD in order that its responsibility in failing to protect Denise be formally recognised.
In a ruling in December 2019, more than six years after the events, the administrative tribunal in Lyon, with jurisdiction to hear the case, found that the care home had been guilty of an "absence of any appropriate measure for ensuring a minimal control of access by people foreign to the establishment", and a "lack of material organisation and an insufficient surveillance system".
Victims gagged by degenerative diseases
Denise was one of many victims of sexual assault in care homes who have died before seeing their assailant brought to justice. An important factor – beyond the issues of the lengthy legal procedures in France and the competence of investigations – is the declining health of elderly victims, and who can be severely affected by the trauma, like in the case of Denise.
The average age of EHPAD residents is 82, and 40% of residents suffer from neurodegenerative diseases. When a case is brought before the courts, it is rare that surviving victims are able to testify.
Paris lawyer Carine Durrieu Diebolt, specialised in representing victims of rape and assault, cited the case of an elderly woman who had been raped in an EHPAD in the Yvelines département (county), close to the capital. Suffering from Alzheimer's disease, she was unable to attend the trial of her attacker. "These are women who are locked in silence because of their state of health," said Durrieu Diebolt. "Some cannot remember."
A similar example was that in 2013 of an EHPAD resident in the town of La Trinité, on the French-administered Caribbean island of La Martinique, who fell victim to rape. The woman was suffering from Pick's disease, a form of dementia. At the trial of her assailant, her lawyer, Dominique Nicolas, had to testify in her place. "These are vulnerable people who cannot defend themselves," he said. "When their entourage are not behind them, nothing happens. We only see the tip of the iceberg."
The EHPAD at Montrevel-en-Bresse was found to be totally lacking in its verification of who entered the establishment. But there are also cases where the perpetrators of sexual assaults are among care home staff. The very rare information collected on such cases in France, notably by criminologists and an association for the prevention of the maltreatment of the elderly, Alma, suggest that possibly as many as half of sexual assaults in EHPADs are committed by members of the personnel.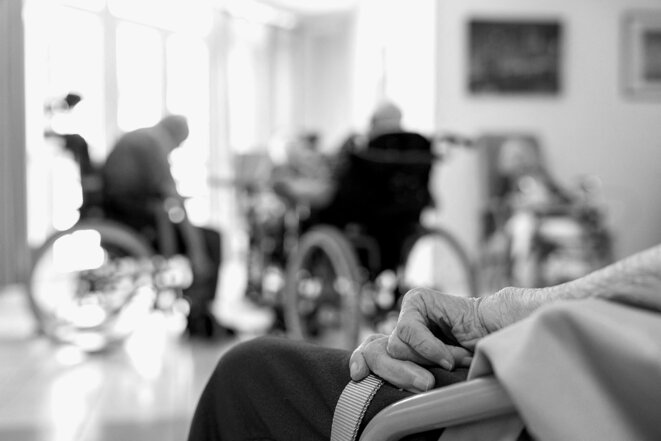 It is no accident that the majority of cases brought to court are those where the attacker was caught red-handed, because many victims are incapable of recounting what they have suffered (file photo).. © Photo Aline Morcillo / Hans Lucas via AFP
In preparing this article, a search of media reports of cases of rapes and other sexual assaults in care homes since 2013 found 46% were perpetrated by staff. The next largest group of perpetrators were male residents of the homes. In third position were people from outside the establishments, and who include family members.
Hervé J. (last name withheld) worked as a nursing auxiliary at an EHPAD run by the private residential care group Orpea at Saint-Rémy-lès-Chevreuses, in the south-west outskirts of Paris. He was convicted in 2019 of raping three women in the care home, where he organised his working hours so as to more easily prey on his victims. "He made sure that he worked at night, when there was less activity in the establishment," explained Carine Durrieu Debolt, lawyer for the family of one of the victims.
One evening in April 2018, a woman from the caring staff at the home heard moaning coming from the room of one of the female residents. According to the prosecution case, the carer opened the door to the room and discovered Hervé J. on top of the resident, his trousers down and making "come-and-go movements with his pelvis".
Arrested and placed in preventive detention, the then 58-year-old admitted raping the woman. He also admitted committing sexual assaults, legally qualified as rape, between 2013 and 2017, on two other women residents, aged 58 and 88, one of who suffered from aphasia and the other from Alzheimer's disease. At his trial in Versailles in the autumn of 2019, the court heard that he said he was aware that his victims "were not able to defend themselves, any more than to give their consent". He received a 12-year prison sentence.
During the trial, Durrieu Debolt underlined what she called "the glaring absence of the victims", whose state of health prevented them from expressing themselves or describing the acts committed against them. "We only know what the accused was happy to tell us," she added.
It is no accident that the majority of cases brought to court are those where the attacker was caught red-handed, precisely because many victims suffer from illnesses that render them incapable of recounting what they have suffered. Perpetrators choose their prey among those who represent "less risks of resistance and denunciation", commented criminologist Julien Chopin, an associate lecturer at the Université Laval in Quebec, an associate researcher at the Simon Fraser University (British Columbia) and researcher with the Montréal Université's international Centre for Compared Criminology.
"In their majority, these victims of sexual assault are women, at 98%, who have cognitive problems, physical and psychological handicaps – like Alzheimer's," he said. "Most of them are widows, more isolated, with a family visit from time to time, and difficulties in communicating."
For most perpetrators of sexual assaults in care homes it is the "availability" of a body that is above all important, added Chopin. He said that in his own research of such attacks, half of the cases occurred when the victim was sleeping.
Staff with criminal records
Chopin argues that the advanced age of victims is not the determining factor in the majority of assaults. Indeed, some of those arrested for sexual attacks in EHPADs have a record of paedophile crimes. The common thread is the vulnerability of the victims.
In February 2020, Avilio Victores Alvarez, a Cuban national then aged 44, who worked as an auxiliary nurse at an EHPAD in Grenoble, south-east France, was sentenced to ten years in jail for aggravated rape and two aggravated sexual assaults upon residents of the care home. During the trial, it was also revealed that paedophile pornography had been found on his computer.
In 2021, a male member of staff of an EHPAD in Ganges, southern France, was found guilty of sexually assaulting male elderly residents of the care home. In 2005, he had been convicted of sexually assaulting "minors aged less than 15 years".
The latter example highlights another problem in the management of EHPADs; under French law, anyone with a criminal record is banned from working in establishments caring for dependent residents, notably care homes for the elderly, the handicapped or the homeless. However, an official with a union representing employees in the healthcare sector told Mediapart that those working on temporary contracts, who are numerous in care homes, can slip through the net.
Mediapart gained access to a report by a French regional health agency (ARS), part of a nationwide network which, under the authority of the health ministry, oversees the application of healthcare policies on a regional basis. Dated October 2020, the report followed an ARS inspection in an EHPAD run by the private care home group Orpea (because of the confidentiality of the document, the geographical details are withheld here). The inspectors found that there was no information concerning the possible criminal records concerning 12 employees of the establishment, who included several on contracts that were fixed-term, others who were permanent staff.
In its reply to the ARS, Orpea said it had resolved the matter concerning its permanent staff, but that the temporary work agency that supplied the others had refused to supply details of their criminal records.
When the perpetrator is a resident
Sexual assaults are also perpetrated by residents. The problem is exacerbated for care home employees because of widespread under-staffing which makes it very difficult to apply proper surveillance, or even the isolation, of residents known to present a potential danger.
That was illustrated by an incident in an EHPAD in Oiron, in west-central France. One night in March 2008, a hemiplegic female resident of the establishment was assaulted by a male resident who pulled down her underwear and forcibly kissed her. He fled the room when she was able to activate an alarm bell, prompting the two employees on duty that night to rush to her help. Her attacker was reportedly known by staff for aggressive behaviour.
The family of the victim was not informed of what happened, and it was only when she herself told her daughters of the attack that they took legal action and moved their mother, after she was hospitalised, to another care home.
The death of the male resident led to the case being closed, but the family sued the EHPAD for negligence. Their complaint, backed by witness statements, was heard by an administrative tribunal in nearby Poitiers, which in 2012 awarded 10,000 euros in damages to the family of the victim. The tribunal found that the EHPAD had not shown "appropriate behaviour in terms of prevention and reaction". It also slammed the establishment for appointing just two staff to look after its 150 residents during the night of the attack.
"The problem arises above all at night, when it is not possible to watch over all the floors because of a lack of personnel," an official of a care home staff union, who himself has witnessed similar events, told Mediapart. "And there are establishments which are not sufficiently secured, in which you can enter and leave as you please."
Contacted by Mediapart, a spokesperson for France's Ministry of Solidarity and Health, which has responsibility for care and nursing homes, said it did not believe an increase in staff numbers was a solution for the safety of residents from others among them, but that instead there should be a "stabilisation" of staff teams and better training for them to detect possible dangers. As for isolating a resident known for having committed rape or sexual assaults, the ministry said "to shut them in would be an infringement of their [right of] freedom", but that other measures might include "to envisage treatments like chemical castration".
In France, a decision to chemically castrate an individual can only be taken by an appropriate medical professional, and this must follow a court order to allow it.
"People with a criminal past of sexual violence get older like all the others," commented criminologist Julien Chopin. "And when they aren't in detention, they are able to be welcomed into an EHPAD. We cannot exclude the idea that a section of them, faced with opportunities, could re-offend."
In 2011, the World Health Organization published a report on the extent of the "maltreatment" of elderly people, at a Europe-wide level. The criteria it used was the "physical, sexual, mental and/or financial abuse and/or neglect of people aged 60 years and older". Its estimates concerned the over-60s in all environments, not only care homes, and found that, over a one-year period, around one million people in this category had suffered sexual abuse in Europe (less than its estimates of mental, financial and physical abuse).
There is no reliable data available on the extent of sexual abuse in care and nursing homes in France. Mediapart contacted a majority of the country's 18 regional health agencies (ARS) for information on recorded reports of sexual abuse in care establishments in their particular region. The only one to respond was the ARS for the Greater Paris region (Île-de-France), with responsibility for overseeing a total of 716 EHPADs. It revealed that this year, between September 1st and October 24th, it had received 78 notifications of "suspicions of sexual violence" in establishments, of which 66 were sent in by EHPAD managements, and 12 by residents or their families.
Pierre Czernichow is president of the Paris-based association Alma which is dedicated to the prevention of maltreatment of the elderly and handicapped adults. He considers that the numbers of reports of abuse his association receives are but a "drop in the ocean" of cases, and all the more so concerning sexual assaults in EHPADs. He believes that part of the reason that so few cases are reported is that the victims are from a generation which considers such attacks to be taboo. "There is an 'unthinkable' [blockage] over these sexual violence cases, to the point where even the vast Virage study on sexual violence in France halts its compilation of data at women aged 70."
While Czernichow underlines what he believes is a significant under-reporting of sexual abuse in care homes, he said that those his association does receive had "more than doubled" in 2021 compared to the previous year. "Is it really that there was more violence or is it because people speak out more freely?" he asked.
The Ministry of Solidarity and Health has a different opinion. "The taboo over sexual violence suffered by elderly women is even greater than for other categories of the population, and the #MeToo [movement] among elderly people has still to come," commented its spokesperson.
-------------------------
The original French report on which this English version is based can be found here.