A French judge has been appointed to lead a judicial investigation into suspected "corruption" and "favouritism" over the 7.8-billion-euro sale to India of 36 Dassault Aviation Rafale fighter aircraft, Mediapart can reveal. The highly sensitive probe into the inter-governmental deal signed off in in 2016 was formally opened on June 14th.
It was following Mediapart's "Rafale Papers" series of investigations into the secret dealings behind the contract, published in April, that French anti-corruption NGO Sherpa filed a complaint with the tribunal of Paris, citing "corruption", "influence peddling", "money laundering", "favouritism" and undue tax waivering surrounding the deal.
The financial crimes branch of the French public prosecution services, the PNF, confirmed to Mediapart on Friday that the newly opened investigation is focussed on all of the alleged crimes.
As Mediapart has previously reported, in 2019 the former head of the PNF, Eliane Houlette, dismissed an initial complaint filed by Sherpa, against the advice of one of her staff and without carrying out any investigations, justifying her decision as "to preserve the interests of France".
Now, two years later, her successor as head of the PNF, Jean-François Bohnert, has decided to support the opening of a probe, after the complaint was updated with details from Mediapart's recent series of investigations.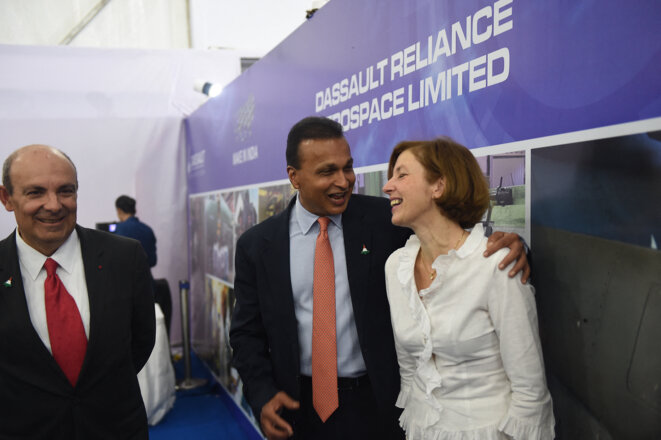 French armed forces minister Florence Parly with Reliance Group owner and chairman Anil Ambani (centre) and Éric Trappier (left), during the inauguration of the joint venture plant in Nagpur, October 27th 2017. © Money Sharma / AFP
The criminal investigation, opened on June 14th and led by an independent magistrate, an investigating judge, will, among other elements, examine questions surrounding the actions of former French president François Hollande, who was in office when the Rafale deal was inked, and current French president Emmanuel Macron, who was at the time Holllande's economy and finance minister, as well as the then defence minister, now foreign affairs minister, Jean-Yves Le Drian.
In a statement to Mediapart, Sherpa's lawyers William Bourdon (founder of the NGO) and Vincent Brengarth said the launch of the probe "will necessarily favour the emergence of the truth and the identification of those responsible in what increasingly resembles a state scandal".
In a statement published in April, reacting to Mediapart's investigation, Dassault Aviation said that the group "acts in strict compliance with the OECD Anti-Bribery Convention and national laws".
"Numerous controls are carried out by official organizations, including the French Anti-Corruption Agency. No violations were reported, notably in the frame of the contract with India for the acquisition of 36 Rafales", Dassault added.
The probe will notably focus on the role of wealthy Indian businessman Anil Ambani. The Chairman and owner of Indian conglomerate Reliance Group, who is personally close to Indian Prime Minister Narendra Modi, Ambani is at the heart of the suspicions of corruption surrounding the Rafale deal, which was concluded by Hollande and Modi in an inter-governmental agreement in 2016.
In this report, Mediapart can reveal the details of a partnership contract signed between Rafale manufacturer Dassault Aviation and Reliance, which in 2017 created a joint venture company called Dassault Reliance Aerospace Limited (DRAL), with the building of an industrial plant close to the central Indian city of Nagpur.
The confidential documents obtained by Mediapart reveal how Dassault had in fact no interest in forming a partnership with Reliance other than for political reasons.
It emerges from the documents that Dassault provided Reliance with remarkably generous financial terms for the establishment of their joint venture. Ordinarily, the partners in a jointly owned subsidiary would provide equal funds for its capital. But that was not the case with DRAL.
The two partners agreed a maximum investment in the subsidiary of 169 million euros. Of that sum, Dassault, which held a 49% stake in DRAL, pledged to provide up to 159 million euros, representing 94% of the total, while Reliance would provide just the remaining 10 million euros.
This meant that Reliance was given the majority 51% stake in the joint venture in return for a relatively very modest sum.
While Reliance brought neither funds nor know-how of any significance to the joint venture, it did bring to it its capacity for political influence. In an extract from one of the documents obtained by Mediapart detailing the agreements between Reliance and Dassault, Anil Ambani's group was handed the mission of "marketing for programs and services with the GOI" – the acronym for "government of India".
Contacted by Mediapart, Dassault Aviation declined to comment. Also contacted, the Reliance Group failed to respond to Mediapart's questions.
Amid recurrent media revelations in India, the controversy over how the fighter jet sale was concluded has for more than three years persistently dogged Indian Prime Minister Narendra Modi, leader of the ultra-nationalist Bharatiya Janata Party (BJP), and caused outrage among his opponents. Modi is accused of imposing into the contract, signed between France and India, Ambani's private group as Dassault's principal local industrial partner, to the detriment of India's giant state-owned aviation manufacturer Hindustan Aeronautics Limited (HAL).
In a previous interview with Mediapart, François Hollande confirmed that the decision to appoint Reliance as Dassault's industrial partner was made by the Indian government, and that France "didn't have the choice" in the matter. The Indian government, Reliance and Dassault all denied that version of events.
At the time of the deal, the Reliance Group, which had no experience in aeronautic manufacturing, was gripped by financial difficulties. Despite this, Ambani succeeded in entering the huge defence contract, and in the process both the Indian prime minister and two successive French presidents have come under suspicion over their roles in the deal.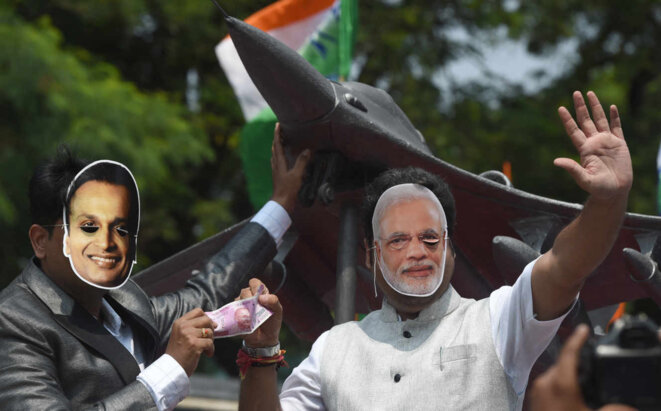 Mocking demonstrators in the Indian city of Mumbai in 2018 wearing masks of Indian Prime Minister Narendra Modi (right) and Reliance Group chairman and owner Anil Ambani standing in front of a replica model of a Rafale fighter jet. © Indranil Mukerjee / AFP
In January 2016, just months before the signature of the inter-governmental contract for the sale of the 36 Dassault Rafale jets, an arm of the Reliance Group provided 1.6 million euros of funding for a feature film co-produced by then French president François Hollande's personal partner, the actress Julie Gayet.
Meanwhile, according to a report by French daily Le Monde, current French president Emmanuel Macron, who was at the time Hollande's economy and finance minister, was allegedly involved in a surprising decision to waiver a tax adjustment claim of 143 million euros against a French subsidiary of the Reliance Group.
By allying itself with Dassault, Reliance gained a large part of the 4 billion euros-worth of contracts Dassault was required by the terms of the Rafale deal to give to Indian companies, in what is called an "offset" agreement, intended to benefit the local economy.
It was in 2012 when, following the issuing of a public tender, Dassault Aviation was chosen to supply the Indian Air Force with 126 Rafale jets. Under the terms of the contract, the state-owned company Hindustan Aeronautics Limited (HAL) was appointed as Dassault's principal industrial partner, and it was to assemble 108 of the fighter jets in India.
Negotiations to hammer out the fine detail of the definitive contract continued for several years before a sudden turnaround was announced on April 10th 2015. That was when Indian Prime Minister Narendra Modi, who had been elected to office the previous year, announced during a visit to Paris that he wanted to overturn the terms of the original tender, and instead purchase just 36 Rafale jets, all of which would be manufactured in France.
The surprise announcement had been kept secret, to the point where the Indian foreign affairs ministry had referred just two days earlier to continuing contract discussions with HAL.
But the documents seen by Mediapart show that Dassault and Reliance had in fact signed their first Memorandum of Understanding (MoU) – a document setting out broad outlines of an agreement – on March 26th 2015. That was 15 days before Modi's announcement of the turnaround, and with it the exclusion of HAL, and begs the question as to whether the two companies had been informed of it in advance.
The events were all the more surprising in that the negotiations between Dassault and HAL had apparently by then ironed out any differences between the two companies, as was announced by Dassault Aviation CEO Éric Trappier, in the presence of both the head of the Indian Air Force and the chairman of HAL, in a speech on March 25th 2015 at the biennial Aero India airshow in Bengaluru (the former Bangalore).
In a video recording (see below) released by the Indian National Congress party, which represents the principal political opposition to the Modi government, Trappier declared: "You can imagine my great satisfaction to hear […] from HAL chairman that we are in agreement for the responsibilities sharing, considering as well our conformity with the RFP [Request for Proposal] in order to be in line with the rules of this competition. I strongly believe that contract finalisation and signature would come very soon."
Video recording of Dassault Aviation CEO Éric Trappier speaking at the Aero India airshow in Bengaluru (the former Bangalore), March 25th 2015. © Congress Party
Yet the very next day, according to documents now obtained by Mediapart, Dassault signed the MoU with Reliance, which was soon followed by Modi's overturning of the original tender agreement and removing, as a result, the obligation for Dassault to partner with HAL.
The MoU prudently allowed for a "possible joint venture". It would include "program and project management", "research and development", "design and engineering", "assembly and manufacture", "maintenance" and "training". But it avoided explicit mention of the tasks allotted for HAL in the tender.
With Modi's turnaround, the road was now clear for a new alliance, and in November 2015, Dassault CEO Trappier and Reliance Group chairman Ambani signed a "strategic partnership agreement", a more detailed document than the previous MoU, for the establishment of a joint venture in India.
That agreement set out a project by the two companies whereby, in the case of "subsequent sales" to India which would include local manufacturing activity, it would be the joint venture company that would be in charge of the "aircraft final assembly line", to the exclusion of HAL (see document below).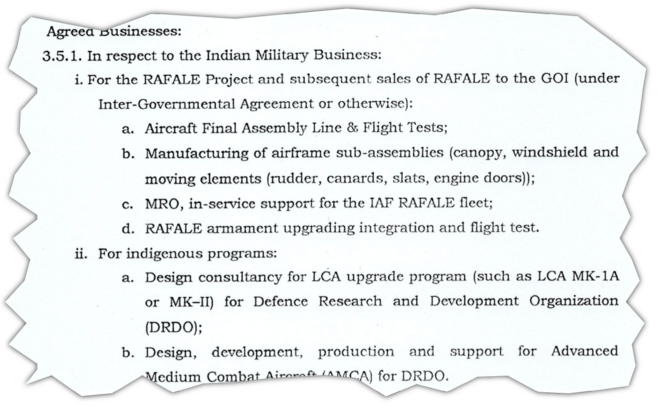 An extract from the "strategic partnership agreement" signed on November 9th 2015 between Dassault Aviation CEO Éric Trappier and Reliance group chairman Anil Ambani. © Document Mediapart
More troubling still was the plan for Dassault and Reliance to take part in fighter jet development for which HAL was in charge. Dassault and Reliance planned to provide "design consultancy" for a future version of the Tejas single-engined Indian "Light Combat Aircraft" (LCA) manufactured by HAL, which had been designed together with the Indian defence ministry's Aeronautical Development Agency.
The "partnership agreement" also confirmed that Dassault had hardly any industrial interest in allying itself with Reliance. It detailed how Dassault was to provide almost every essential activity in the joint venture, including its "technology and know-how", its "technical assistance", and its "international marketing" capabilities.
On its side, Reliance was to provide "production facilities". Given that the group had at that time no aeronautical manufacturing plants, this was probably with an eye to the implantation of the future DRAL joint-venture factory near the city of Nagpur.
Importantly, the second mission given to Reliance was the explicit task of "marketing for programs and services with the GOI [Government of India] and other authorities (such as local states) in compliance with applicable laws". In sum, it was to use its powers of influence (see document below).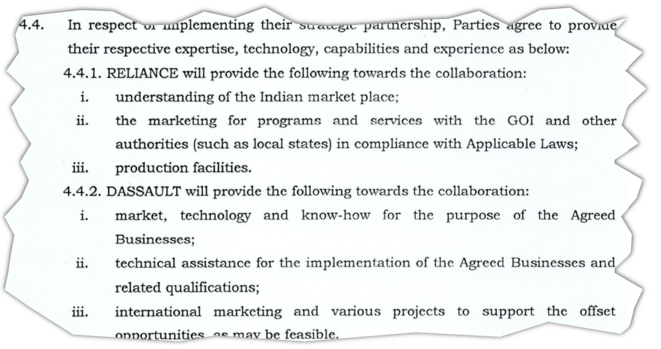 An extract from the "strategic partnership agreement" signed on November 9th 2015 between Dassault Aviation CEO Éric Trappier and Reliance group chairman Anil Ambani. © Document Mediapart
The inter-governmental agreement finalising the sale of the 36 Rafale was signed in September 2016. Two month later, on November 28th 2016, Dassault and Reliance signed a "shareholders' agreement" which set out their relationship in the future joint venture company. But the financial details of this were so sensitive that they did not figure in the contract, and instead were contained in a confidential "side letter" which was signed that same day.
It is that "side letter" that contained the funds gifted to Reliance by Dassault.
As almost equal partners, the two companies each pledged to provide up to 10 million euros for the capital of the joint venture. Up to that point, everything followed business logic. But Dassault also promised a "share premium", a supplementary sum on the price of the shares, of a maximum 43 million euros, plus loans detailed as "not exceeding 106 million euros".
This meant that Dassault had pledged to provide up to 159 million euros out of the total investment of 169 million euros, representing 94% of that total. Meanwhile, the contribution by Reliance, it was noted, "shall not exceed 10 million euros, all in equity".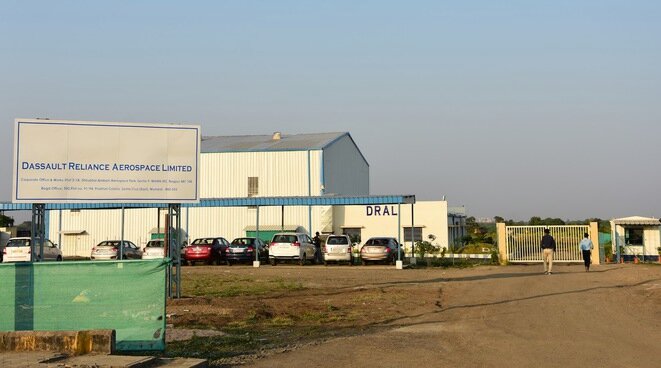 The Nagpur site of the 'Dassault Reliance Aerospace Limited' joint venture plant in October 2018. © Monica Chaturvedi
Just how much of these sums was invested is unclear. On March 31st 2019, the DRAL joint venture company's capital stood at 7.5 million euros, of which Reliance would normally have been expected to fund half, namely 3.25 million euros. For its part, Dassault, in a statement published on its website announcing the inauguration of the Nagpur plant, announced that the joint venture represented an "unequalled Foreign Direct Investment (FDI) by Dassault Aviation of over 100 million euros, the largest such Defence FDI in one location in India". It omitted to mention that its partner Reliance, in comparison, had made but a very modest contribution.
It appears that, in 2019, Reliance had provided just 3.25 million euros out of a total of more than 100 million euros, representing a saving on its part of more than 45 million euros. Presented with these figures, Dassault Aviation declined to comment while Reliance failed to respond.
The beginnings of the DRAL joint venture were financially unimpressive. After its first year of production activity, signed off on March 31st 2019, it recorded a turnover of just 250,000 euros and losses of 750,000 euros. At that rate, Dassault would be hard pressed to reach the objective of spending 4 billion euros in local offset agreements as set out in the Rafale contract.
-------------------------
If you have information of public interest you would like to pass on to Mediapart for investigation you can contact us at this email address: enquete@mediapart.fr. If you wish to send us documents for our scrutiny via our highly secure platform please go to https://www.frenchleaks.fr/ which is presented in both English and French.
-------------------------
The original French version of this report can be found here.
English version by Graham Tearse