On November 1st, Greek journalist Kostas Vaxevanis was finally acquitted by an Athens court of charges of violation of privacy and data protection laws, brought after the magazine he edits, Hot Doc, published a list of the names of more than 2,000 wealthy Greek individuals and companies with secret bank accounts in Switzerland.
He faced a maximum five-year jail sentence and the possibility of crippling suits for damages by those named.
The charges were thrown out after Vaxevanis's arrest had caused an outcry both in Greece and abroad, the case highlighting allegations of corruption of members of the Greek government, past and present, which took no action in investigating the list that was originally given to them in October 2010.
Hot Doc published the list, which includes two former ministers, on October 27th, and its print run of 100,000 copies (instead of its average 23,000) quickly sold out. That Saturday evening, the offices of the magazine were raided by police and Vaxevanis was arrested the following day.
The document, which has become known as the 'Lagarde list', was part of a much longer list of secret bank accounts held at a branch of the HSBC bank in Geneva, and which was originally passed to the French, British and German authorities in 2008 by Hervé Falciani, a former employee of the bank. Falciani has said he was acting out of his duty as a citizen after realizing that the accounts were used to avoid taxes (see more here).
The list of 2,059 Greek account holders was originally passed to the authorities in Athens two years ago by then-French finance minister Christine Lagarde, now head of the International Monetary Fund, but no investigation was launched. The current Greek finance minister, Yannis Stournaras, even claimed the list had been lost.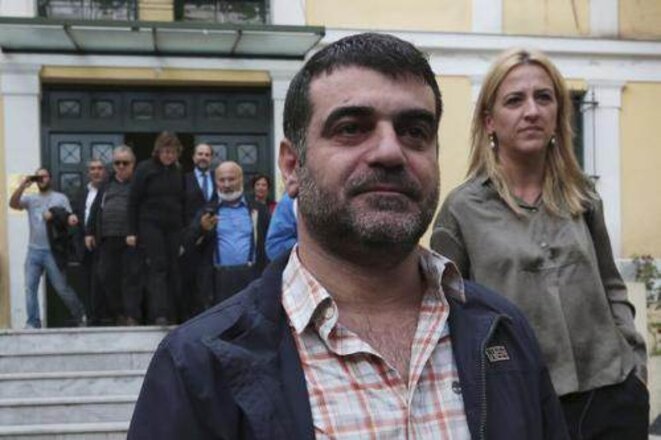 © Reuters
Vaxevanis, editor of Hot Doc, a fortnightly investigative magazine with a staff of ten and launched six months ago, said he received the list from an anonymous source via the post. He has stressed that the list is not in itself proof of tax fraud, which can only be established by a proper investigation, and explained that he decided to publish the list because of the "dangerous" controversy government inaction had created among a population suffering some of the most draconian austerity measures ever seen in post-WWII Europe. "Speculation over the issue was becoming dangerous," he said. "This was a document circulating for two years. It might have been used for political and economic pressures over people."
Shortly before last Thursday's court hearing, Vaxevanis gave the following interview to Amélie Poinssot, in which he explains in further detail why he decided to publish the list, who is on it and what the affair says about the state of journalism in Greece.
-------------------------
Mediapart: Why did you decide to publish this list?
Kostas Vaxevanis: I was only doing my job as a journalist. As Orson Welles said, everything that contributes to the revelation of the truth, which others try to hide, is journalism, everything else is public relations. Two ministers had the 'Lagarde list' in their hands. Instead of passing it on to the authorities for investigation and the truth to be established, that is, to know whether it really included tax fraudsters or simply people who legally placed deposits abroad, they began by playing a very grave game, a totally hypocritical one. They even declared before a parliamentary commission that they had lost it. As if it was some ordinary CD from a shop in the street. But all of that is a lie, because we got hold of this list.