Q: What is the political backdrop?

The mid-1990s were the final years of socialist president François Mitterrand's long period in office (which consisted of two terms, from 1981-1995). The Centre-Right opposition led by Jacques Chirac, head of the Gaullist Rassemblement pour la République (RPR) party, won the parliamentary elections in 1993. President Mitterrand was thus forced to have a government and prime minister from the political right.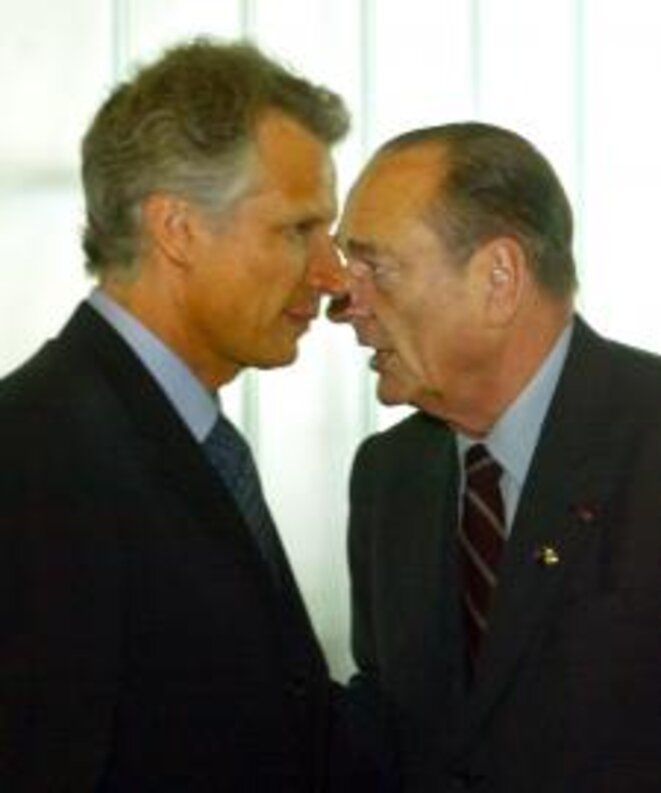 Dominique de Villepin (left) with Jacques Chirac. © Reuters
Chirac put forward his friend and ally Edouard Balladur as prime minister, allowing Chirac to concentrate on his campaign for the presidential election in 1995. However, Balladur soon acquired presidential ambitions of his own and broke his agreement not to run against Chirac. This caused a bitter political split between the
chiraquiens
- Dominique de Villepin and
Alain Juppé
among them - and
balladuriens,
who included Nicolas Sarkozy. Balladur's immediate problem was that he had no source of party funding to run his campaign; The RPR backed Chirac, not him. So he and his allies - who included defence minister François Léotard as well as budget minister and government spokesman Sarkozy - had to search for alternative funds.
Q: So where did Balladur's election war chest come from?
That is a key question. On April 26th,1995, after Balladur was eliminated in the first of the election's two rounds,10.25 million francs (about 1.5 million euros) were deposited into his campaign account in Paris in large denomination notes.
Balladur's team say the money came from collections at party rallies and from the sale of items such as T-shirts, a view dismissed by investigators working for France's highest constitutional authority, the Constitutional Council. Another theory was that the money came from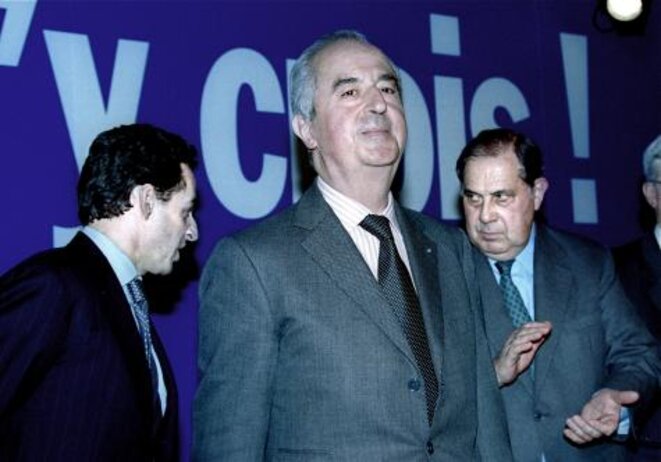 Campaign trail: (from left) Nicolas Sarkozy, Edouard Balladur, Charles Pasqua. © Reuters
so-called 'special funds' that French prime ministers had access to at his time. These were significant chests of cash that were handed around ministries to be handed out as ministers and prime ministers so wished.
The third theory - central to the Karachi affair - is that the money came from the retro-commissions linked to the sale of three submarines to Pakistan.
Q: What is the difference between 'commissions' and 'retro-commissions'?
During the 1990s, when the submarine sale was concluded, it was still legal for French arms firms to pay 'commissions' - in reality bribes - to foreign dignitaries and decision-makers to persuade their country to buy defence equipment from France rather than another country. They could even be offset against tax. This was widespread, not limited to France. An OECD agreement among member states in 2000 finally outlawed the practice.
However, in 1994, it was already illegal for any of those commissions (i.e. paid to bribe local officials) to be channelled back into France. These are what are known as retro-commissions.
Q: Where are the Balladur retro-commissions said to have come from?
In 1992, before Balladur became prime minister, France was negotiating to sell Pakistan three Agosta-class submarines. By the summer of 1994, the deal was all but signed for a total value of 826 million euros (the value negotiated then in French francs). However, at the last minute, Balladur's government insisted that two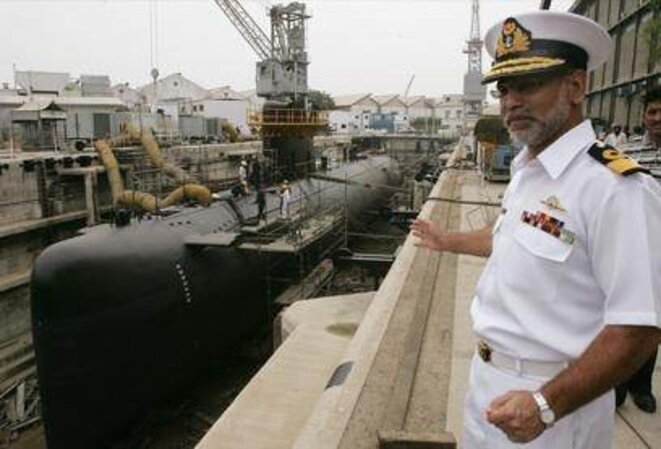 Danger deal: one of the Agosta subs under construction. © Reuters
extra intermediaries be paid with commissions - bribes - totalling 33 million euros, even though other commissions had already been authorized under the deal. The allegation is that these monies were channelled through 'shell' companies, at least one of which is said to have been set up under the direct supervision of then budget minister Nicolas Sarkozy. And that they were then used to fund Balladur's election campaign.
Q: Who were these new intermediaries?
Lebanese businessmen Ziad Takieddine and Abdulrahman El-Assir. Takieddine describes Sarkozy as a "friend".
Q: When did stories of these illegal retro-commissions first emerge?
In political circles, almost immediately. Chirac's camp knew that his rival Balladur had no party political funding and there were rumours that the latter's campaign money came via arms deal commissions. In 1995, the newly-elected President Chirac ordered the examination of arms deal commission payments authorized when Balladur was prime minister. Chirac ordered that the payments be immediately halted in those where retro-commissions were found or believed to be involved.
Chirac's camp has presented this as an attempt to clean up public life. However, Chirac's own track record suggests probity was far from the top of his agenda. What has been widely suggested in the media and by a number of politicians, but unproven, is that it was bid to cut off the funds of the man who betrayed him and who could otherwise continue to represent a political threat. However, the fact that the Constitutional Council approved Balladur's election campaign accounts in 1995 - against the advice of its own investigators - helped prevent the stories becoming public.
It was only in September 2008, when Mediapart broke news of the existence of an internal DCN report linking the Karachi bomb attack to the cancellation of arms deal commissions, that the allegations began to emerge.
Q: What is the evidence for the retro-commissions?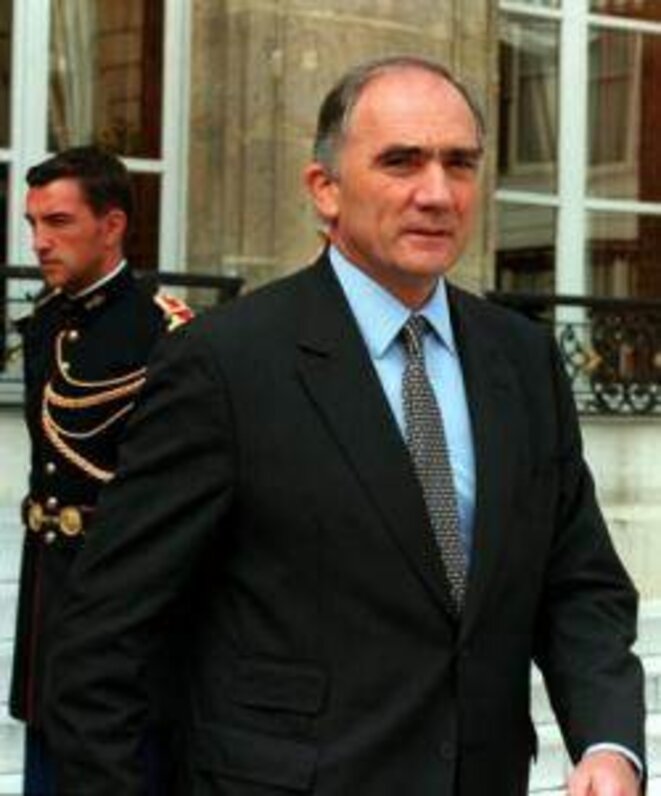 Crucial evidence: former defence minister Charles Millon. © Reuters
There is the opinion of the Constitutional Council's own investigators about the dubious provenance of the 10.25 million francs that Balladur's campaign received in cash. If the money did not come from campaign rallies, where did it come from? Another is the evidence of Charles Millon, defence minister under Chirac in 1995 who Chirac put in charge of conducting internal inquiries into the existence of the retro-commissions. In his evidence in November 2010 to the judge investigating these illegal commissions he confirmed his "intimate conviction" of their existence in the Karachi deal. And in January 2010 Luxembourg police said that some of the funds that had passed through a shell company in the Duchy in 1995 "came back into France to finance French political campaigns".