Walter Robinson has worked at The Boston Globe for more than 30 years, occupying various posts including that of head of the daily's investigative unit, The Spotlight Team. In early 2002, Robinson and his colleagues exposed a massive scandal surrounding the Catholic Church and notably the Archdiocese of Boston, centred on active paedophile priests whose crimes were covered up by their hierarchy. The priests would be transferred to other parishes or even abroad, where they could continue their sexual abuse. The investigation by Robinson and his team won the Globe and its journalists the 2003 Pulitzer Prize, among others, and last year the investigation was the subject of the movie Spotlight (in which Robinson is played by Michael Keaton). He is now the paper's editor-at-large.
Daphné Gastaldi, who, with her journalist colleagues Mathieu Martiniere and Mathieu Périsse, has co-signed in Mediapart a series of investigations exposing sexual abuse by priests in the French Catholic Church and a well-oiled system of protection by their hierarchy (see links on page 2), interviewed Walter Robinson for Mediapart in Boston. He details the system of cover-ups that were in place in Boston and reveals methods that are strikingly similar to those of the scandal now engulfing the French Catholic Church.
-------------------------
MEDIAPART: From Boston, what is your analysis of the scandals affecting the Catholic Church in France?
Walter Robinson: I might have read some articles but, obviously, accounting is going on in other countries to various degrees. Some of this has happened in the last several years, but I think there is renewed interest now, partly because of the film, and we believe it's true that in most countries the Church has revealed very little about the extent of the abuses.
MEDIAPART: In France, Cardinal Philippe Barbarin is facing cover-up allegations. He is under pressure to resign. Last week Pope Francis voiced support for him in an interview with French Catholic daily La Croix. After your revelations in 2002, at what point did Cardinal Bernard Law decide to resign as Archbishop of Boston and what was the key factor?
W.R.: Well, in Boston, all the documents, all of the personal records of every accused priest became public to the press. This started in January 2002. Cardinal Law resigned in December, so it was eleven months later. The revelations kept coming and in the documents was very damning evidence that the cardinal and his subordinates all knew what was going on, and yet they were shuffling the priest from one parish to another. There were very embarrassing documents. I recall one about Father Geoghan who probably had five hundreds victims. When he was finally forced to leave the priesthood, Cardinal Law wrote him a letter that said: "Dear Jack, we are all so grateful for your wonderful decades of service to the Lord". How could you say that to somebody who has ruined the lives of 500 children? In the end, all of the influential Catholics had called for the cardinal to resigned, but in the month before he actually did resign, many of his own priests began to call for him to resign. And there was a letter signed by 55 priests, which is a very courageous thing to do of course, saying that the cardinal had so badly ruined the reputation of the archdiocese that he had to go. It was several weeks after that the cardinal finally resigned.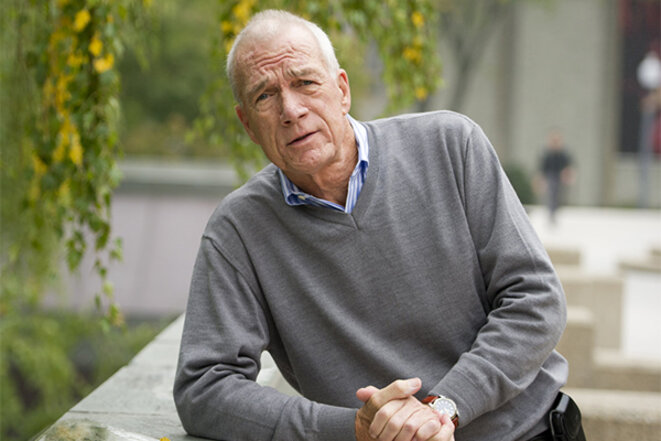 Walter Robinson, former head of The Boston Globe's 'Spotlight Team', now the daily's editor-at-large.
MEDIAPART: In the Archdiocese of Boston, was it something frequent to send a paedophile priest to another diocese without saying anything about his past ?
W.R.: Most of the time, when the priest was moved, the receiving bishop knew, but the pastors of the church where the priests were staying didn't know. So, I have to say if I was a pastor in New Jersey and all of a sudden a priest arrived on my doorstep from Massachusetts, I find it hard to believe that the pastor didn't suspect what was going on.
MEDIAPART: We can see in the movie Spotlight that you found the different justifications used by the Archdiocese of Boston to distance the priests accused of sex abuse: sick leave, awaiting assignment… How did you discover this?
W.R.: First, the four of us who did the investigation were raised Catholic so we knew a lot about the church. When we started to look at it, we knew about 12 or 13 priests. And in those cases, we have looked in the church directory, because we knew that the priests were reassigned very often. The average priest would spend seven or eight years in a parish before he would be sent to another parish, but those priests were sent to a new parish every couple of years. That was suspicious, as we knew that the church was chronically short on priests. So what we found with these 12 or 13 priests is that they were frequently put on the shelf, instead of being put back to work, they were listed as being on sick leave - and this would sometimes go on for a year or two - or listed as "awaiting assignment", or as "being assigned to the clergy personal office". So we decided to use the directories to find out how many priests were in these categories. And from that, we developed a database of 87 priests. And then, when the story broke in 2002, we started to get calls from hundreds of victims.