'Modi and Ambani acted in concert to keep all in the dark'
Reliance Group chairman Anil Ambani became involved in the Rafale contract shortly after Indian Prime Minister Narendra Modi met with Hollande in Paris on April 10th 2015, when it was announced that Modi had changed the original terms of the proposed deal with Dassault.
An aerial viwe of the Dassault-Reliance joint venture plant in Nagpur. © Google Maps
In their complaint lodged this month with India's Central Bureau of Investigation, Arun Shourie, Prashant Bhushan and Yashwant Sinha write: "Mr. Modi obtained an 'undue advantage' from Dassault Aviation, for awarding a contract for 36 Rafale aircrafts in 'fly-away' condition, by abusing the authority of his office and doing his public duty dishonestly and improperly. The 'undue advantage' has been received by his close associate and friend Mr. Ambani. As a consideration for abusing his official authority and doing his public duty dishonestly, Mr Modi compelled Dassault to choose Mr. Ambani as an offset partner, by way of which Mr. Ambani received, and is receiving, and will continue to receive, for the next 40 years, an 'undue advantage'. That is to say that though the offence commenced on 10th of April, 2015, it is, as of date, a continuing offence."
Meanwhile, as Mediapart reported last month, when Hollande visited New Delhi in January 2016, Anil Ambani released a statement announcing his group had agreed to part-finance a film co-produced by the then French president's partner, the actress Julie Gayet. The announcement was made on January 24th 2016, the same day that Hollande arrived in the Indian capital. The funding for Tout là-haut (English title, To the top) – initially to be 3 million euros but later reduced to 1.6 million euros – was vital for the continued shooting of the film, which tells the story of French snowboarder Marco Siffredi who died descending the slopes of Mount Everest.
Questioned by Mediapart, Hollande said he was "not at all informed" about the film production deal with Ambani's group, and that he knew "nothing" about the Reliance Group, adding, "this group had no reason to give me any grace [favour] of any sort. I could not even imagine that there was any link with Julie Gayet's film".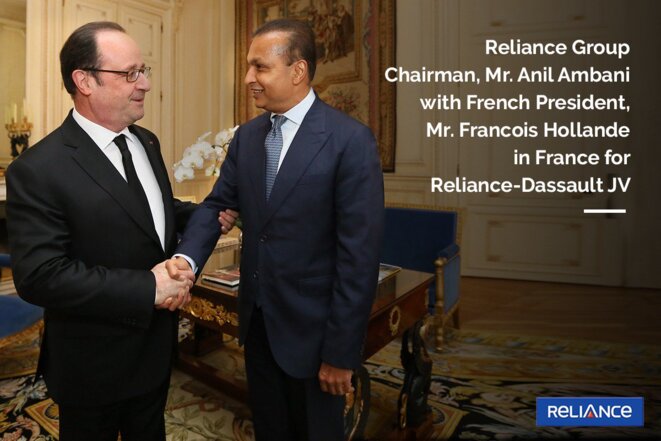 A Reliance group PR photo of François Hollande (left) meeting with Anil Ambani at the Eysée Palace in January 2017: Hollande told Mediapart he had known "nothing" about the Reliance Group. © Reliance
It remains that Hollande was a key figure in the sale of the Rafale jets to India. At a press conference after meeting with Hollande in Paris on April 10th 2015, Modi, speaking in Hindi through an interpreter, announced: "I have asked President Hollande to supply 36 ready-to-fly Rafale jets to India […] Our civil servants will discuss [terms and conditions] in more detail and continue the negotiations."
Indian Air Force
], HAL, the Foreign Ministry, and even the Defence Minister in the dark about his impending designs. The Foreign Minister was not present in France. The Defence Minister, unaware at the time of the new deal, was reportedly inaugurating a fish shop in Goa. The only two people aware of the impending conspiracy at the time were Mr. Modi and Mr. Ambani." They note that Ambani had "accompanied" Modi to Paris for the talks. "Evidently, on the date of the commission of the offence both the conspirators were present at the same location and had ensured that other public servants duty-bound to protect India's public interest and within whose domain the subject matter of the deal squarely [
fell
] were absent," they add.
One month before the April 10th meeting in Paris, Dassault Aviation CEO Éric Trappier announced that progress had been made in negotiations with HAL over the contract for 126 Rafale fighters – the number initially envisaged by the previous Indian government. But in early June 2015, Trappier, speaking to the press during a presentation of his company's new business jet, was to comment that, "36 Rafales is fine for me", adding: "We will take the leadership in order to choose our sub-contractors. We will take those who are efficient. If they are not, we will have the right to change them, which was not the case in the tender."
According to a statement released by Dassault on September 21st, the offset deal with Reliance in accordance with "defence procurement procedure regulations", and that "in this framework, and in accordance with the policy of Make in India, Dassault Aviation has decided to make a partnership with India's Reliance Group. This is Dassault Aviation's choice, as CEO Éric Trappier had explained in an interview published in MINT newspaper on April 17, 2018".
One of the key issues is that Ambani's Reliance Group, mostly centred on telecommunications activity and deeply in debt, was unknown in the aeronautic and defence industry. One month before the new Rafale contract was established, Ambani's group took a stake in Indian defence sector company Pipavav Defence & Engineering. Ambani's defence arm, Reliance Defence, was established just 12 days before Modi visited Paris in April 2015, when the new deal was announced, and on April 24th 2015, two weeks after that visit, Ambani created Reliance Aerostructure Limited, which was to become Dassault's partner in the joint venture. "It is crystal clear that Mr. Modi compelled Dassault to offer an undue advantage by way of offsets in exchange for ensuring that he killed the old deal and offered the new one to Dassault," write Shourie, Bhushan and Sinha in their complaint this month. "Mr. Modi and Mr. Ambani had acted in a premeditated concert to keep everyone else in the dark and at the very last moment, Mr. Modi himself changed the deal and presented a 'take it or leave it' scenario to Dassault and the French."
When the inter-governmental agreement for the sale of the 36 Rafales was signed by François Hollande and Narendra Modi in January 2016, not all of the financial issues in the deal had been settled, and it was not until September that year that the re-investment into local industrial partnerships of 50% of the value of the contract was finally agreed by Paris. That was also when French defence minister, Jean-Yves Le Drian, signed off the various technical conditions in the contract.
It has been alleged that Dassault raised the per unit price of its fighter jets to partly compensate the requirement of re-investing in India half of the sale price. According to the complaint lodged by Shourie, Bhushan and Sinha, the cost per aircraft rose by 118 million euros to total 188 million euros.
When the joint venture with Reliance was sealed, the Indian group had not yet received an official licence for its new industrial activity. When it finally did receive a licence, this was specifically for the manufacturing and servicing of military planes and helicopters, observe Shourie, Bhushan and Sinha, which excluded the option of assembling Dassault civilian business jets, as included in the terms of the joint venture.
Ambani, they write, "is not engaged in the manufacture of any defence products or providing of defence services. He has no machinery. No manufacturing plant. No Research & Development. No technical know-how. No competent human resources in defence. No supply chain. No access to raw materials required. Mr. Ambani makes little to no investment in these Joint Ventures. To illustrate, Reliance Rafael Defence Systems Private Limited, is a J.V. with Israeli firm Rafael […] Mr. Ambani has made an investment of ZERO rupees in this venture thus far. Of course, this J.V. does not manufacture anything. All of these are dummy companies."
Anil Ambani did not reply to Mediapart's request for an interview.
-------------------------------------------------------------------------
If you have information of public interest you would like to pass on to Mediapart for investigation you can contact us at this email address: enquete@mediapart.fr. If you wish to send us documents for our scrutiny via our highly secure platform please go to https://www.frenchleaks.fr/ which is presented in both English and French.
----------------------------------------------------------------------
The French version of this report can be found here.
English version by Graham Tearse