The affair involving the false retraction of Ziad Takieddine, a key witness in the Nicolas Sarkozy-Libyan election funding scandal, has taken an unexpected diplomatic twist. A former Libyan intelligence agent who is head of protocol at the Libyan Embassy in Paris, Hamadi Matug, aged 63, was placed under formal investigation on September 16th this year by investigating judge Vincent Lemonier, according to Mediapart's information.
The Libyan, who has met the majority of those involved in the affair, including the paparazzi boss Michèle 'Mimi' Marchand, is under investigation for taking part in an attempt to free Hannibal Gaddafi with the aid of financial inducements. A son of the late Libyan dictator Muammar Gaddafi, Hannibal Gaddafi is currently in jail in Lebanon. His planned release, in an operation devised by businessman and intermediary Noël Dubus, was intended to help Nicolas Sarkozy's defence in the Libyan election funding scandal, by winning the support of the Gaddafi family.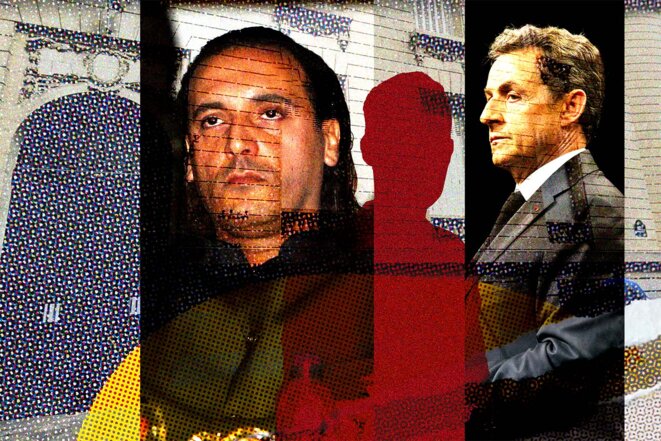 Hannibal Gaddafi and Nicolas Sarkozy. © Photo illustration Sébastien Calvet / Mediapart
Hamadi Matug, who admits acting as an intermediary, was put under investigation for alleged "corruption of foreign judicial personnel", as already reported by the news magazine L'Obs and news agency AFP; in common with anyone placed under judicial investigation he is presumed innocent. As a member of the technical and administrative staff at the Libyan Embassy, and having not acted in this affair in an official capacity, he cannot claim diplomatic immunity for the accusations against him, according to France's Ministry of Foreign Affairs.
When questioned by detectives involved in the investigation, Hamadi Matug also acknowledged that - in return for money - he had offered to dispute the veracity of a Libyan document revealed by Mediapart which confirmed the regime had promised funds for Nicolas Sarkozy's 2007 campaign. After years of determined legal battles, Nicolas Sarkozy finally and definitively failed in 2019 in his bid to claim this document was fake.
According to a document written in February 2021, the Hannibal Gaddafi operation planned for a Lebanese judge "who approved Hannibal Gaddafi's release" to receive 250,000 euros, while 500,000 euros would be paid to a "senior figure in the Supreme Court of Justice". Meanwhile the operational "costs" for ensuring that the release of Gaddafi's son went smoothly came to more than 950,000 euro. In total the overall bill for the operation was to be more than 1.7 million euros. But in the end it failed.
Noël Dubus, who orchestrated the coverage of the supposed retraction by Ziad Takieddine in the weekly magazine Paris Match in November 2020, did indeed obtain a visiting order to see Hannibal Gaddafi in prison, but he only ended up seeing him once. Hamadi Matug confirmed that he had put Dubus in touch with a member of the Gaddafi family; a cousin of Hannibal living in Cairo who apparently refused to put up any funds towards the release other than any required bail money.
French intelligence agency's Samsung phone
The first contact between the Libyan diplomat and Noël Dubus took place in 2019. Dubus had gone to the Libyan Embassy in Paris to offer his "services" to the regime and was met by Hamadi Matug. "He told me that he had done propaganda for Field Marshal [Khalifa] Haftar [editor's note, the Libyan military commander and politician], that he had done this and that, and that he wanted to work for Tripoli," explained the Libyan.
Matug alerted his contacts at France's domestic intelligence agency the Direction Générale de la Sécurité Intérieure (DGSI) who told him to "watch out for him as they had a file on him". He said: "Every meeting that I had with him I informed the DGSI about by telephone. The DGSI asked me to keep in contact to find out what he was doing. I acted as the intermediary."
Matug had first worked at the embassy in Paris in 2013 where he was initially in charge of dealing with Libyan citizens wounded in his country's civil war. It seems he was contacted and then recruited by the DGSI after asking for a residence permit in France in 2015. After spending a year in Poland, he returned to France and took up his duties handling protocol at the Paris embassy in 2016.
When, on September 14th this year, they searched Matug's home, detectives found a "Samsung telephone" which had been given to him by an agent from France's domestic intelligence agency. Matug does not know its number. He still has a second phone given to him by the DGSI but its screen is damaged. The police noted that these two phones could come under the jurisdiction of article 56-4 of France's criminal procedural code which protects classified secrets; it carries an obligation to place all classified material under seal and to alert the committee that oversees the handling of national defence secrets, the Commission du Secret de la Défense Nationale.
When questioned by French detectives in September, Matug insisted that his own superiors were not aware of his contacts with French intelligence. "It remains top secret," he said. "I worked very closely with them [editor's note, the French intelligence services] with the aim of protecting France.... They asked me for evaluations on the situation in Libya."
Dubus's own telephone still contains a long WhatsApp discussion with the Libyan agent from November 2020. It appears that Hamadi Matug had been let in on all the plans of the small group set up by Michèle Marchand and Noël Dubus. The Libyan was sent the photo that appeared on the front page of Paris Match which was devoted to Ziad Takieddine's written retraction of his evidence at a notary in Beirut, and later images of plane tickets showing that Dubus had gone to Lebanon.
On November 17th 2020 Dubus sent him a photo of the Libyan document, published by Mediapart in 2012, which indicated that the go-ahead had been given by the regime to fund Sarkozy's election campaign in 2007, a photo which had been sent to Dubus by Michèle Marchand.
When interviewed by detectives Hamadi Matug said that he had been ready to demonstrate the falseness of the document but on condition that he was "paid" to do so. However, in the end Dubus had "given nothing". In fact, Matug's "information" about the document, which was based on supposed disagreements between the dates and signatures, had already been dismissed by a judicial investigation. In January 2019 the highest court in France, the Cour de Cassation, had ended proceedings brought by Nicolas Sarkozy, who claimed the document was fake. The court's definitive ruling followed a series of expert legal assessments.
"Why were Noël and Michèle Marchand interested in this document?" asked one detective. "Their aim was to save Sarko," replied Matug.
New declassified reports
Recently-declassified DGSI reports confirm that the intelligence agency was receiving detailed information about the Marchand/Dubus team, which could have come from Hamadi Matug.
In a contact report dated December 11th 2020 the DGSI noted that Michèle Marchand had "commissioned Noël Dubus to find an individual capable of studying the document [which was published by Mediapart]". The agency wrote: "Noël Dubus approached a former external intelligence agent for Muammar Gaddafi and met him in a business lounge in Paris."
"This research carried out by Michèle Marchand is apparently financed by a businessman close to Nicolas Sarkozy, David Layani," the declassified report states.
A year later the judicial investigation determined that David Layani, who runs the company Onepoint, had made a payment of 70,000 euros to Michèle Marchand's Bestimage photographic agency for 'public relations' services; investigators now have doubts as to the real nature of these 'services'. In October 2021 Layani was placed under formal investigation for "involvement in witness tampering" and "criminal conspiracy".
The December 2020 report also revealed the possible involvement of David Layani in Takieddine's retraction. "The intermediary Ziad Takieddine, the main prosecution witness against Nicolas Sarkozy, has publicly gone back on his statements … According to Noël Dubus, the Franco-Lebanese businessman was paid by David Layani, mentioned earlier, to change the nature of his evidence in relation to the ex-president of the Republic," the report states.
David Layani himself rejects the claims about his role in the case and strongly denies having funded a suspect operation.
Noël Dubus also got money from the estate agent Pierre Reynaud who funded his trips to Lebanon. The latter paid Dubus a total of 150,000 euros in December 2020 – he was to double the sum in January – plus "two iPhone 12s, presents for the general in Lebanon".
According to another declassified report, dated July 15th 2021, the DGSI was also later informed of Operation Hannibal. "Dubus is in contact with Ali Safa, a member of Hezbollah's intelligence service, via whom he is seeking to obtain Hannibal Gaddafi's release," says this report. "His release could be traded for 2 million euros. Russians, Jordanians and Syrians are working or have worked on this case. During Dubus's last visit Hannibal apparently refused to see him, fed up at so much interference."
'They won't pay the Gs … it's taking too long'
But Hamadi Matug was not just content to keep the DGSI informed, he also played an active role in introducing Dubus to the Gaddafi family.
During their WhatsApp conversations, Dubus tried to reassure Matug about the speed with which he was acting in Lebanon. "I have a meeting with the judge tomorrow for a visiting order," he wrote on January 25th 2021. "I'll call you after I've seen the judge." Matug, meanwhile, seemed impatient for confirmation of progress in the case that he could send to the Gaddafi family. "I don't want to lose my credibility. The client is looking forward to your visit. He phones every two hours," Matug wrote. On January 26th Dubus announced that he had "seen the judge" and that it had been "a little difficult because we tried to be discreet". Matug responded: "I'll let my correspondent know, he hasn't stopped calling me." To which Dubus said: "Tell him to be patient. I'm at the highest level. And I'm going to see H. [Hannibal]. So keep calm."
At the beginning of February Dubus announced that he had just collected his visiting order "from the public prosecutor" which he was expecting the "Supreme Court judge to sign". He added: "They want to remain discreet about what they're doing for me." On February 4th Dubus announced that he had "succeeded". Matug replied: "Great." On February 15th the latter sent Dubus a photo of his passport.
Related articles
The two men in fact went to Tunis from February 18th to 25th. Hamadi Matug had with him for this "diplomatic mission" a letter from the Libyan Embassy in Paris to the embassy in Tunis which authorised him to undertake, "in the exercise of his duties, accompanied by Noël Dubus", a "mission that is considered to be very important".
"When I contacted Libya they told me that there was someone who looked after Hannibal's affairs in Tunis," Matug later told the French detectives. "He's called Abdelatti H., and I was sent his phone number. He asked us to go to Tunis. It took two days to see him because he lived at Monastir, 80km from Tunis. We told him that Noël had the means to liberate Hannibal. He laughed and said that we were the hundredth person to claim they could free Hannibal. He said that he had to approach the person in the family who handled that, in Egypt."
This person turned out to be Salah, a cousin of Hannibal, whom they spoke to by phone. Dubus was upbeat and wrote to one of his friends, the publicist Arnaud de la Villesbrunne (who has also been placed under investigation in the affair), telling him: "The family has given its go ahead."
For Matug, however, "this was a lie". There was no green light.
Nonetheless, on February 22nd 2021 Dubus sent Matug a detailed reverse schedule of what needed to be done in relation to the 'COUSIN'. This included choosing a new lawyer, a visit from the cousin, and successive payments: 80,000 euros, 350,000 euros plus 250,000 euros for the judge, 150,000 euros for Ali, 500,000 for the senior figure at the Supreme Court and finally another 400,000 euros. "If the cousin is in agreement with this procedure, we can envisage going to Lebanon around the first week of March 2021," wrote Dubus.
During questioning by detectives Hamadi Matug was asked about his knowledge of the operation to free one of Gadaffi's sons. "In his plan to get Hannibal free, Noël Dubus planned in particular to pay sums of money to some Lebanese judges. He set out his plans in several notes that he sent to you on WhatsApp. Yet you've said that you weren't aware of his intention to bribe Lebanese judges, what's the real situation?" asked a detective on September 14th.
"I didn't reply when he sent this document," replied Hamadi Matug. "Normally it cost 350,000 euros for bail. The family said that 'We pay for the court and lawyers, but we would not pay for the rest until our son is freed'."
The Libyan agent said that "Dubus and Salah wrote messages to each other". He insisted: "I stopped contacting him when Salah said that he would pay only for the court and the bail."
But Noël Dubus continued these secret negotiations in Lebanon and reported back on them regularly to Michèle Marchand, who claimed that she passed them on to Nicolas Sarkozy. It was on May 27th 2021 that she wrote that Sarkozy was "not the friendliest" and was even "irritated", and that he had suggested to her that "it won't work … that they won't pay the Gs [editor's note, the Gaddafis] and that it's taking too long there ..."
Noël Dubus had replied: "He's wrong."
At the end of May 2021 Dubus was still hoping to convince the 'G' family of his plan. A week before his arrest he was again in Beirut. He prepared a document for Hannibal in a bid to convince him, and explained that "if Abdellati and Salah had listened to him and honoured their commitments he'd have been free since mid-March". He insisted that "things had got worse" because of them. Dubus then promised that if Hannibal "listens to him, he will be outside at the end of June, start of July".
But the document served no purpose as Gaddafi's son refused to see him again. And after this last attempt to free Hannibal Gaddafi, Michèle Marchand, Noël Dubus and their alleged accomplices were arrested in Paris on June 5th 2021.
-------------------------
The original French version of this article can be found here.
English version by Michael Streeter
-------------------------
If you have information of public interest you would like to pass on to Mediapart for investigation you can contact us at this email address: enquete@mediapart.fr. If you wish to send us documents for our scrutiny via our highly secure platform SecureDrop please go to this page.
-------------------------