A 'daft and inept' arms sale that served neither country
These 'return kickbacks' - bribes that never reached local intermediaries but which were re-routed, through complex financial structures, back to France - are known as retro-commissions.
While the common practice of payment of bribes in international arms deals was finally outlawed by an OECD member government agreement in 2000, the payment of retro-commissions was in 1994, as of course now, illegal under French law.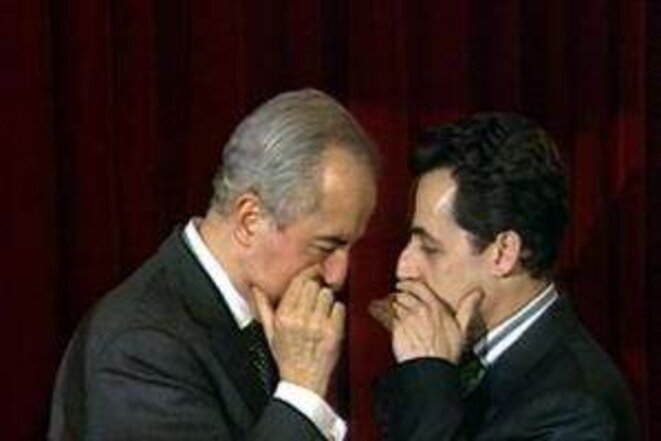 Confidential: Nicolas Sarkozy and Edouard Balladur.
Jean-Louis Porchier told the parliamentary mission that he learned about the kickbacks from Ferrier who was, at the time, export control director of the French Armed Forces general secretariat, the SGDN. Their conversations were held during Porchier's enquiries into the submarine sale. Porchier told the MPs that Ferrier said the contract had no military sense for the Pakistanis, nor a financial one for France. Porchier quoted Ferrier as saying: "'This contract allows for the re-cycling of dubious money on the Pakistani side and, on the French side, it allows for the payment of retro-commissions. The retro-commissions account for 10 per cent of all the FCEs. Of this 10 per cent, part of it was for the electoral campaign of Monsieur Balladur and another part was for Monsieur Léotard.'"
Porchier told the MPs that he gave "credit" to Ferrier's account. He said Ferrier was known among his entourage for his "frank talk".
Although Porchier's testimony before the MPs has only now been revealed, Mediapart reporters Fabrice Arfi and Fabrice Lhomme had interviewed Porchier in preparation for their book on the Karachi contract - published earlier this year (please see Black Box at bottom of page) - shortly after he gave his evidence before the parliamentary fact-finding mission.
He told Arfi and Lhomme that Ferrier was "one of the best-informed people in France regarding the hidden side of arms sales". Porchier told the Mediapart reporters that of the 8.5 million euros of retro-commission cash intended for French politicians, half of it was for Balladur's election campaign. "I was scandalized," he told them. "And clearly so was the person I was speaking with [Ferrier]. I remember that he was certain, he was very precise and thus clearly well-informed."
He continued: "This is, in substance, what [Michel Ferrier] told me. 'This contract is really daft, an ineptitude, and this from every point of view. In serves no purpose for the Pakistanis, who won't be able to confront India with three poor submarines. Same for Cherbourg [the Cherbourg-based DCN naval contractor that built the submarines], it's peanuts. What's more, it's costing the French state a lot of money, because the contract is largely loss-making. In fact it served, on the Pakistani side, for laundering dirty money, money made from drugs, and on the French side to finance politicians.'"
"I asked him what he meant by that, and he answered me 'It's simple, 10 per cent of the commissions [bribes] handed over to the intermediaries was for retro-commissions in France, in other words about 50 million [French] francs. Half of this sum served to finance Edouard Balladur's campaign, the other half to bail out the coffers of the Parti républicain [centre-Right Republican Party]."