Following Mediapart's revelations of the accounts of nine women who accuse French filmmaker Luc Besson of various forms of sexually abusive behaviour and, in one case, of rape, the alleged victims have been given outspoken support from individuals and groups in the US associated with the #Metoo movement that was launched in the wake of the scandal surrounding Hollywood producer Harvey Weinstein.
They include actresses Rose McGowan, Jessica Barth, Caitlin Dulany, trauma expert Louise Godbold, and former Italian model Samantha Panagrosso, five women who have become symbolic of the movement against sexual harassment and aggression in the US film industry and beyond, and also the Time's Up organisation.
In the latest of a series of reports published by Mediapart that began in July this year, when four women first publicly detailed their allegations against Besson, five more women recently came forward with further accusations of sexual misconduct against the 59-year-old director and producer of blockbuster films that include Nikita, The Big Blue, Leon and The Fifth Element.
Contacted by Mediapart on several occasions, beginning in July, both Luc Besson and his lawyer Thierry Marembert have declined our repeated requests for an interview, and neither have replied to questions submitted to them. However, speaking in May following a complaint against Besson for rape filed by Belgian-Dutch actress Sand Van Roy, Marembert said Besson "categorically denies any inappropriate and reprehensible behaviour of any kind".
Mediapart contacted a number of people, unions and associations all involved in the cinema industry, in France and the US, to seek their reactions to the published accounts which, by the strikingly similar nature of the events they relate, raise serious questions about the filmmaker's behaviour, and also his practice of conducting professional encounters with young, and even underage, actresses, alone in hotels.
Reacting to Mediapart's reports, the Time's Up organisation, established in the US at the beginning of 2018 with the support of more than 300 actresses (including Cate Blanchett, Meryl Streep and Natalie Portman), women screenwriters and directors, and which has now built up a 21-million-dollar legal defence fund to serve victims of sexual assault and harassment in all professional situations, issued a statement to Mediapart saying it "stands in solidarity with the women who bravely came forward to share their stories," adding: "Women everywhere deserve nothing less than safe and dignified workplaces, free from harassment and assault".
"We support all survivors in their demand to be heard and in their fight to seek justice," the statement continued. "As we have seen this year, our collective voice is getting louder every day as women from around the globe and across industries continue to speak their truth."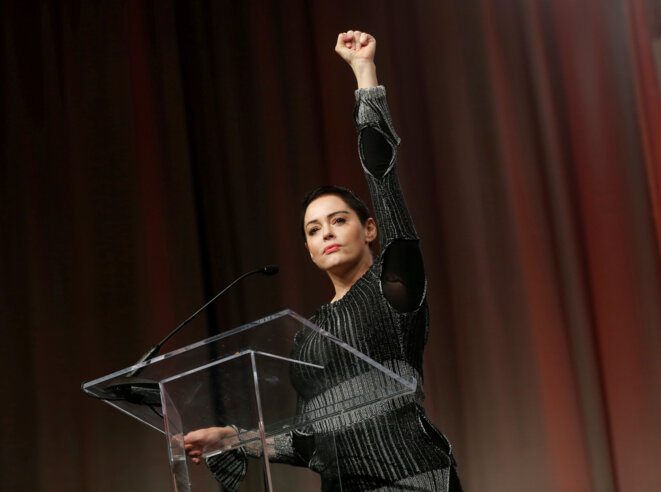 Rose McGowan, a leading figure of the #MeToo movement during a meeting of the 'Women's Convention' in Detroit, October 27th 2017. © Reuters
Actress Rose McGowan, 45, who was one of the first to come forward publicly with sexual assault accusations against Harvey Weinstein, told Mediapart that she was "inspired by the bravery" of the women who had spoken out about their alleged experiences with Luc Besson, and despite what she called "the complicity machine behind him". More generally, she noted that "Excusing outrageous and damaging behaviour is no longer acceptable," adding: "The time has come for change. If Hollywood can ban hotel room meetings, so can the French film industry. Hard truths are still truths, and we must act accordingly."
Following a formal complaint for rape filed in France earlier this year against Besson by Belgian-Dutch actress Sand Van Roy, McGowan posted a message on Twitter saying, "I've been wondering how long this would take. We have heard about you, sir." Contacted in July by Mediapart, the star of Grindhouse, Jawbreaker and TV series Charmed, recounted how, when the Weinstein scandal first broke, "a French producer contacted me saying he wondered how long [it would be] until Luc Besson was found out". She said she "started hearing about Besson, but have no direct knowledge" of the alleged events.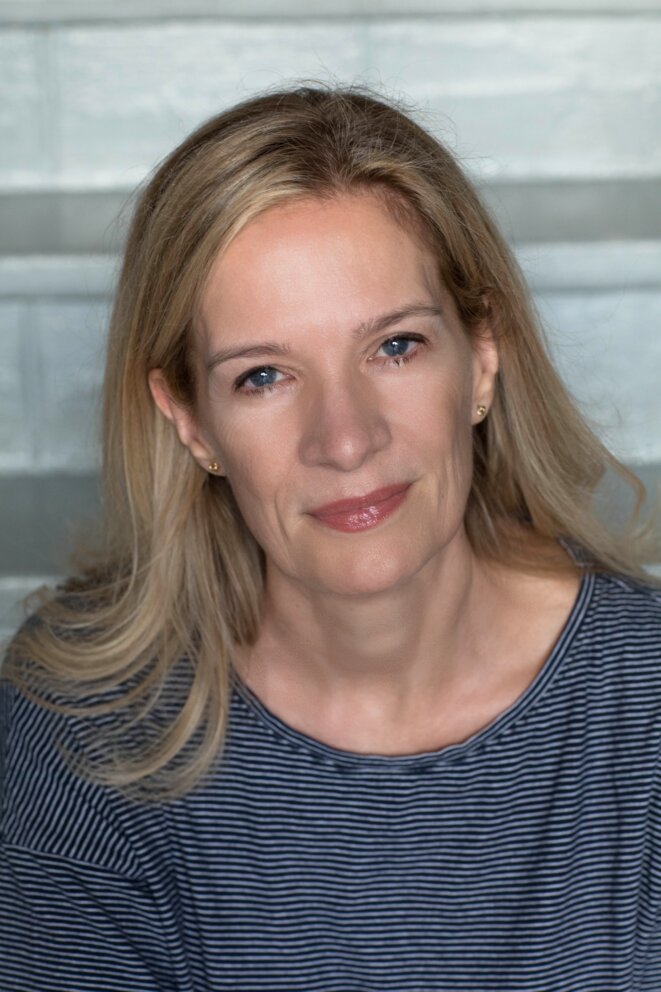 Louise Godbold: "I am angered that any woman has to put up with non-consensual sex." © dr
Louise Godbold is a former British actress who was among the women who spoke out publicly in October 2017 against Harvey Weinstein, when she recounted how she had been a victim of his lewd behaviour in the early 1990s (see her original blogpost here, and a video interview here) when she sought an internship with Weinstein's production company. Godbold, 56, now executive director of Los Angeles-based organisation Echo Parenting & Education, dedicated to helping child trauma victims, reacted strongly to Mediapart's revelations.
"I am angered that any woman has to put up with non-consensual sex, whether she is an actress, a chambermaid or a wife," she told Mediapart. "Sand and other women have been put in an untenable position," she said, referring to the Belgian-Dutch actress Sand Van Roy who filed a complaint against Besson for rape in May this year, while also denouncing more generally what she called "the blackmail to demand sex in return for your career".
"As with Weinstein, there are a lot of women who complied not to advance their career but to prevent it being torpedoed," she said. "[…] Sand is so brave to have come forward without the 'cover' of other women," she added.
On the subject of the silence that has surrounded inappropriate behaviour in the cinema business, she said: "I can only speak about the movie industry in the US and the UK, where I was raised. It is an industry that generates a lot of wealth and power, and the people who control this wealth and power just want this kind of scandal to go away so they can go back to business as usual. There is also a sense of impunity - the casting couch existed because those who are less powerful didn't know they had the right to say "Stop! Time's up!"
"I'm hoping that even if people with power, including the predators with power, don't want change, those who are subjected to their harassment will be sufficiently empowered to no longer put up with it. However, it seems as if it still takes dozens of victims all telling the same story before they are believed."
She said cinema industry practices like meetings in hotel rooms had to change, and welcomed a move the by the US Screen Actors Guild earlier this year calling for an end to the practice. "We need to start behaving like professionals. In which other industry would an executive take meetings in their bath robe? What type of professional would conduct interviews while in a hot tub? It is disrespectful, but when you ask 'Why do they do this?' the answer is, 'Because they can'. Let's change that."
She said she had believed France was "the most civilized country in the world […] but now I am beginning to see that along with the sophistication, taste, intellectualism and manners, there is also a darker side".
"Women have internalised their oppression to the extent that even some of the older generation of feminists seem to believe that we have to be sexy to be valued, that sexual aggression is flattering, and that men have to be forgiven for their acting on their biological urges."