'A large part of the French cinema industry is complicit'
Actresses Jessica Barth, 38 and Caitlin Dulany, 51, are also among Weinstein's accusers. Barth told her story in an article in The New Yorkerby Ronan Farrow in October 2017, when he published the accounts of 13 alleged victims of the producer, and Dulany joined a class action against Weinstein alleging he sexually assaulted her at the Hôtel du Cap in Cannes in 1996. The two have founded a website to enable victims of sexual assault to report their experiences.
.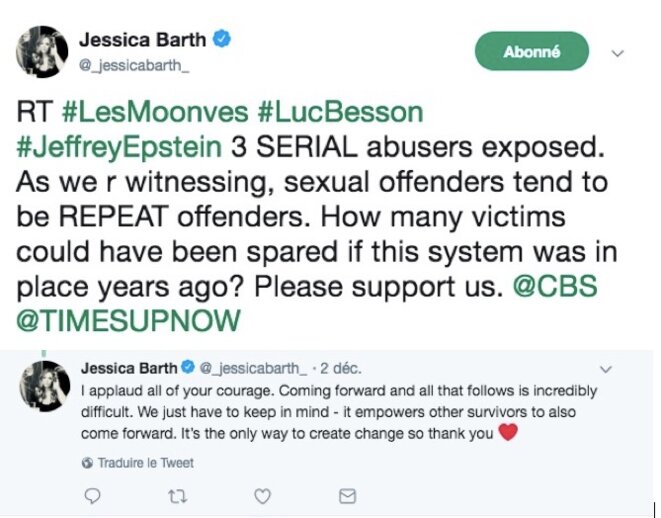 Messages posted on Twitter by Jessica Barth reacting to the latest accusations levelled against Luc Besson.
After learning of the accounts of the women now accusing Luc Besson, first published by Mediapart in French in late November, Barth, who starred in the film Ted, posted a message on Twitter in which she applauded them for their "courage". Contacted now by Mediapart, she said of the nine women: "We understand, first hand, how incredibly difficult, invasive and scary it can be to share your private pain with the world. Please know that your courage will, no doubt, embolden more victims to break their silence. You are changing the world and we thank you for your voice."
"This movement isn't against men," she added, "it is against sexual harassment and sexual assault. It has nothing to do with hating men or emasculating them; anyone who claims otherwise, completely undermines our mission."
Barth concluded: "Praying this really is a tipping point for France."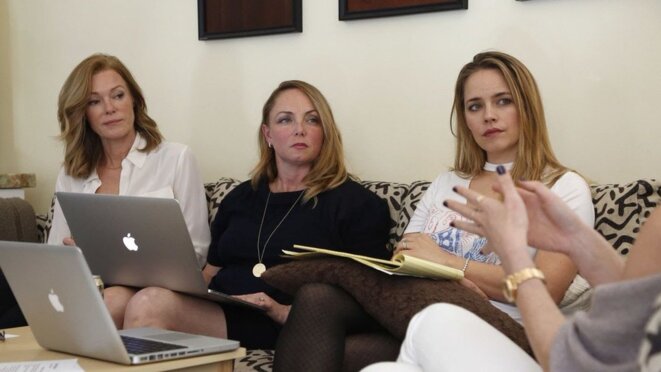 Caitlin Dulany (left) and Jessica Barth (right) during a meeting of Voices in Action. © Jessica Barth
Contacted by Mediapart, Caitlin Dulany also gave them her support, underlining how difficult it is to accuse "a powerful figure in the world of French Cinema and it took great courage for them to tell their stories, knowing the potential for backlash and public scrutiny".
"I believe them, I applaud them for making this choice and I hope this brings about more protection for people who are in the vulnerable positions these women found themselves in," Dulany added.
"It has always been difficult for those of us in the entertainment industry to speak out," she told Mediapart. "We are most often in temporary workplace situations; hired for a film or television series overseen by a variety of individuals and companies."
"There has never been a clear blueprint of where to go or what to do when sexual misconduct happens and there is the very real threat of repercussions – the fear of being fired, the possibility of having your reputation ruined or of never being hired again if you speak out. This has made our industry a 'hunting ground' for predators who repeat their behaviour. Even one year after the #MeToo movement took off, the accounts of sexual harassment and assault in the entertainment business keep coming. It's heart breaking, devastating and infuriating […] It has to stop."
She and Barth said that was why they founded Voices in Action, which Barth described as "a reporting site where victims of sexual misconduct can report abuse and will be alerted if there is a match in perpetrators. They will then be given the option to connect with our team of attorneys under privilege and confidentiality."
"We developed this system with the understanding that many sex offenders are repeat offenders and with the intent of empowering victims to take back their power," she said.
Dulaney added: "We are a place to go for guidance, direction and support. We are survivor-founded and led, with no obligation to the powers that be and only to victims. We empower victims to use their voice, to tell their stories."
"The simple truth was if this had existed in the aftermath of our encounters by Harvey Weinstein many more assaults could have been prevented."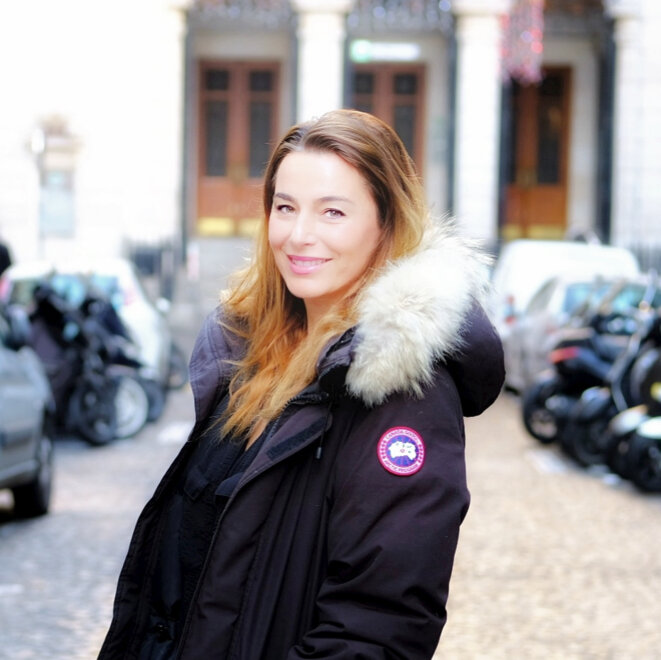 Samantha Panagrosso: "The omerta that reigns over the French cinema world frightens the victims." © dr
Former Italian model Samantha Panagrosso, 45, has also spoken out publicly against Weinstein, detailing that he assaulted her during the 2003 Cannes film festival. Paris-based, and a friend of actress Sand Van Roy, she told Mediapart that, "the Weinstein case proved that women can change a system as long as they are aware of the importance of speaking out".
"This allows us women to share our experiences and stand united against injustice," she said.
"In the Weinstein case, a lot of women came forward yet only a few went to file a police report. This step is of upmost importance, because the legal system can't interfere as long as no depositions have been made."
Panagrosso advised women victims: "Make your rights heard, and share your story with the police. Never forget that force is found in numbers."
While the Harvey Weinstein scandal and the controversy surrounding Luc Besson have clear differences, notably that the French filmmaker is not the target of around one hundred accusations and nor is he placed under formal investigation in France, Panagrosso nevertheless said she identified "similarities" between the two cases, citing what she believed was the fact that "certain actresses who had worked with Luc Besson saw the career suddenly stop after refusing to have sexual relations with Luc Besson".
For Panagrosso, "the omerta [code of silence] that reigns over the French cinema world frightens the victims and prevents them from talking to the police".
"A large part of the French cinema industry is complicit and says nothing for obvious reasons," she added. She said the practice of hotel room meetings should no longer be tolerated, as it has been for "too long".
The Weinstein affair has led to certain changes in practices in Hollywood, where the Screen Actors Guild has issued a code of conduct that advises against meetings between producers and production executives with actors in hotels or private residences without a "support peer".
Contacted by Mediapart, the guild (SAG-AFTRA), which is the largest actors' and actresses' union in the US, said: "After hearing from members and a broad range of industry stakeholders and outside experts, SAG-AFTRA published a series of recommendations under the auspices of our Four Pillars of Change Initiative. As part of the initiative, SAG-AFTRA banned solo auditions in private homes and hotel rooms, which had an immediate impact on the professional lives of performers. Now, our members can confidently make decisions about where and how they pursue their profession with the full weight and protection of the union behind them."
Some American entertainment figures targeted by sexual abuse allegations have been, at least in part, shunned by the profession. Numerous actors and actresses have distanced themselves with director Woody Allen, accused by estranged daughter Dylan Farrow of sexually abusing her as a child – an allegation he firmly denies – and whose latest movie, A Rainy Day in New York, is uncertain of being released. US stand-up comedian Louis C.K. recently saw the premiere of his film I Love You, Daddy cancelled amid accusations of five women of sexual misconduct, including masturbation in front of some, and his voiceover in a Disney cartoon film was replaced.
Meanwhile, actor Kevin Spacey was removed from the Netflix hit series House of Cards following allegations of inappropriate sexual behaviour towards male acquaintances, and erased from Ridley Scott's 40-million-dollar thriller about the 1973 kidnapping of John Paul Getty III, All the Money in the World.
Now, the release of Luc Besson's latest film, Anna, which was initially planned for the beginning of 2019, has now been put on hold by its US distributors. Meanwhile, Besson's company EuropaCorp, already hit by financial difficulties and affected by the scandal surrounding the filmmaker, is preparing to shut down its distribution arm, with no film projects currently underway.