French actors' group calls for hotel meetings to end
Mediapart's revelations of the accounts of the nine women accusers of Luc Besson were reported by other media worldwide, while in France they prompted little, if any, reaction.
In July this year, following the complaint for rape filed against Besson by actress Sand Van Roy and the publication by Mediapart of the accounts of her and three other women accusers of the filmmaker, a New York Times report referred to "a wall of silence" within French cinema, and noted that no important figure in the entertainment business had offered support to the 27-yer-old actress.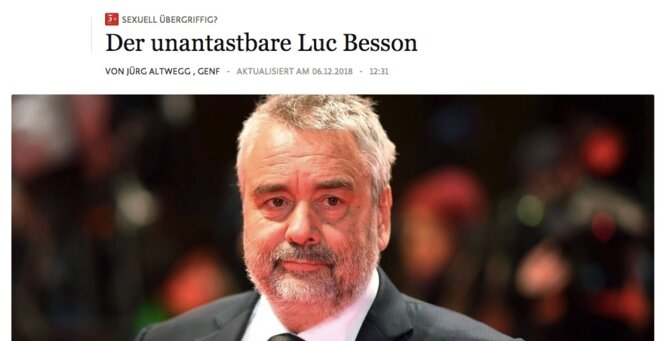 "The untouchable Luc Besson", the headline of an article published by German daily Frankfurter Allgemeine Zeitung.
On December 6th, German daily Frankfurter Allgemeine Zeitung (FAZ) reported on the accusations levelled at Besson, who it described as "untouchable" in France, citing "the persistent silence of the Parisian press". The daily underlined that the alleged events have been largely only mentioned in France in gossip magazines.
More recently, after the publication by Mediapart of the accounts of five more women accusers of Besson, the French cinema world remained silent, with no public reaction either in his defence or against him.
Asked to comment on the accusations, the professional association Actrices, Acteurs et Associés (Actresses and Actors Associated), AAFA,said: "Concerning the ongoing cases, they are before the justice system; while respecting the [legal] presumption of innocence [afforded to Luc Besson], we can only support the eventual victims. We are following these cases with attention."
Founded in 2015 and headed by the actor Olivier Sitruk, AAFA created, in the wake of the Harvey Weinstein scandal, a dedicated service dealing with complaints of violence or harassment from members of the acting profession. Working alongside the Fondation des femmes (women's foundation), it offers support and assistance to victims of sexual aggression, and has put in place a protocol agreement among different actor training schools to allow victims to speak out. The association is now due to launch a series of consultations with representative bodies in the acting profession for the adoption of a broad code of ethics it has itself prepared.
One of the elements in the code is to make the practice of holding auditions in hotel rooms, and those "notably involving minors", should become "no longer possible". While underlining that "artistic freedom is essential" in the cinema and theatre, and that "the work can and must be stimulating, experimental and audacious", AAFA also insists that "the creative space must be a secured space".
In October 2017, amid the Weinstein revelations, France's Société des réalisateurs de films (SRF, a professional association of film directors), co-presided by the filmmakers Marie Amachoukeli, Bertrand Bonello and Christophe Ruggia, issued a statement expressing its "solidarity and unwavering support for all those who have the courage to speak out".
"A wind of change is blowing, it is our collective responsibility to take a part in it," the statement added.
Until now, this prestigious association has made no comment concerning the accusations levelled at Besson. Contacted by Mediapart, the SRF board, made up of 22 members including Jacques Audiard, Pascale Ferran, Philippe Faucon, Céline Sciamma and Rebecca Zlotowski issued a statement that read: "We continue to encourage the freedom of speech, to put an end to certain intolerable practices or unacceptable situations."
The SRF board said the case of Luc Besson "invalidates the idea and the feeling that French cinema – either because it was strangely not concerned, either through solidarity – could have miraculously escaped the consequences of the Weinstein affair". Regarding the complaint filed by Sand Van Roy, the SRF underlined that the case was "at present at a moment of legal procedures".
As for the practice of professional meetings in hotel rooms, the SRF commented that "this is not common practice and is not normal […] whether indeed it involves adult or underaged actors and actresses". With a view to banning such practices, the association suggested one solution would be to establish "a code of ethics for auditions, contractual and signed by the producer, director, those responsible for artistic distribution and agents in order to work towards the transparency of practices".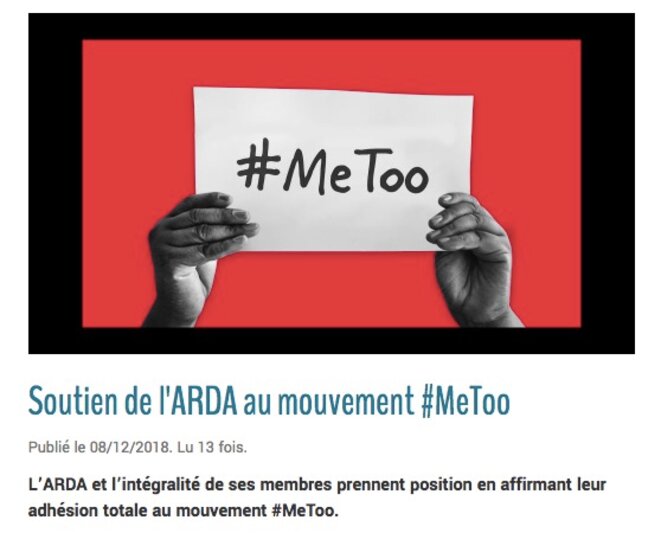 The statement issued by ARDA on December 8th 2018.
For its part, the Association des responsables de distribution artistique (ARDA, a professional association representing French casting directors), issued a statement on December 7th, following Mediapart's report detailing the new accusations against Besson, who it avoided mentioning by name. The text said all its members "take position in stating their total support for the #MeToo movement", (an affirmation that comes one year after the movement was launched). "We, directors of castings, firmly believe in the necessity of a liberation of speech for those who have been victims of harassment, sexual abuse or rape within the French entertainment industry," the statement added.
"To submit an actor or actress to sexual pressure while justifying it with the obtaining of a role is unacceptable. It is therefore our duty to guarantee for all actresses and actors total attention if they should be confronted with violence or abuse of power, and if they wish to talk about it."
Recognising that actresses and actors can be reticent to speak out for fear of reprisals, the ARDA made several pledges to reassure victims. "Never will the fact of speaking out be held against you," it insisted. "No employment discrimination against those who wish to speak out can be envisaged, the support of every casting director who is a member of ARDA will be unwavering," it said, concluding: "ARDA is and will be attentive. ARDA will support victims."
-------------------------
If you have information of public interest you would like to pass on to Mediapart for investigation you can contact us at this email address: enquete@mediapart.fr. If you wish to send us documents for our scrutiny via our highly secure platform please go to https://www.frenchleaks.fr/ which is presented in both English and French.
------------------------------------------------------------------------------
The French version of this report can be found here.
English version by Graham Tearse