'Guéant called Sarkozy the boss'
'CAMP07' also mentions Takieddine by his initials in a reference to "several preliminary discussions between ZT and Saif al-Islam", second son of Gaddafi. 'ZT' is described as "in charge of the mounting" of an operation parallel to his "interventions" in a commercial deal between France and Libya for the sale to the Tripoli regime of a secure encrypted communications system, and a plant to manufacture identity cards embedded with electronic chips.
As Mediapart reported last year, the sale of the encrypted communications system, built by French IT company Bull's subsidiary Amesys, then operating under the name i2e, was brokered by commission-paid Takieddine.
According to the notes in 'CAMP07', the Libyans were to offer "financing" of a total of 50 million euros through a covert system that involved a "BH" company based in Panama (in an apparent reference to Brice Hortefeux), and an unidentified Swiss bank. The notes concluded with the comment: "Campaign financing totally settled".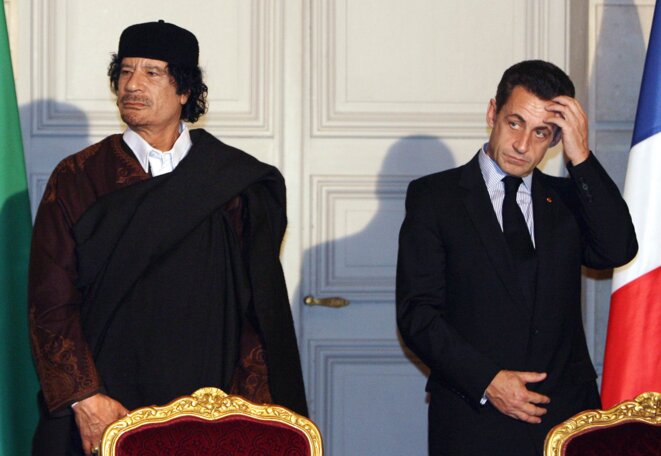 © Reuters
Contacted by Mediapart, Brice Hortefeux, (who is currently in charge of the president's re-election campaign 'rapid reaction' team set up to present swift counter arguments to rival candidates), confirmed his presence in Libya alongside Sarkozy during the October 6th 2005 trip, but denied that any discussions were held with the Tripoli regime concerning the financing of Sarkozy's 2007 election campaign. "There was never any question of political financing, neither near nor far," he said.
Questioned by Mediapart about the reference in the notes 'CAMP07' to a "BH" company based in Panama, Hortefeux replied: "I don't even know what this is."
During 2005, Takieddine made 11 trips to Libya and filed more than ten reports about Libya-related matters for the attention of Sarkozy's inner cabinet, headed by Guéant, at the interior ministry. According to documents obtained by Mediapart, Takieddine was present not only during Sarkozy's October 2005 trip to Libya but also during others made by Guéant and Hortefeux.
A number of references in the document 'CAMP07' correspond with Takieddine's own confidential notes, which were last year handed over to Judge Van Ruymbeke by Takieddine's British former wife, Nicola Johnson.
Questioned by Van Ruymbeke on October 12th 2011, Takieddine gave a statement saying: "The notes that I made about different countries on my computer, Syria, Saudi Arabia, Libya and Lebanon, are real and were given by me to Monsieur Guéant who needed them to hand them over to the minister [Nicolas Sarkozy], who he called 'the boss'."
In a report dated September 6th 2005 planning Sarkozy's trip to Tripoli and entitled 'Visit of the Minister, October 6th 2005', Takieddine advised on a preparatory visit by Claude Guéant: "The preparatory visit is unusual. It must be of a secret nature," he wrote. "For this reason it will be preferable that CG [Claude Guéant] travels alone, and that the journey is done 'without fanfare'. The other advantage: greater ease with which to broach the other important subject, in the most straightforward manner." The "other important subject" was not explained in the document.
On September 22nd 2005, Takieddine sent another note on the preparatory visit, referring to a tête-à-tête meeting between Sarkozy and "the Leader", meaning Gaddafi, and a study of the "the CV of NS and BH" before "giving them to the Leader". Under the heading "Planned appointments and discussions", Takieddine noted one to be had "With the Minister of the Interior", adding an ambiguous question: "To what point?"
He also referred to the arms contracts on the agenda of Sarkozy's visit. Takieddine notably mentioned the "protection of borders carried out by the French security pole led by Sagem and the 'refit' of the Mirages, Sukhois (170 in all)". Armaments deals of the sort would in theory normally be managed by the French Ministry of Defence rather than the Ministry of the Interior.