'I want to protect my wife and children'
Doctor Didier Grosskopf and Jean-Charles Brisard are both close to Jean-François Copé, the current head of the ruling UMP party. Copé, a former budget minister under President Jacques Chirac, and who served as spokesman for Chirac's government, was also a friend of Ziad Takieddine (see Mediapart's report on their relationship here).
It was Copé's closeness to Takieddine that led to Grosskopf's initial involvement with the arms dealer, after the latter suffered serious injuries in a mysterious road accident while holidaying on the exclusive Caribbean island of Mustique, in April 2004.
Takieddine lost control at the wheel of a small four-wheel drive vehicle in which he was driving, alone. He was thrown out of the car, which left the road and came to a halt after overturning. The arms dealer was rushed to a medical clinic on Mustique, where he was diagnosed with a fractured skull and auricular haemorrhage (bleeding of the ear). The doctors immediately decided to fly him to a hospital in nearby Barbados.
Thierry Gaubert, also a friend of Takieddine and a long-serving aide to Nicolas Sarkozy, beginning when the latter was mayor of Neuilly, a wealthy suburb west of Paris, then when Sarkozy was Balladur's budget minister between 1993 and 1995, was swiftly notified of the incident by an acquaintance who happened to be staying on Mustique at the time. Gaubert, who Judge Van Ruymbeke placed under investigation last September for his suspected role in the illegal party funding case, immediately called Copé.
Questioned last October by police investigators acting under Van Ruymbeke, Grosskopf recalled how he was then contacted by Copé: "I received a call on my mobile phone from the government spokesman, who was Jean-François Copé," he said in his statement. "It was in my capacity as a doctor and a friend that Monsieur Copé asked me to look after an important person, namely Ziad Takieddine, who had a health problem. I accepted this mission through friendship for Monsieur Copé. An employee from the prefecture took me to the airport."
The neurosurgeon arrived in Barbados after an emergency operation had already been performed on Takieddine. He made immediate arrangements for Takieddine to be flown back to Paris to the Pitié Salpêtrière Hospital, where Grosskopf took over his care for the period of his convalescence.
Grosskopf said that he was subsequently "sought out by Takieddine to minister to other sick people among his personal contacts". He confirmed that he "went to Libya to advise sick people […] at Monsieur Takieddine's request". It was allegedly during these visits to Tripoli that Grosskopf was entrusted with confidential information.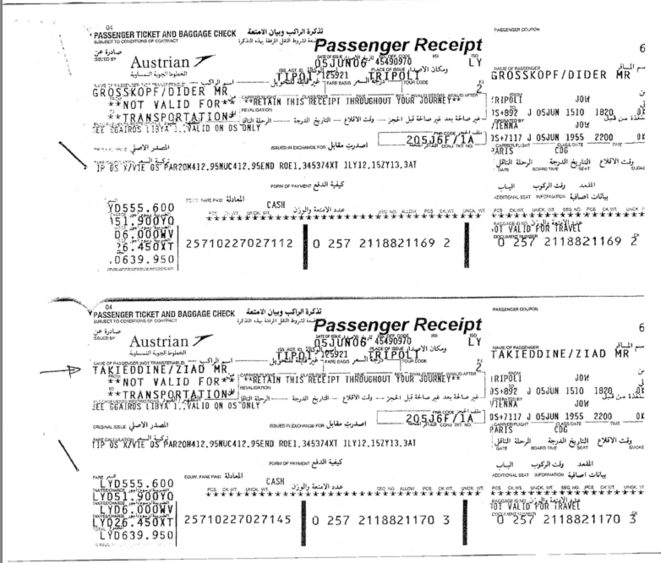 © dr
Contacted by Mediapart on February 29th, Grosskopf did not contest the substance of the information contained in Jean-Charles Brisard's report. "Monsieur Brisard is a friend, I spoke with him several times about this subject, he helped me," Grosskopf said.
"But what he puts forward is his responsibility," he added. "I do not want to be involved in this affair. I want to protect my interests, that is, my wife and my children. At one point I was followed. I was very frightened."
"This business goes beyond even the most fertile imagination," Grosskopf said. "As a citizen it upsets me. But I could not have imagined that in arranging for this gentleman to be repatriated for health reasons, it concerned the [French] Republic's greatest corrupter."
Grosskopf said he blamed "those in power" for dragging him into the affair, but not Jean-François Copé, "who remains a friend".
In autumn 2006, Takieddine suddenly broke off contact with Grosskopf and launched a complaint against him with the Conseil de l'Ordre des Médecins, the French doctors' regulatory body, to obtain reimbursement of medical fees paid to the neurosurgeon. Brisard conversations with the doctor, summarized in his report, were held in the midst of this conflict, on December 20th 2006. They met several times and it appears that at least one other memo was written.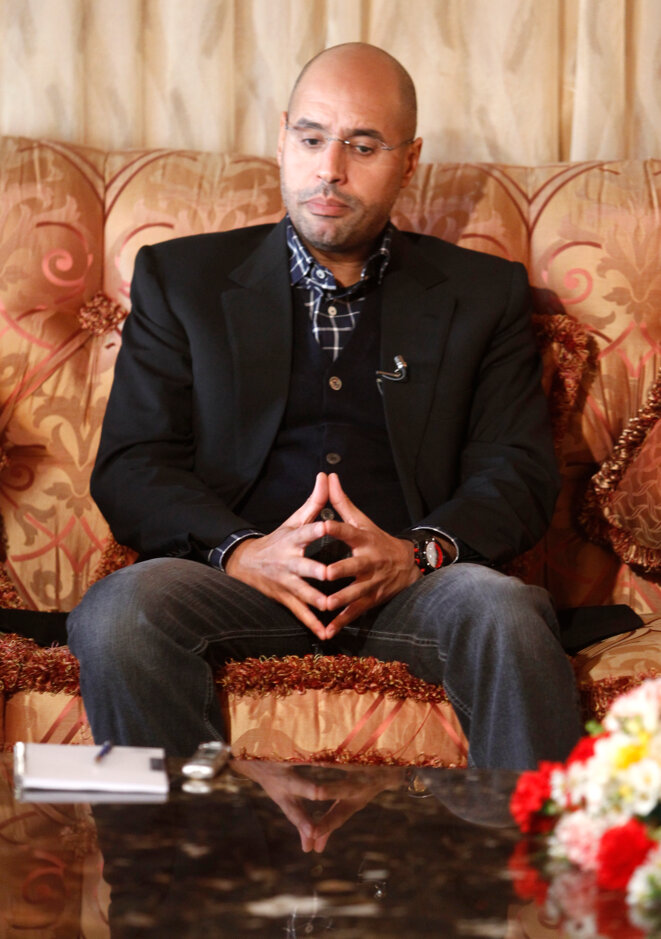 Saïf al-Islam © Reuters
Suspicions over a Libyan connection in the financing of Sarkozy's campaign were fanned a year ago when both Muammar Gaddafi and his son, Saïf al-Islam, made sensational declarations.
Just two days before the NATO military intervention in Libya in March 2011, Saïf al-Islam made specific accusations in an interview with television channel Euronews. Asked his opinion of President Sarkozy he answered:
"Sarkozy must first give back the money he took from Libya to finance his electoral campaign. We funded it and we have all the details and are ready to reveal everything. The first thing we want this clown to do is to give the money back to the Libyan people. He was given assistance so that he could help them. But he's disappointed us. Give us back our money. We have all the bank details and documents for the transfer operations and we will make everything public soon."