Takieddine's 1.5 M-euro cash land
The ongoing judicial investigations into Takieddine's activities fuel further suspicions. An examination of Takieddine's offshore companies revealed the existence of secret commissions paid by Libya.
On March 5th 2011, Takieddine was arrested by customs officers at Le Bourget airport near Paris on his return from Tripoli, after they discovered he was transporting 1.5 million euros in cash. In a statement about the incident given to Judge Van Ruymbekeon November 9th last year, he said: "I went as the carrier of a message from Claude Guéant who, also, I called from there. Thinking I was doing the right thing, I came back carrying a message from Gaddafi which, given the circumstances of my 'welcome' when I arrived, I was unable to deliver," he said.
In a written statement given to customs officers when he was arrested, he said that the Libyan government had given him the banknotes, which covered his fees.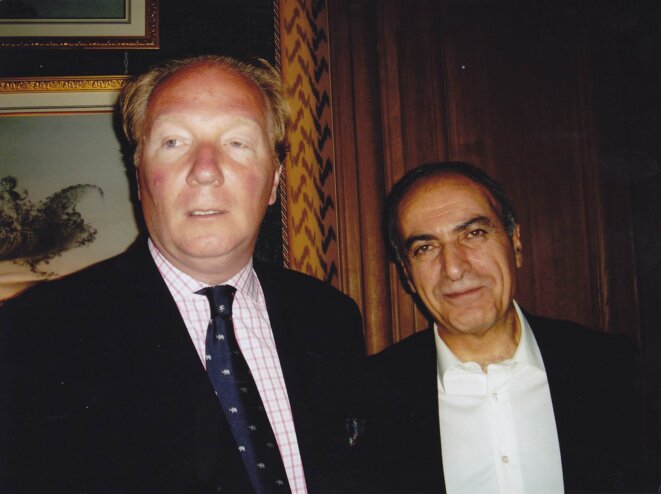 MM. Hortefeux et Takieddine, en 2005 © dr
Brice Hortefeux is referred to in the "GEN/ NS V. MEMO DG" document concerning unofficial missions he carried out before 2007 for then-interior minister Nicolas Sarkozy, in particular handling contacts with Takieddine, who in his role as an intermediary opened the doors of several Arab countries to the minister. One instance of this was when Takieddine accompanied Hortefeux to Saudi Arabia at the end of 2003 to negotiate a major contract for a border surveillance project, under the codename Miksa.
In summer 2007, Takieddine was also a key figure in the French presidency's negotiations to free five Bulgarian nurses and a Palestinian doctor imprisoned in Libya for allegedly conspiring to infect children with the HIV virus. The ultimately successful bid marked the Sarkozy administration's first major diplomatic coup which, in Takieddine's own words, turned a "new page" in Franco-Libyan relations. The first sign of this was when France rolled out the red carpet for the Libyan dictator, allowing him to pitch his tent in the gardens of the Hôtel Marigny, the official residence for state visits, in December 2007.
Mediapart has published several investigations revealing the close personal relations Sarkozy's entourage built with Takieddine, including holidays enjoyed at the arms dealer's French Riviera villa at Cap d'Antibes.
These relations included Thierry Gaubert and Hortefeux, who police officers last September intercepted telephone conversations between Gaubert and Hortefeux revealing their concern about the progress of Judge Van Ruymbeke's investigation into Takieddine.
In December 2011 a witness statement by Takieddine's ex-wife Nicola Johnson also implicated Hortefeux. She said that in 2005, Hortefeux and Gaubert came to pick up a sum of money in cash at Takieddine's home on Avenue Georges-Mandel in Paris. Hortefeux has strongly contested this but has not sought legal recourse against the allegation, contrary to his threat to do so.
In a book recently published by Takieddine called L'Ami Encombrant ('The Embarrassing Friend'), he contested having been involved in corrupt activities. However, in a French TV current affairs programme, Complément d'Enquête, broadcast on October 11th, 2011, Takieddine was unwittingly filmed by a hidden camera saying: "I've got them all in the palm of my hand. I can bring them all down." To the question "whom?" he answered: "All of them."
Neither the French presidency nor Takieddine responded to Mediapart's invitations to comment on the issues raised in this article.
-------------------------
For more about Ziad Takieddine, and the political funding scandal behind the Karachi Affair, click on the links to Mediapart's investigations below:
Judges step up hunt for the phantom figure behind the Karachi Affair
'Everyone's in the merde': the secret cash funding scandal bringing down the house that Sarkozy built
The Sarkozy aide and his secretly-funded Colombian mansion
Exclusive: British witness in French funding scandal hits back at 'protected' arms dealer
The arms dealer and his 'friendly' services for UMP leader Copé
Judges step up hunt for the phantom figure behind the Karachi Affair
French IT group Bull horned by libyan internet espionage deal
French judge finds key evidence in illegal funding probe
British divorcee becomes key witness in French political funding scandal
Net closes in on French presidency after funding 'scam' arrests
Arms dealer probe brings illegal funding scandal closer to Sarkozy
The British thriller writer caught in the plot of the Karachi affair
The secret financier who brings danger to the Sarkozy clan
Sarkozy, the arms dealer, and a secret 350 million-euro commission
The well-connected arms dealer and his tax returns
How Sarkozy aides saved arms dealer from paradise island 'death blow'
Exclusive: how Sarkozy's team sought grace for Gaddafi's murderous henchman
The arms dealer and his Paris party for the glitterati
Exlusive: how President Sarkozy's team dealt with Gaddafi
When Total paid the bill for the Elysée's secret emissary
How French intelligence shields the Sarkozy clan's unofficial emissary
Divorce court freezes arms broker's assets
The French-built stealth offroader that may be hiding Gaddafi
A Q&A guide to the Karachi affair
How the Karachi affair caught up with Nicolas Sarkozy
Senior French defence chief told of former PM's 'kickback scam
-------------------------
English version: Sue Landau and Graham Tearse
(Editing by Graham Tearse)