'A man who wallows himself in sex'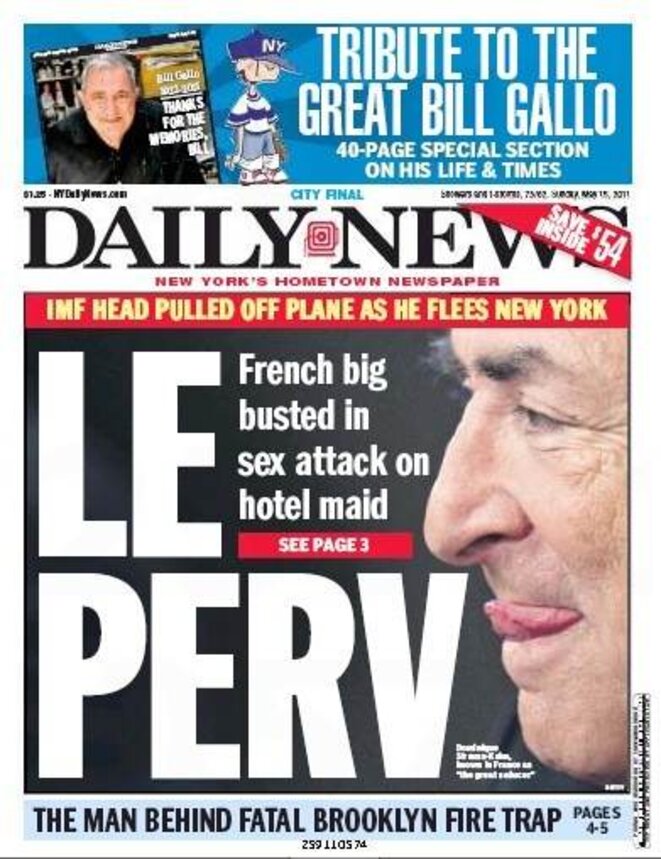 New York Daily News cover Sunday.
In a statement released to AFP on Sunday, Strauss-Kahn's wife, US-born French journalist Anne Sinclair, said she "doesn't for one second believe in the accusations" leveled against her husband, nor did she doubt "that his innocence would be established".
Former French finance minister Strauss-Kahn, 62, a leading member of France's Socialist Party, was regarded as the party's likely candidate for the May 2012 elections, although he had not yet officially declared himself a runner in its primaries due later this year. Over the past six months, regular opinion poll studies in France have predicted that Strauss-Kahn, if he ran as expected and was chosen as Socialist candidate for the presidency, would comfortably beat conservative-right incumbent Nicolas Sarkozy.
But Strauss-Kahn's arrest, whatever the outcome of the case, has now overnight changed the political landscape in France, plunged the Socialist Party into disarray and destabalised the international financial scene. The IMF managing director had been due to meet with German Chancellor Angela Merkel on Sunday to discuss the worsening Greek debt crisis, and was on Monday due to attend a meeting in Brussels of European Union finance ministers to discuss further debt crisis bailouts for both Greece and Portugal. Strauss-Kahn had been instrumental in securing an earlier bail out deal accorded to Greece.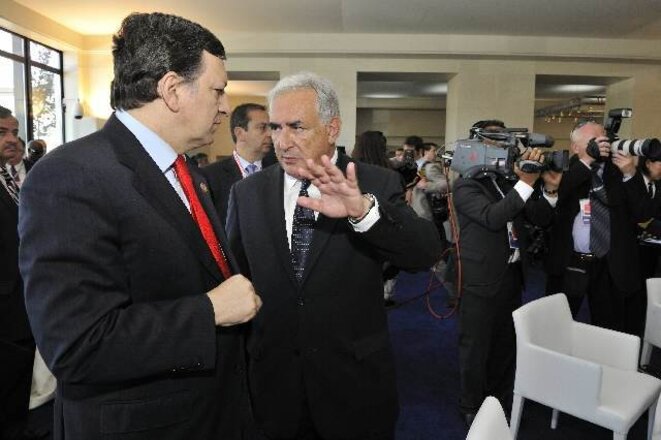 DSK with EC President José Manuel Barroso. © EU.
In a statement published Sunday on the IMF website, its director of external relations Caroline Atkinson wrote: "IMF Managing Director Strauss-Kahn was arrested in New York City. Mr. Strauss-Kahn has retained legal counsel, and the IMF has no comment on the case; all inquiries will be referred to his personal lawyer and to the local authorities. The IMF remains fully functioning and operational."
Later Sunday, the IMF announced that its second highest-ranked offical, John Lipsky, had been appointed acting Managing Director while Strauss-Kahn was in custody.
Greece was due to announce new measures to tackle its critical debt problem at the EU meeting on Monday. French news agency Agence France-Presse (AFP) quoted a Greek government official, speaking on the basis of anonymity, as saying Strauss-Kahn's arrest "will certainly be a source of delays in the short term."
In 2008, Strauss-Kahn was at the centre of scandal over his affair with a Hungarian woman economist, Piroska Nagy, employed by the IMF. A board investigation into the suspected abuse of his position over the subordinate concluded that he had shown "a serious error of judgment" but that the sexual relationship was consensual. Strauss-Kahn later publicly apologised to IMF staff and to his wife.
The arrest Saturday of Strauss-Kahn, popularly referred to as 'DSK' in France, prompted a rush of heated political reaction in France from all sides. Socialist Party First Secretary (leader) Martine Aubry said she was "stupefied" by events, which she described as "a thunder bolt". She appealed for everyone "to respect the presumption of innocence and to maintain necessary decency", adding: "I call on the Socialists to stay united and responsible".
Meanwhile, ruling UMP conservative-right party Member of Parliament Bernard Debré launched a fiercely critical attack on the IMF chief: "It is a humiliation for France to have a man who wallows himself in sex, and that's something known about for quite some time."