By François Bonnet in the Haitian capital Port-au-Prince.
Cholera has taken hold of Port-au-Prince. At this stage it is impossible to predict the consequences of the sudden outbreak of an epidemic in Haiti's capital, one which has already exacted a high death toll elsewhere in the country in just three weeks. Some staggering scenarios are being planned for, following the manifest negligence of authorities faced with a population crushed by destitution and wretchedness.
Last week, Gabriel Timothé, Director General of the Ministry of Health, declared the disease was now ""a question of national security"". But with a state apparatus non-existent or corrupt, there is no organisation able to take appropriate action.
The cholera epidemic has spread like wildfire since it first appeared in mid-October in the rural area of Artibonite, about 100 kilometres north of the capital. Now it has affected half the country. There have been over 700 deaths and 10,000 people hospitalised, with the sick dying while trying to reach clinics and health centres that are overwhelmed, and a population that knows nothing of an illness that had been absent from the island for decades. In many areas the situation is largely out of control, and is now threatening to become so in Port-au-Prince.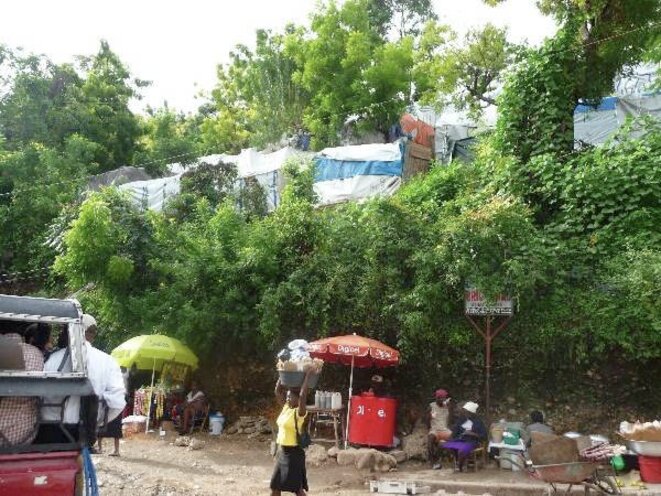 Tentes et bâches dans les pentes du Canapé Vert. © (F.Bt.)
Of the 2.5 million inhabitants of the capital and its agglomeration, 1.4 million are still living in ruins, under tarpaulins, in makeshift wood and corrugated iron shelters, in hundreds of more or less organised tented camps improvised in what is left of the affluent neighbourhoods.
The steep slopes of the Canapé Vert district have been covered in plastic tarpaulins, where survivors from the shanty towns destroyed in the earthquake of January 12th, 2010 have now sought refuge. Tens of thousands of people are subsisting in these vast cesspits, among the rubbish, dirty water, herds of pigs and goats, and overflowing latrines - where these have been installed.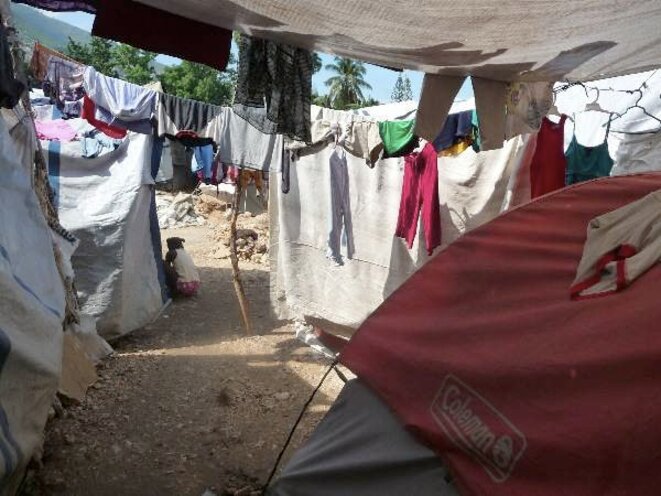 Tentes sur la place Boyer à Pétionville. © (F.Bt)