Monaco is a small world, a micro-state where secrecy, privilege and exclusive relations have been practiced for decades. Dmitry Rybolovlev understood this very well, and used his purchase in 2011 of the locally sacred football club AS Monaco to provide a base from which he was able to spin a web of influence all the way to the top of 'the Rock', the site of the royal palace.
Documents from Football Leaks (see 'Boite Noîre' bottom of page), obtained by German weekly Der Spiegel, together with legal files studied by Mediapart and dozens of interviews it has conducted with people close, or once close, to the oligarch, reveal the clientelism that the billionaire developed in Monaco, a tax haven in the belly of Europe which enjoys very privileged relations with its giant neighbour France.
The story behind this concerns far more than the world of football alone. It in fact has all the characteristics of a scandal of state, one that allowed Rybolovlev and his entourage an exceptionally close relationship with the judicial and political authorities of the principality, to the point of obtaining information about ongoing investigations, and even to participate in drafting a law.

Its unveiling threatens to provoke a major crisis in Monaco, amid a now fast developing judicial investigation into alleged corruption of local officials, launched after a complaint filed by individuals previously close to Rybolovlev.
That investigation is led by Judge Édouard Levrault, a French examining magistrate assigned to the Monaco judiciary in 2016 (under bi-lateral conventions, the Monaco judiciary, largely based on the French judicial system, includes around 17 magistrates from France, appointed by Paris to various roles). On November 7th, the judge placed Rybolovlev under formal investigation for suspected influence peddling, corruption, and being in receipt of information that breached the confidentially of judicial investigations.
In a statement issued to Mediapart by one of his lawyer's (the full text of which can be found at the end of this report, page 5), Dmitry Rybolovlev has denied involvement in "any wrongdoing or inappropriate conduct".
The placing under investigation of a person is a legal step that precedes charges being brought, but implies the discovery of serious or concordant evidence that they committed a crime. Under French law, a person placed under investigation is presumed innocent unless proven guilty by a court of law.
The unfolding affair threatens to engulf the principality's judiciary, as well as the close circle of individuals around Monaco's reigning monarch, Prince Albert II, whose accession followed the death in April 2005 of his father Prince Rainier III, who had ruled over the Rock since 1949. Monaco's former justice minister, its former interior minister and three high-placed officials (one still in activity, the two others now retired) were also placed under investigation last week.
"You have understood that this situation is not comfortable," said Prince Albert in an interview with Mediapart. "But I think one must allow the justice [services] to continue right up to the very end." Asked about the allegations that Dmitry Rybolovlev had established his influence over a part of the Monaco state apparatus, Prince Albert commented: "If all of that was established, I think that he would by himself choose to withdraw."
True to his reputation for discretion (see the first report in this series), Rybolovlev is not directly involved in the management of AS Monaco, the football club he took a 66.6% stake in in 2011, nor his business activities on 'the Rock', as Monaco is often called (le Rocher in French). Rather, he supervises operations, which are conducted by two of his closest aides.
One is lawyer Tetiana Bersheda, 34, the daughter of a Ukrainian diplomat appointed to Switzerland, and who has Swiss nationality. She began working for Rybolovlev after obtaining a doctorate in law at Fribourg University, and is a member of the Geneva bar. A resident of Monaco since, she is a board member of both AS Monaco and Monaco Sports Invest (MSI), the Monegasque company through which Rybolovlev controls the football club. She also works on legal issues for the Russian's family office in Monaco, Rigmora, which employs a staff of around 20, and manages Rybolovlev's relations with local institutions. Her role with AS Monaco gives her easy access to Monaco high society, and in 2015 she became president of the prestigious association of "Friends of the ballets of Monte-Carlo", which supports and promotes the principality's classical ballet company.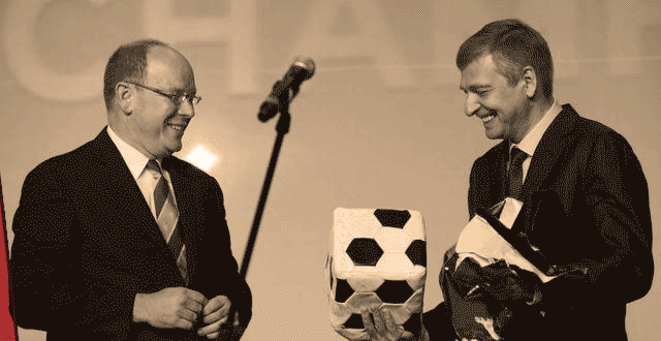 Dmitry Rybolovlev (right) with Prince Albert II of Monaco. © Ulys
The other most trusted aide to Rybolovlev is Vadim Vasilyev, a 53-year-old Russian who often refers to the oligarch by his initials "DR", and who is vice-president and CEO of AS Monaco. He arrived in Monaco alongside Rybolovlev, and has become a well known figure on the Rock, with a jovial manner and a perfect mastery of the French language. "Vadim", as he is endearingly called, who previously knew little about the workings of professional football, represents the club throughout Europe and ensures its daily functioning with competence.
In spreading their influence in Monaco, Bersheda and Vasilyev began by inviting local personalities to matches. A list presented to Rybolovlev by Vasilyev in July 2013, when AS Monaco won France's Ligue 2 division and thus qualified to return to France's top-flight Ligue 1, identified around 100 people who were to be offered match seats.
As is often the case at football clubs, the plan was to offer regular invitations to representatives of local authorities, in this case principally those from the State ministry (the Monaco government) who were allocated "66 places", and from the palace ("26" places). The practice was a well-organised system of clientelism which led to courtier-like interest for the newly arrived and little-known oligarch who had taken over the club so prized by Prince Albert.
In the course of his investigation, Judge Édouard Levrault questioned AS Monaco's deputy director general Nicolas Holveck. "Is, to your knowledge, the fact that a football club offers invitations to public entities normal and/or usual practice?" Levrault asked Holveck. "'Normal', I cannot judge, but 'usual' yes, most certainly, and in the 40 clubs in Ligue 1 and 2 in France," Holveck replied. "[…] I know that all professional clubs act like that, because of having relationships with all the institutions in France and, in this case, in the Principality."
But in Monaco, the practice had taken on an exceptional dimension. Following the questioning of Holveck, AS Monaco provided the judge with a document detailing that, apart from "seasonal" invitations, amounting to 573, there were also, on average over the previous three seasons, another 2,557 match invitations offered by the club. That represented considerable generosity by the club whose season ticket-holders paid subscriptions ranging from 150 euros to 7,000 euros for a place in a VIP box.
Some within the club's management opposed the extent of the invitations, which inevitably represented a loss of revenue. In January 2015, Henri van der Aat, a marketing director who was about to leave the club, wrote to Vadim Vasilyev a list of tasks his successor should deal with as a priority. "I have carried out a complete analysis of the home match against Arsenal to know what happens with each seat, because the match will be full," wrote van der Aat. "I thus analysed which seat is attributed free of charge to who and why. It was quite shocking, because a lot of money is once again lost. It is important that you know how many seats for example go the police, to the government, to the mayors etc."
Since then, the club records requests for seats, including from ministers, advisers, police officers, which is notified in a list to Vasilyev, in his office at the club's training ground at La Turbie, just across the border in France, and who validates them in consultation with staff from Rigmora, Rybolovlev's family office. Vasilyev chooses who will sit alongside the oligarch in his box, deciding sometimes at the last minute, like for wedding guests around a dinner table, on the seating arrangements.
On October 24th 2017, retired Monaco police commissaire (inspector) Christian Carpinelli recounted to Judge Levrault the "favours" Rybolovlev gave "with regard to certain high-ranking figures", and notably in the police. Carpinelli served as AS Monaco's head of security in 2013, when, he said, he "had knowledge of the list of beneficiaries of invitations" to the matches. "There were essentially the chiefs of staff of the police," he told the judge, and he interpreted this as "a delicate manner on ASM's part to win over the good services of the police".
On some occasions, the invitations come with added hospitality; for a match that AS Monaco was to play in Lyon on May 7th 2016, Vasilyev proposed to Monaco state minister (head of government) Serge Telle, appointed three months earlier, to travel with him in a private jet. The plane belonged to Alexei Fedorychev, another Russian oligarch who owns Fedcom which is a long-standing sponsor of AS Monaco. Mediapart has been told that Telle accepted the invitation, and travelled with his son, then aged 13. Two months later, the state minister was offered a seat on the plane again, this time for a match AS Monaco was to play in Istanbul, but cancelled his presence at the last minute.
The invitations sent out by Vasilyev, and also Bersheda, were not confined to people in Monaco; international business associates of Rybolovlev were also hosted, as was Swiss businessman and art dealer Yves Bouvier, the owner of the Geneva and Singapore free ports with whom Rybolovlev had long done business with until the two fell out in 2015.
Since then, Rybolovlev and Bouvier have been fighting an epic legal battle over the Russian's claim that Bouvier marked up the true value of numerous artworks sold to the oligarch, who notably claims he was overcharged by 47.5 million dollars in his purchase of Leonardo da Vinci's Salvator Mundi, the world's most expensive artwork valued at 450.3 million dollars.
Rybolovlev lodged a complaint for fraud against Bouvier, who in October 2017 counter-attacked with his own legal action against the Russian for corruption, money laundering and fraud. Meanwhile, Tania Rappo, a former friend of the Rybolovlev family who was also cited in the oligarch's complaint against Bouvier, filed a complaint against Tetiana Bershida, Rybolovlev's lawyer, for having recorded without her knowledge a private dinner meeting between the two in 2016.