Following two days of questioning by officers from France's anti-corruption and financial crime police agency, OCLCIFF, former conservative president Nicolas Sarkozy was on Wednesday placed under formal investigation for "illicit funding of an electoral campaign", "receiving and embezzling public funds" and "passive corruption" in relation to evidence suggesting his 2007 election campaign was partly funded by the regime of the late Libyan dictator Muammar Gaddafi.
To be "placed under investigation" in France requires that magistrates have found serious and/or concordant evidence that indicates a person has committed an offence, the gravest of two forms of indictments that under French law have now replaced what were previously "charges".
It is unprecedented in France for a former president to face prosecution for having been sponsored by a foreign power. The alleged "embezzlement of public funds" was in reference to Libyan public funds.
According to sources close the investigation, during questioning Sarkozy, 63, strongly denied involvement in the alleged offences, in line with his prevous denials in public.
Sarkozy was released from the OCLCIFF headquarters in the Paris suburb of Nanterre, west of the capital, in the early evening on Wednesday. In an unusual move, the magistrates leading the police investigation, judges Serge Tournaire, Aude Buresi and Clément Herbo, had travelled to Nanterre to notify Sarkozy that they were placing him under investigation, rather than the usual custom that a suspect is brought before them. In what appeared to be a similarly clement decision, amid outrage expressed by many French conservatives who have claimed Sarkozy has been harshly treated, they lifted his placement in police custody late Tuesday to allow the former president to return to his Paris home before questioning continued early on Wednesday morning.
Sarkozy was also placed under "judicial control", which is a restrictive measure that can be applied when it is considered that there is a risk that the person in question may evade justice, place pressure on a witness or pose a threat to the victim of a crime, or re-commit an offence. The exact terms of the judicial control were not detailed on Wednesday evening.
Also summoned for questioning this week was Sarkozy's longstanding political ally and friend Brice Hortefeux, an MEP who served twice as a minister during Sarkozy's 2007-2012 presidency. Hortefeux, who, as detailed below, was a member of Sarkozy's close political team that was directly involved in the dealings with the Gaddafi regime, was released at around 11.30 pm on Tuesday after appearing before police as a "free suspect", which meant he was not placed in custody. He made no comment to waiting journalists, but later published a statement on Twitter in which he said the answers he gave police "should allow for the closure of a succession of errors and lies".
The former president and members of his close entourage are suspected of having negotiated the Libyan funding of his 2007 election campaign in 2006, when Sarkozy was interior minister. In April 2012, Mediapart, which first revealed evidence of the secret funding in 2011, published a Libyan government document – since authenticated by the current judicial investigation – that approved the payment of up to 50 million euros to Sarkozy's campaign.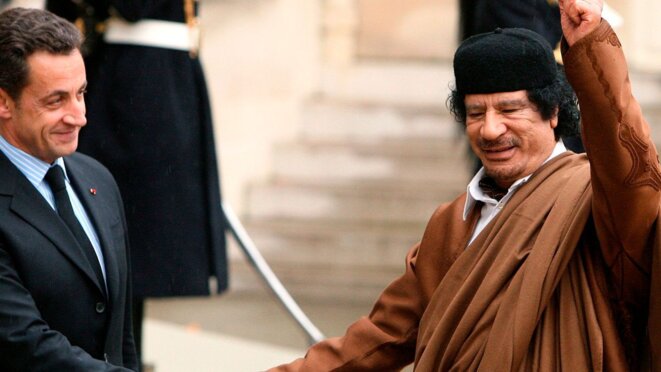 Paris, 2007: newly elected president Nicolas Sarkozy greets Libyan dictator Muammar Gaddafi. © Reuters
Witness statements, including the account of the intermediary used by Sarkozy and his entourage in their dealings with Gaddafi, have since detailed how the funding was delivered in cash instalments.
Sarkozy has consistently denied he received funds from Tripoli.
The judicial investigation, headed by three magistrates and opened in 2013 following Mediapart's revelations, centres upon "suspected active and passive corruption, influence peddling, misuse of public funds, misuse of corporate funds, forgery and use of forgery, money laundering the proceeds of tax fraud," by persons unknown.
Sarkozy is already under investigation for "corruption", "influence peddling" and receiving information gained through "violation of professional secrecy" in a separate case in which he allegedly sought to corrupt a ranking magistrate in order to receive confidential information about two investigations in which he was cited. He is also due to stand trial in a case centred on the hidden spending in his failed 2012 re-election bid, when a system of false billing was used during his campaign to secretly overrun the ceiling on spending fixed by law.
But the evidence that has emerged in the Libyan funding case threatens to result in one of the biggest political financing scandals in post-war France.
At its origins was the open rivalry for leadership of the French conservative party between then president Jacques Chirac and his minister Nicolas Sarkozy. With the approach of the 2007 presidential elections, Sarkozy began positioning himself early on to become his UMP party's candidate to succeed Chirac, and to prepare his campaign.
In 2005, Chirac stamped out a contract negotiated by Sarkozy, then interior minister, for the sale of weapons to Saudi Arabia on suspicion that it was also destined to provide secret funding for Sarkozy's campaign. The deal had been negotiated with the services of a Paris-based Lebanese businessman called Ziad Takieddine, who acted as an intermediary. Takieddine was subsequently to play a key role in Sarkozy's relations with Gaddafi.
They began with a visit to Tripoli in September 2005 by Claude Guéant, Sarkozy's chief-of-staff at the interior ministry (who would later be made interior minister under Sarkozy's presidency), which was organised by Takieddine. Police later found notes recorded on the businessman's computer in which he insisted that the trip to meet members of the regime, which he described as being of "extreme importance", must remain secret. In those confidential notes, he also writes that during his sojourn in Libya, Guéant will be in a position "to refer to the other important subject, in a most direct manner". The "other" subject was not detailed.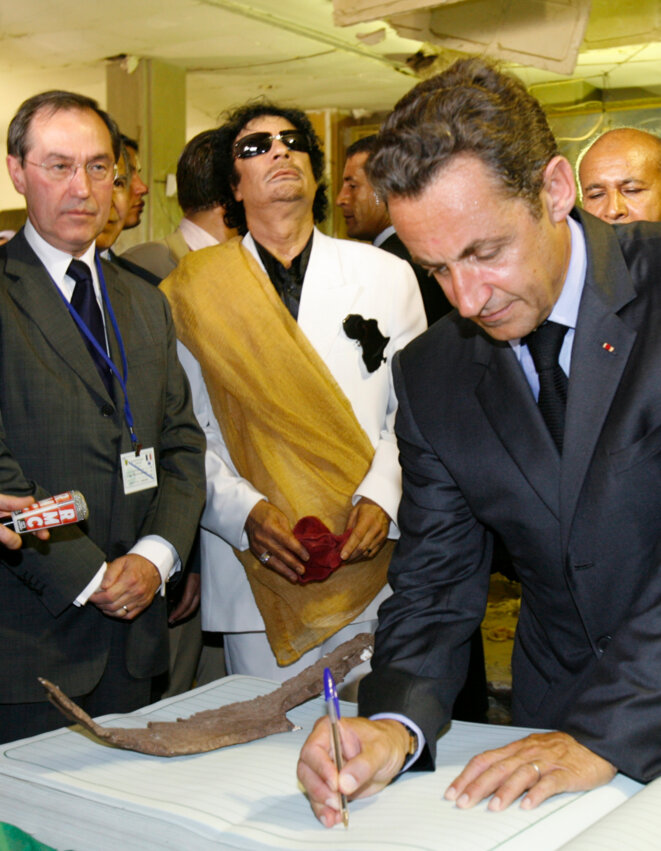 Claude Guéant (left), Muammar Gaddafi and Nicolas Sarkozy during the latter's trip to Tripoli in July 2007, two months after his election. © Reuters
Following Guéant's trip, Sarkozy travelled to Libya to meet with Gaddafi on October 6th 2005. The meeting in Tripoli that day took place first in the company of aides of the two men and then with only their respective translators present. France's ambassador to Libya at the time, Jean-Luc Sibiude, later commented to Sarkozy's translator that he found that the meeting of two men alone was particularly long. The interpreter was questioned by the current investigation in July 2016, when she refused to breach her sworn professional secrecy. Asked directly whether funding of Sarkozy's campaign was discussed, she said in her statement: "I will not tell you whether there was a request or not […] I have nothing to say about the eventual contents of the conversation […] if I begin to talk it won't ever stop".
In December 2005, Brice Hortefeux, a longtime friend and ally of Sarkozy's, travelled to Libya. At the time, Hortefeux was a junior minister for local authorities, and in the opinion of ambassador Sibiude, his trip, which was an official one in his capacity as junior minister, made "little sense". Hortefeux was accompanied by Takieddine, who presented him to Abdullah Senussi, Gaddafi's internal security chief, who had been sentenced 'in absentia' in France in 1999 for organising the bombing of a French airliner over Niger in 1989 that left 170 people dead.