He has already served seven years behind bars, mostly in Siberia. An opponent of Russian Prime Minister Vladimir Putin, former oil industry oligarch Mikhail Khodorkovsky was found guilty on December 27th, at the end of a second trial on charges of theft and money laundering, and has been sentenced to a further six years in jail. In this commentary written before the verdict was announced, Mediapart editor
François Bonnet
, a veteran commentator on Russian affairs and a former Moscow correspondent for French daily Le Monde, argues that Khodorkovsky's fate represents a defining moment for the future of democratic reform in Russia.
-------------------------
A silent, behind-the-scenes battle has begun in Russia, in which the immediate issue at stake is the future of Mikhail Khodorkovsky. This former oligarch, who took control in the 1990s of one of Russia's most important oil production companies, has been imprisoned for the past seven years and is now facing a further 14 years behind bars at the end of a second trial.
But through and beyond the Khodorkovsky case - and what, over the years, it has come to symbolize - lie issues of greater importance, and which are about to be played out in the Khamovnichesky courthouse in Moscow. Can Russia finally be modernised at last? Can it give itself a judicial system worthy of the term? Can Russia move towards becoming a state of law and open itself thus to western society? Or will it remain condemned to live within a regime handed down from the Soviet era that is symbolised by that other leading actor in the Khodorkovsky affair, Vladimir Putin?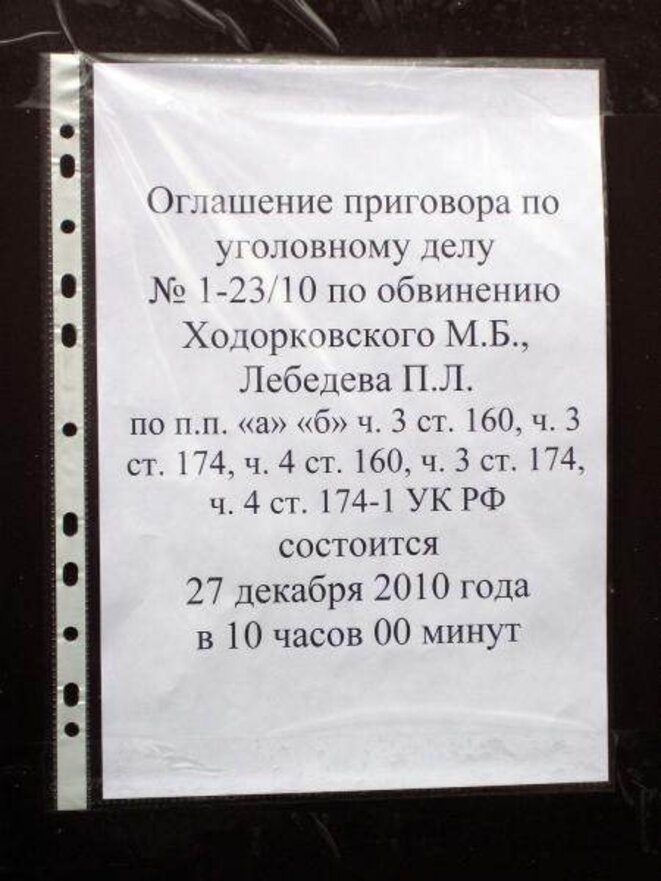 La feuille annoncant le report de l'énoncé du jugement; © (dr)
The answer should have been delivered last week, on December 15th, when the judge was due to begin reading out the court's verdicts concerning Khodorkovsky, 47, and his former business partner Platon Lebedev, 54. This was to have been the end of a trial that began in March 2009.
But when Khodorkovsky's parents and the hundred or so supporters accompanying them arrived at the courthouse, they discovered that the announcement of the verdict had been postponed until December 27th.
The message to this effect was written on a piece of paper stuck up with adhesive tape on the courtroom door (see photo, above). No other public explanations were given.
The postponement is tantamount to announcing that he will be sentenced, not released. Russia comes to a standstill between December 25th and the Orthodox New Year, which is on January 13th, a period when many newspapers are shut down, foreign correspondents are largely on holiday and the public's attention is turned towards seasonal festivities and family reunions. "Everything has been done to avoid public opinion," said Mikhail Khodorkovsky's mother, Marina.
"The objective is to do everything to ensure that the people involved or otherwise concerned will be unable to react," and Boris Nemtsov, a minister under the former Russian Federation President Boris Yeltsin, and now an outspoken opponent of Vladimir Putin's government.
There is little doubt that judge Victor Danilkin and his acolytes will act under orders from above. But the question that has Muscovite commentators lost in conjecture is - orders from who? Prime Minister Vladimir Putin or President Dmitry Medvedev? The prime minister has held a deep hatred for Khodorkovsky ever since the latter publicly defied him during a meeting between the country's business leaders and Putin, held just months after his election as president in 2000.