In June 2010, the Icelandic government started on a vast legal and technical project aimed at turning the island into a safe haven for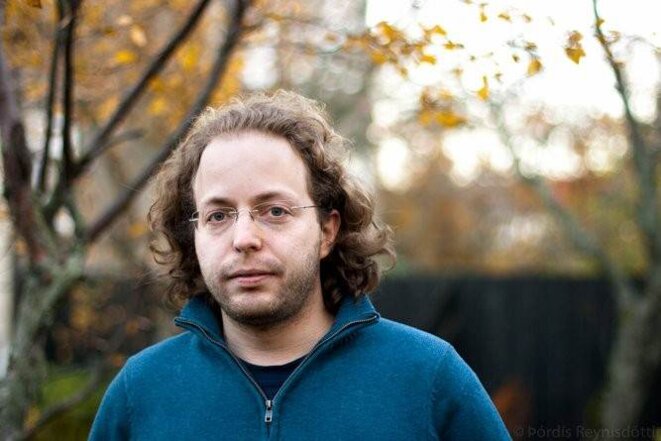 Smari McCarthy © Thordis Reynisdottir
investigative journalism and internet freedom. Baptised the
Icelandic Modern Media Initiative
(IMMI), it hopes to launch in 2012, and could eventually shelter thousands of websites from around the world. Birgitta Jonsdottir, an Icelandic Member of Parliament who sponsored the initiative, described it as "the inverse of a tax haven", making transparent what was opaque.
Mediapart's Ludovic Lamant met in Reykjavick this month with IMMI co-founder and spokesman Smári McCarthy (pictured),an Icelandic-Irish software developer and self-proclaimed digital 'freedom fighter' who is currently preparing to launch a pay-to-view investigative website in Icelandic. In this interview he explains more about the inspiration and aims behind the IMMI and how it has developed since last summer.
-------------------------
Mediapart: When will the law on media freedom be passed in Iceland?
Smári McCarthy: "We won't get there before 2012. We started work on a vast project in June 2010, first of all drawing up a list of what already exists abroad in terms of intelligent media legislation. The project is making good progress, but the ministers who support us are having difficulty finding the money we would need to function as well as possible. There are only nine people at the IMMI, of whom three are full-time."
Mediapart: You thought up this project in October 2008, in reaction to Iceland's economic crisis and the bankruptcy of the island's three big banks.
S.M.: "At the time we were all asking ourselves why we were collapsing. The most common answer put forward was that our banking sector was over-developed, that our debt had become too heavy. But that theory amounts to using the same dominant thought system that led to the crisis.
Actually, there had been above all a huge lack of information circulating among banks, regulatory bodies, the government and the general public. Had we been better informed, each of us, at his post, would have made better decisions. This is what the IMMI is about, to make it possible, from a legal and economic point of view, for an accountable, more transparent, less corrupt society to exist."
Mediapart: What you describe is also very connected to the situation of the island's major newspapers.
S.M.: "Of course. The profits of our biggest two newspapers come mostly from advertising, between 50% and 75%. It's difficult to favour investigative journalism in this context. But the IMMI goes beyond Iceland's borders. Recently some governments have manifested a real desire to restrain freedom of expression on the internet, insisting, for example, on the need to protect national security. Some are so worried that they are thinking about internet police. The old nation states are scared. This is the battle to be fought over the next twenty years."
«En finir avec Weimar»
Mediapart: A twenty-year battle?
S.M.: "The internet is useless if it's muzzled. It has to be free and open. The concept of the nation state is based on the idea of rights and duties, and a certain control of things. The moment the regulation of the internet is decided upon, and that it's prevented from revealing anything that threatens the State, the very point of the internet vanishes. Over the next twenty years, either the nation states change radically or disappear, or the internet ceases to exist as it does today. It's a fight."
Mediapart: In France, President Nicolas Sarkozy says he would like to civilise the internet.
S.M.: "To want to civilise the internet implies the idea that the internet is uncivilised. But the internet is more civilised than all of political society! In barely 20 years, the web has become an extremely powerful force, with a far-reaching appeal, which some think has even sustained revolutions. Today we need to finish with our democracies inspired by the old Weimar Republic, in order to invent real digital democracies."
Mediapart: What do you mean by a digital democracy?
S.M.: "We've launched a shadow parliament, for example, which today is used by Reykjavik Town Hall. The idea is to democratise democracy thanks to the internet. To organise things so that when individual citizens have an idea on a given subject, they can express it directly. If they don't have an opinion, they can transfer their voting right to another person. All of a sudden the concepts of party politics, and indeed parliament, become totally obsolete. It's a participatory democracy much stronger than the one we know.
In Reykjavik, at the beginning of 2010, one percent of the population used this software and contributed to the management of the town. Participation then fell as a result of technical problems with the system. Two software developers, financed by the town hall, are currently resolving these problems, creating a new version."
«Réinventer le "free speech"»
Mediapart: Are you thinking of exporting the project?
S.M.: "We're working on an Arabic translation. Take Tunisia. How can real democratic reforms be put in place after the revolution? This software could be very useful. We've tried democracy as it was invented by the Enlightenment thinkers. That worked quite well. But it led to the formation of political elites, which have proved incredibly gifted when it comes to manipulating public opinion. What next? Democracy, free speech and debate all have to be reinvented in the internet age. So the IMMI is not then the end of the story - it's just the opening pages of the first chapter of the story."
Mediapart: You were close to Julien Assange before distancing yourself from him. What do you now think of Wikileaks?
S.M.: "It's a fantastic project. But the media have played the sensationalism card with Wikileaks. It is after all just one element within the larger political picture made up of organisations, like Transparency International, Reporters without Borders, and anonymous activists who are committed to freedom of the press. By focusing too much on Wikileaks, we've forgotten to pose the essential questions. It is not so much a question of which documents will be leaked next, but rather a question of why these documents still need to be leaked, why certain texts remain secret when they really don't need to be, why society remains so opaque."
Mediapart: You're also about to launch Kritik, a pay-to-view online investigative daily.
S.M.: "Yes. We've launched a pre-site in Icelandic. We're forming a group of freelance investigative journalists, because we don't have the means to pay them a salary yet. Internet users will be able to buy digital currency, which will allow them to pay, as they wish, an article by a journalist or a contribution from a blogger."
--------------------
English version: Chloé Baker
(Edited by Graham Tearse)