Earlier this year, the supervisors of a strawberry farm in Greece, in the village of Nea Manolada, in the southern Peloponnese region, opened fire on a group of some 200 immigrant workers who had demanded to be paid their salaries which had been withheld for six months.
The April 17th incident left 33 Bangladeshi workers wounded, with eight of them seriously hurt. It also revealed the dire conditions in which thousands of immigrant workers live in Greece, underpaid and often undeclared, with little or no possibility of escaping their slave-like exploitation in intensive farming businesses.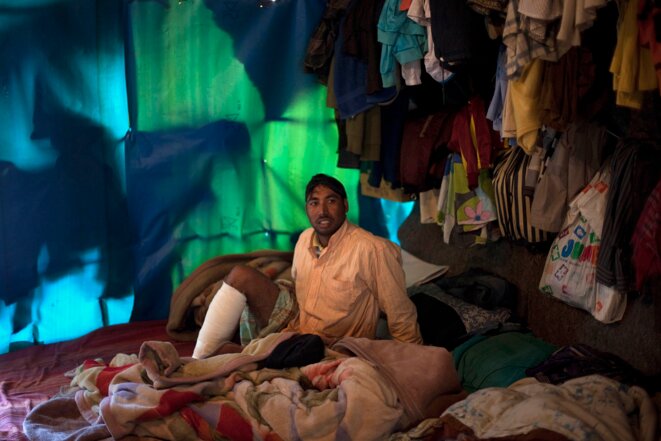 18 avril 2013. Dans la tente qui lui sert de domicile, un travailleur migrant blessé la veille. © Reuters
With no legal working papers, no official residency rights, and ignored by officialdom, their situation is increasingly precarious as the country grapples with a devastating economic crisis that has now seen unemployment rocket to 26.8% of the active population. With no alternative employment to turn to, they remain stuck in conditions described by a Greek director of human rights NGO Amnesty International as "unacceptable in 21st-century Europe."
Charalambos Kassimis is a professor and research director of rural sociology with the Athens University of Agriculture, and he has spent the past 15 years focusing on the role of immigrant labour in the Greek agricultural sector. His studies of several rural areas include that of Manolada, situated about 260 kilometres south-west of Athens, a base for the intensive farming of strawberries, most of which are exported across Europe. In this interview with Amélie Poinssot, he explains the changes in Greek agriculture which created the need for foreign labour, and denounces how what he calls the "state of slavery" in which Asian and Central European immigrants live continues because of a "law of silence" on the part of politicians.
-------------------------
Mediapart: How significant is the contribution of immigrant labour to the Greek agricultural sector?
Charalambos Kassimis: It is very important. About 15% of immigrants in Greece are based in rural zones. They are involved in different types of employment, not just agricultural. But if you look closer at who works the land, you find in some regions and concerning some particularly tough types of cultivation, immigrant labour rates of 100%. For example, the picking of strawberries in Manolada, or grapes in Corinthia, is managed exclusively by immigrants. It is the same thing for greenhouse farming, of tomatoes, aubergines, peppers, cucumbers, in Crete. In fact, since some 20 years, immigrants fill a shortfall in the agricultural labour force in Greece. They allowed [Greece] to avoid a serious crisis.
Mediapart: Why is there such a need for this workforce?
C.K.: The structure of rural society has changed profoundly in Greece since the 1960s. There has been both an ageing of the population, and an exodus towards towns. On top of this, there has been a trend among the new generations to engage in more and more academic studies and to turn away from manual jobs. So although it could have been interesting from an economic point of view, working on the land no longer attracted farmers' children. The Greek agricultural sector began to be characterized by great empty gaps, while in some regions it moved towards intensive farming with a need for extra workforce at certain times of the year. When the country's borders opened up in 1989, the neighbouring Albanians appeared to be a godsend, who would not only answer the [labour] needs of farmers but who would also cost less than the Greek workforce.
Little by little, the division of labour in the countryside became modified, and the Greek farmers who had been working the land increasingly looked after its management and commerce [of produce]. As for the Albanians, as they became more integrated they moved towards more stable jobs, less seasonal, like the construction sector. Many succeeded in obtaining a legal [officially declared] status, thus costing their employers more. At the same time, a new group of immigrants began arriving. Over the past seven or eight years these come principally from Pakistan, India and Bangladesh, although the Albanian community remains the largest. Meanwhile, since the accession of Romania and Bulgaria to the European Union, in 2007, the presence of Romanians and Bulgarians has grown significantly. These are people who can hop easily between Greece and their own countries for seasonal work. Each wave of immigrants exerts a downward pressure on wages.