3. Esraa Abdel Fatah Ahmed: 'Society is suffocating'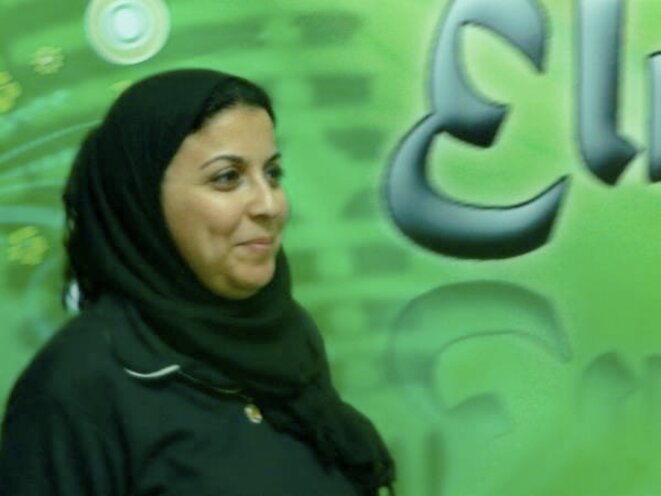 Esraa Abdel Fattah Ahmed © (F.Bt.)
She is behind internet site Elma7Rosa.net. Its core activity is an internet radio station, although it also carries blogs. Above all, there is also Facebook and Twitter.
Esraa Abdel Fatah is in her 20s and is one of those young activists that have become a nightmare for the Egyptian regime. She describes herself as a 'media coordinator'. A virtuoso of digital tools, she is above all a civil rights militant involved with several associations.
The principle one among these is the Egyptian Democratic Academy, affiliated to the Egyptian Democratic Institute. Both are non-governmental organizations (NGOs) financed by the German Friedrich Nauman Foundation for Freedom1. The Egyptian NGOs train young people in media production (radio, video and blogs), and in basic organization administration, legal procedures and election monitoring.
Esraa taps into her Blackberry while following Facebook on another screen. "Facebook, Twitter, people live on that," she says. "Everybody's there, why create an isolated website? Young people don't buy newspapers, everything is on social networks, it's the only way to get news out fast."
Esraa was one of the instigators of the so-called 'April 6th Movement'. "Originally, it was Facebook group that called for a strike in March 2008 in protest at the rise in food prices," she explains. "We were arrested on April 6th. I did 18 days in prison then I was freed on the orders of the chief public prosecutor. But the group still exists and today it has 70,000 subscribers. They are mostly young people, many of whom are students."
Thanks to webtools, she is able to bypass the political parties she considers to be arthritic and controlled activism. "This regime is solid," she says. "People are afraid of the repression that has become stronger these past few years. The authorities accuse us of being henchmen for foreigners, they want to dirty us and [they] dismiss the internet in all kinds of manner. But I think our society is suffocating, that people are little by little realizing this. So the situation is quite unpredictable, and I think the engagement of [Mohamed] ElBaradei in Egyptian politics has sparked many things."
On 15 January, Esraa Abdel Fatah and two well-known bloggers, Wael Abbas (see his portrait on next page) and Shahinaz Abdel Salam, were among 20 human rights activists arrested when they tried to enter the southern town of Naga Hamady. They had travelled there to testify their solidarity with the families of six Coptic Christians shot dead outside a church in the town, along with a policeman, one week earlier. The police put them on a train back to Cairo.
--------------------
1: Set up in 1958 by the then-West Germany's first post-war president Theodor Heuss, it describes its mission as dedicated to promoting the cause of democracy and civic education wordwide.