4. Wael Abbas: 'Everyone knows, even at the top, that it cannot continue'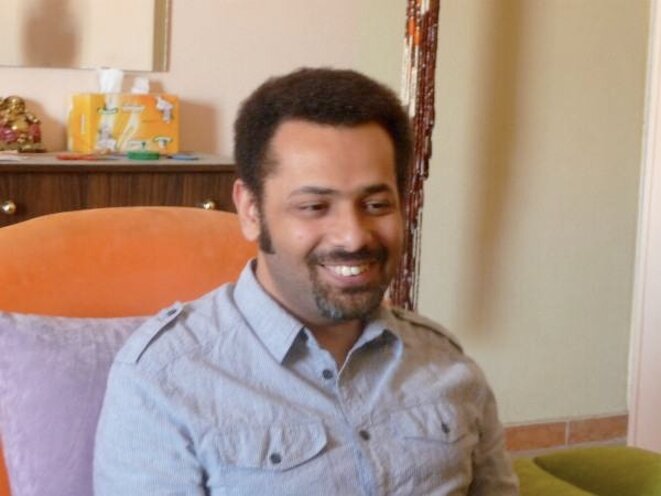 Mahmoud Abbas, président d'une Autorité palestinienne impuissante. © (F.Bt.)
Wael Abbas is undoubtedly one of Egypt's most radically engaged anti-regime blogger, and one of the best-known. Aged 36, he has spent the last 15 years as an activist. He made his name after publishing on the internet, in 2005, photos and video of security forces brutally beating demonstrators and regular torture carried out in police stations (to see his blog, click here).
"I published terrible pictures of torture, victims' wounds," recalls Abbas. "More than twenty-five videos. The impact was enormous. It was the first time that there had been such an implication of the authorities and it was just after the revelations of the torture carried out by the Americans in the Iraqi prison of Abu Ghraib. Imagine the effect, people immediately connected the two."
He believes Egypt's bloggers were responsible for waking up the country's newspapers which had lost their edge, some fearful of attacks from censors and national security agencies. "Blogs pushed back the limits of our freedom," he comments. "The opposition newspapers, previously very hesitant, were forced to follow a bit."
Abbas previously worked as a journalist for foreign news agencies, but today is blacklisted. His situation is considered too dangerous for foreigners to work with him. "I have been arrested several times and each time held for several hours," he explains. "I was twice sentenced to six months in prison, then later acquitted. Three bloggers are in prison now, one for the past four years."
Abbas says he tries "to cover events that other media don't cover, demonstrations against Gamal Mubarak1, clashes between Muslims and Christians". He also writes analyses and encourages debate: "People discuss on my blog. I want to provoke people into an awareness. These blogs obviously won't be sufficient to change society but they allow you to inform, to debate, to reveal and they force other media to react. Civil society in Egypt must be stronger. We must replace the mosque and the government."
Abbas is afforded relative protection by his celebrity, and is regularly invited to conferences abroad. "Mubarak has frozen the democratic process for thirty years," he says. "More and more people, even at the top, understand that it can no longer continue like that."
5. Ibrahim Mansour: 'We must grab our liberty every day'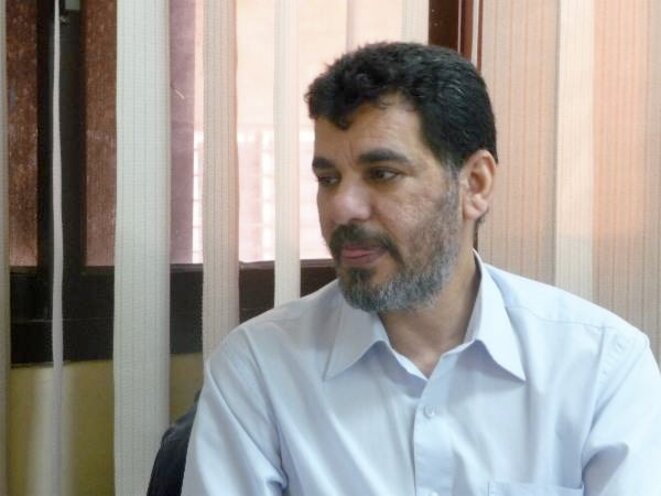 Ibrahim Mansour. © F.Bt.)
Last autumn, Ibrahim Mansour was on the receiving end of what Wael Abbas says "can no longer continue". Until October, he was executive editor of the opposition newspaper al-Dustour, an incisive and influential daily which he had championed for five years. It was bought last summer by Elseyed el-Badawi, a business tycoon and leader of al-Wafd, ostensibly an opposition party but one which is careful not to cut off its relationship with the Mubarak regime. One month before last year's parliamentary elections, el-Badawi sacked both Mansour and the paper's executive editor-in-chief, Ibrahim Eissa, one of Egypt's best-known journalists.
In 2008, Eissa was sentenced to two months in prison for publishing an article about the ill-health of President Hosni Mubarak, who later pardoned him. But the sacking of the two men last year came just as the paper was about to publish an article by the opposition figure Mohamed ElBaradei.
Ibrahim Mansour was supported by a group of editorial staff who have since joined him on the internet for the launch a major news website (available here). "I have always worked as if it was the first and last day," says Mansour. "Al-Dustour was a liberal newspaper that denounced repression and corruption and which wanted to prepare an alternative to the regime. We will continue."
"For thirty years we have lived with this State of Emergency law. Our liberty is based only in the courage of people, we must grab it every day. Yes, we supported ElBaradei because we think that he can intelligently bring a force for change and that the process runs the risk of being a long one. Because there is in this country a situation of chaos, with a totally opaque regime where even the group that governs with Mubarak doesn't know what will happen next. And, meanwhile, it is the security forces that govern here, whereas Egypt deserves a truly democratic government."
In a country where newspapers are watched over by the security services and heavily dependent upon major advertisers linked to the authorities, blogs played a key role, says Mansour. "Newspapers supported them and I believe in the strong impact of this new system," he adds. He concluded that however long the process might be "political change now seems to me inevitable."
-------------------------
1: Gamal Mubarak, 47, is the younger of Hosni Mubarak's three sons, and seen by many as the groomed, intended successor to his father.
English version: Graham Tearse