Rui Pinto, the whistleblower behind the Football Leaks revelations of widespread corruption and fraud within the world of professional football, is to stand trial next week in the Portuguese capital Lisbon where he will face 90 charges relating to alleged computer hacking, violation of private correspondence and attempted blackmail which together carry a possible jail term of 25 years.
The trial will open on September 4th despite the fact that Pinto, 31, has now been given round-the-clock police witness protection after agreeing to cooperate with the Portuguese judicial authorities for their belated investigations into the information contained in the Football Leaks data files.

Beginning in 2016, Pinto has passed more than 70 million mostly confidential documents to German news magazine Der Spiegel, which in turn shared the information with Mediapart and its other partners in the journalistic consortium European Investigative Collaborations (EIC). Together, the members of the EIC have studied and verified the information provided, and pursued investigations which have been published in more than 1,000 articles beginning in December 2016 (see more, with further links to the reports published by Mediapart, here and here).
The digitalised documents passed on by Pinto amount to a massive 3.4 terabytes, and together represent the biggest digital data leak in the history of journalism. They provided the basis for EIC revelations of a catalogue of dirty practices in the business surrounding the world's most popular game, including fraud and tax evasion on a grand scale, child exploitation, match-fixing and institutional and political corruption.
Subsequently, official investigations into the revelations were launched in France, Belgium, Spain and Switzerland, some of which involve very serious potential charges.
Pinto, a Portuguese national, was extradited in March 2019 to Portugal from Hungary, where had been living for four years in Budapest. The European arrest warrant leading to his extradition was issued after complaints filed against him in Portugal by a legal firm, the football club Sporting CP (better known as Sporting Lisbon) and the Portuguese football federation, all of whom were widely implicated in wrongdoing by the Football Leaks revelations.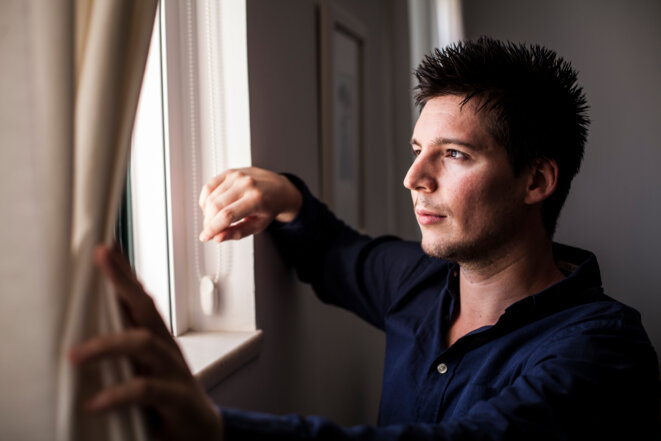 Rui Pinto is living under police protection ahead of his trial which begins on September 4th. © Sonja Och / Der Spiegel
Pinto was jailed on his arrival in Portugal, when he spent six months in solitary confinement, before he was released under conditions of house arrest in April. Since his return to Lisbon, he has entered into a cooperation agreement with Portuguese justice officials, when he handed over to them eight encrypted hard drives containing 17.5 terabytes of information (five times the volume of the Football Leaks data).
The potential of the information to upset powerful individuals and organisations is such that he has now been placed in a witness protection scheme, and while he has been allowed free movement since August 7th, he can only leave the safe house he lives in, situated near the capital Lisbon, under police escort.
Amid tight security, and under strict conditions which included that his location is kept secret, reporters from Der Spiegel met with Pinto last weekend, coinciding with the European Champions League final between Bayern Munich and Paris Saint-Germain (PSG), one of football's biggest money-spinning events, as it was being played out at the Luz stadium in Lisbon.
"My life is still at risk," Pinto told Der Spiegel, whose reporters were first given a meeting point at a supermarket car-park far from the capital, where the whistleblower turned up in a vehicle containing two police bodyguards. The seriousness of the perceived threat against him is such that, Der Spiegel reports, as they all headed towards a remote spot where the first of two interviews took place last weekend, the vehicle carrying Pinto made several sudden turns as if to make sure no-one was following.
The Football Leaks revelations have not proved embarrassing only to football stars and managers, but also for many rich and powerful individuals in Europe, the Middle East and Central Asia. Despite it all, Pinto appeared relatively relaxed during the interview. "I can sleep pretty well at night," he told Der Spiegel.
The EIC's published investigations based on the Football Leaks data have notably led to sentences for tax fraud handed down to Portuguese football star Cristiano Ronaldo and to his compatriot, football coach José Mourinho. They also exposed underhand financial "doping" practices by some of Europe's biggest clubs, PSG's selection of young player recruits based on their ethnic background, dubious practices within football's worldwide governing body FIFA, the tax scams organised by football agents, and the exploitation of underage players in Africa.
It was on the basis of information revealed by Football Leaks documents that prosecutors in Switzerland have opened investigations into suspected corruption on the part of FIFA president Gianni Infantino and former Swiss attorney general Michael Lauber, who lost his job over the case.
Until now however, the only person who has served prison time following the revelations is Rui Pinto. Speaking last weekend about his time in jail in solitary confinement, into which he was first placed after his extradition from Hungary last year, he told Der Spiegel: "Obviously the isolation always leaves some kinds of marks. I still remember that after leaving isolation, sometimes I had a problem, trouble, in concentrating, because after all these months it was like a very big door opened in front of me and I had a lot of people around me and for me it was a little bit hard to focus."
"I had to focus for the trial, because I had to arrive to the trial fresh and to show them that I'm here, that I'm here to fight, and I'm here to show to everybody that I am a whistleblower, I did what I had to do and that's it."
As he prepares for his trial, opening next Friday, Pinto told Der Spiegel that he was not yet planning for his life afterwards. "I want to solve my legal situation first," Pinto says. "I want to get acquitted."
A condition he set for his cooperation with the Portuguese authorities, which he told Der Spiegel he had always sought to achieve, was that none of the information he has passed on to them could be used to prosecute him. The digitalised documents, which have until now never been revealed and are understood to notably feature information on transactions in the Cayman Islands, one of the world's most notorious tax-havens, were previously described by Pinto as having the same potential as the "Panama Papers" data leaks on tax evasion.
The Portuguese prosecution services had for a long time resisted entering into a cooperation agreement with Pinto, but pressure on them to do so increased earlier this year. In January, the Washington DC-based International Consortium of Investigative Journalists (ICIJ) published "Luanda Leaks", a series of reports about how Isabel dos Santos, the wealthiest woman in Africa, daughter of José Eduardo dos Santos, the former strongman president of Angola, once a Portuguese colony and now one of Africa's poorest nations, amassed her fortune through what the ICIJ described as "two decades of corrupt deals" – all of which she has firmly denied. The documents that fuelled that investigation were, as he has publicly confirmed, provided by Rui Pinto.
Referring to the Portugal connection in how Isabel dos Santos's built up wealth, which the ICIJ said included "prominent Portuguese law firms [who] helped set up shell companies and move money for dos Santos", Pinto told Der Spiegel that, "It's disgusting that Portugal became the laundromat for Angolan elites."
As a result of the Luganda Leaks report, Pinto gained a certain respect among Portuguese media who had previously dismissed his whistleblowing in the world of football, and which had darkened the reputation of several of the nation's businessmen and clubs active in the sector. In parallel, his revelations concerning Isabel dos Santos also forced Portugal's authorities into investigating her financial activities in the country, and to recognise the importance of the young man's whistleblowing activities.
During the interview last weekend he was asked about the reactions he received during his time in prison in Portugal. "I had such an awesome relationship with the prison guards. They had huge respect for me and what I did […] They appreciated all I did, for showing the reality of the system not only relating to football but other sectors of course."
Concerning the 17.5 terabytes of data in his possession which he finally passed over to investigators, only Pinto had the keys to unblocking the passwords. These were composed of more than 40 characters, with different combinations for each of the eight hard drives. Importantly, the information contained on them may reveal much more than the world of football and the affairs of Isabel dos Santos.
The deal he struck with the prosecution services was made public on May 20th, a little more than one month after he had been released from prison and assigned to house arrest. When asked by Der Spiegel if the data he has now handed Portuguese prosecutors might lead to further legal proceedings against himself, he replied "I don't think so".
In a separate interview with the EIC, via Der Spiegel, in December 2019, Pinto declared: "I fully accept that, from the standpoint of Portuguese law, some of my acts may be considered illegal." In his defence statement submitted earlier this week before the court where he will stand trial, he said he regretted any acts that violated the law in order to recover the Football Leaks data, but that his intentions were to disclose serious crimes. He had not, he argues, sufficiently thought about the consequences of doing so.
One of the many significant revelations that came out of the Football Leaks data files concerned the practices of Doyen Sports Investment, one of the biggest investment funds in European football which operated out of offices in London, and how it had paid millions of euros in secret commissions during the club transfers of numerous players. It was a complaint filed by Doyen Sports director Nelio Lucas, who claimed to be the victim of a blackmail attempt by Pinto after the latter had obtained confidential data of the fund's activities, which is a key part of the prosecution case to be levelled against Pinto at his trial next week.
Pinto is accused of hacking into the computer files of Doyen Sports in 2015. In an email produced by the firm, Pinto appears to have demanded a sum of between 500,000 euros and 1 million euros in exchange for the files to remain secret. Pinto also contacted a lawyer who then met on his behalf with Lucas and his legal representative at a petrol station in Lisbon to discuss an agreement.
Portuguese daily Público this month published a report citing an email it said was sent by Pinto to his lawyer in which he suggested that the money Doyen Sports would agree to pay could be sent via the tax havens of Malta or Cyprus.
Pinto argues that he wanted to test Lucas as to how far he would go to prevent the compromising files from being published. He says that he cut off any further negotiations before any payment was made, and therefore committed no crime.
Der Spiegel
last weekend, Pinto said: "I regret specifically one thing – having the contact with Nelio Lucas. That's what I regret. I was naïve back then, and I'm glad that I could step back [
just
] in time." Asked if his communications with Lucas constituted a crime, he replied: "I am absolutely sure that it will be proven in the court of law that I didn't do any extorsion. And the evidence shows it clearly. Just, the prosecutor didn't want to look at that evidence. She preferred to bury the part of the evidence that acquitted me of the extorsion allegations."
The documents provided by Pinto's Football Leaks platform, which he has previously said were contributed to by others who sympathised with its cause, indicated the extent of the financial skulduggery at Doyen Sports: these included its involvement in secret commission payments, the creation of tax-dodging structures, the use of prostitutes for business deals, and even questions over relations with then-future US president Donald Trump (see more here, there, here and there.
It is information provided by Pinto that is behind an ongoing official investigation opened in Spain into suspected tax fraud by Doyen Sports.
Meanwhile, in another ongoing investigation in Portugal into the activities of Doyen Sports, prompted by an imminent transfer of several million euros by the company into accounts in the Caribbean tax haven of Saint-Lucia, the authorities last year froze 8 million euros on the firm's accounts.
Contacted by the EIC, neither Nelio Lucas nor Doyen Sports offered to comment on the issues raised in this report.
-------------------------
If you have information of public interest you would like to pass on to Mediapart for investigation you can contact us at this email address: enquete@mediapart.fr. If you wish to send us documents for our scrutiny via our highly secure platform please go to https://www.frenchleaks.fr/ which is presented in both English and French.
-------------------------
The original French version of this report can be found here.
English version by Graham Tearse