The king warned: 'Don't touch Moossou or the Abourés'
When you cross the lagoon via the Pont de la Victoire (Victory Bridge), named after a French triumph, you enter the African city: overheated, shady, where thousands of Africans busy themselves about their menial jobs. From Mali, Burkina Faso, Nigeria, Senegal, Benin, some of them arrived decades ago. In the evening they disappear into their makeshift homes, pieced together from wood, concrete and sheet iron, to watch French pay TV channel Canal + on pirate systems.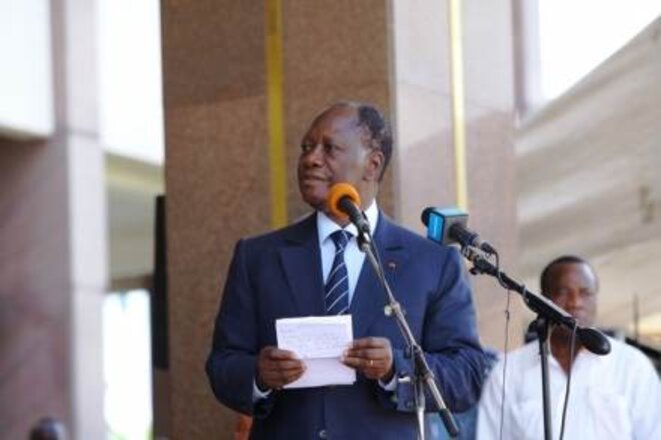 Alassane Ouattara © D.R.
These are the Odos and Phare (lighthouse) districts. The former is named after the French owner of the local sawmill who bequeathed them this swampland, and the latter after the semaphore that glowed there until 1950. Since that time the channel that opened into the raging ocean has filled with sand, and the Comoé River now has to make a long detour via the lagoon to meet the sea at the gates of Abidjan.
When you cross the main road that leads to Ghana, you enter the residential pro-Gbagbo quarters with a Catholic and evangelical churches. And, above all, you reach Moossou, birthplace of Simone Gbagbo, wife of the defeated president. This village, in an enclave on the banks of the lagoon, is where the Abouré live. This is the ethnic group that owns most of the land in the town. At one end of the long road is the house of the Mayor of Grand Bassam, a member of the PDCI (Partie Démocratique de la Côte d'Ivoire - Ivory Coast Democratic Party) formerly the only existing party, led by ex-President Koman Bédié, who joined the camp of Ouattara after coming third in the first round of the November elections.
At the other end of the road is the residence of the king, whose decrees are still the authority in Moossou. He too declares himself a PDCI partisan. Recently - an exceptional event - the king sounded the sacred drum, the echoes of which are heard far across the lagoon. Thus he summoned all the imams of the town, all the leaders of all the foreign communities, to address them with the following declaration: "I'm not forbidding you to demonstrate, but do so in your own zones and don't touch Moossou or the Abourés." Stones thrown at Abouré houses had provoked the royal ire.