A video published on social media in August 2017 caused a sensation and showed the prevalence of sexual harassment in modern-day Morocco. In it one sees a young woman being attacked by four teenage boys in the back of a bus in Casablanca in broad daylight. No one tries to intervene, neither the driver nor fellow passengers. The bus carries on moving as the attackers touch and grope the victim and strip the clothes from the top half of her body while mocking and insulting her.
From the moment it went online the video reignited the issue of the harassment of women in Moroccan society. A few days earlier another video, this one just a few seconds long, had also sparked outrage in Morocco. It showed a group of young men pursuing and encircling a young woman who was walking on her own in the city of Tangiers.
Though both videos shocked, neither should come as a huge surprise. Public areas are known to be places of torment for women and girls in Morocco. According to official figures, two-thirds of sexual assaults in the country take place in public spaces. And 90% of these assaults involve rape or attempted rape in which the victims are mostly women aged under 30.
In all of the attacks the victims are usually regarded by some as having been 'guilty' or culpable in some way. In the Tangiers case, for example, the young woman who was assaulted was judged to have been dressed provocatively as she was wearing only jeans and a tee-shirt.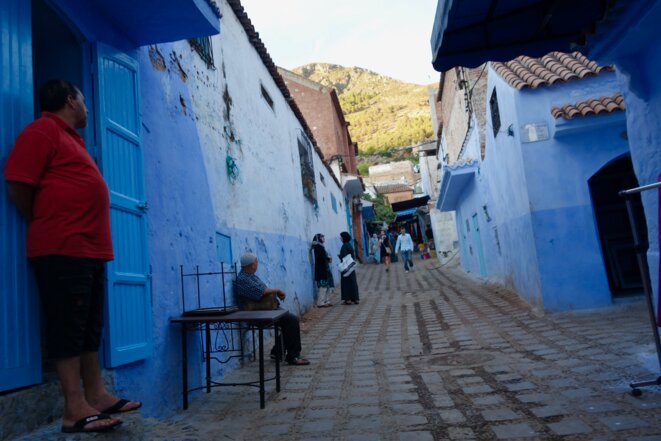 The town of Chefchaouen in north-west Morocco in 2016. © Rachida El Azzouzi

For years, various media outlets, associations and non-governmental organisations have warned about the level of violence committed against women in Morocco. But there has still been no concerted response from the authorities or from Moroccan society as a whole. This is despite the series of demonstrations that have taken place in several large Moroccan cities to denounce what protesters called a "culture of rape". This is despite the fountains that symbolically ran blood red as part of a protest action to raise awareness on the issue by feminists from the country's Alternative Movement for Individual Freedoms (Mouvement Alternatif pour les Libertés Individuelles or MALI). And this is despite the shockwaves caused by the Harvey Weinstein affair, which has had an impact across North Africa as well as other parts of the world.
Violence towards women in Morocco is rooted in people's mentalities, and has been legitimised and accepted socially. This is true of public spaces but also behind closed doors too. An enduring memory in the country is of the November 2016 programme on Morocco's second largest public broadcast channel 2M in which, on the International Day for the Elimination of Violence against Women, the female presenter broadcast an item on make-up aimed at showing battered women how to disguise the bruises from the beatings they received. A report published on Friday December 15th, 2017, in the presence of the government's minister for families, Bassima Hakkaoui, pointed out that the most common form of violence used against women is physical and that more than 50% of these violent acts are committed by the woman's partner.
Until recently in Morocco rapists could escape jail by marrying their victim if they were a minor. It was only in January 2014 that Moroccan Members of Parliament voted to remove the article in the country's criminal code that allowed this. Given the massive gulf that exists between the law and ancient customs it was largely a symbolic advance. Since changes in 2004 to Morocco's family code or law on personal status, known as the Mudawana, the law has specifically targeted the harassment of women at work – but not in public areas. Meanwhile legislation aimed at tackling four types of violence – physical, sexual, psychological and economic – has been and remains in the pipeline since 2011. But even if new laws do get passed, the next step is to persuade police officers to take action and to overcome the influence of the family unit.
To fight violence against women you have to "start from childhood with a non-sexist education and ways of ensuring equality in social mixing between the two sexes, especially when it comes to access to public areas", Safaa Monqid tells Mediapart. A lecturer at the New Sorbonne university in Paris, Safaa Monqid is an expert on the situation of women in the Arab world. In particular she has written on the status of women in public areas in the Moroccan capital in her book 'Femmes dans la Ville. Rabat: de la tradition à la modernité urbaine', ('Women in the City. Rabat: from tradition to urban modernity'), published by Presses universitaires de Rennes. Mediapart interviewed her about the current situation in Morocco.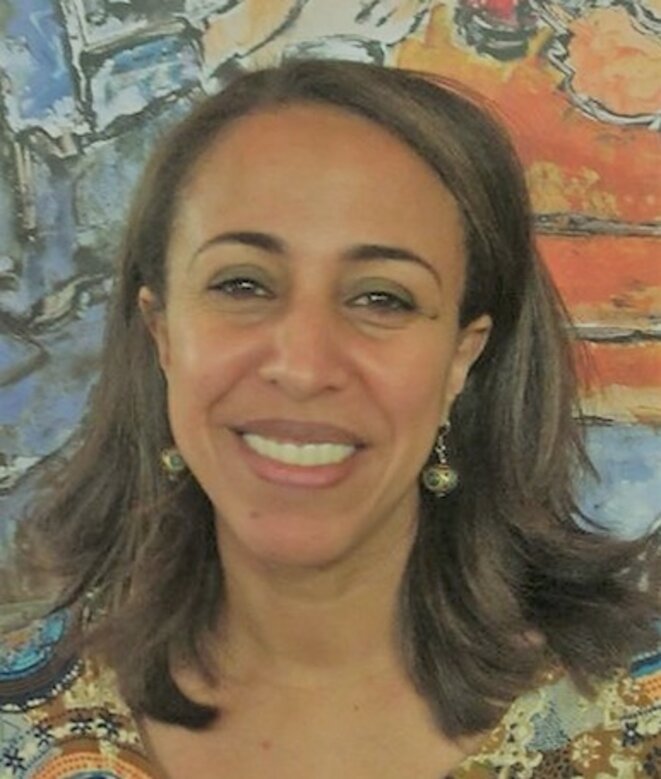 Safaa Monqid. © dr

Mediapart: According to official figures nearly two in three Moroccan women have been victims of violence. And public areas are the places where physical violence against women manifests itself the most. How do you explain that?
Safaa Monqid: The different types of violence, whether they are remarks, out of place gestures, verbal and/or physical assaults, represent male resistance to women taking over public areas. It's not surprising when one considers that traditionally women have had no presence in male-dominated public spaces, even if their presence there is no longer marginal. In general men display sexualised behaviour: they behave in public places as if they have all the rights and consider women who are outside to be public property.
Some even claim the right to attack them. For these men women are only there because they are "looking for men" and so they claim the right to use difference forms of intimidation and violence which are quickly given a social justification. All this handicaps women when it comes to their relationship with public areas and is the reason why they feel uneasy in the street. It's one of the reasons that dissuades women from going out alone, because they feel vulnerable.
The streets: a male-dominated world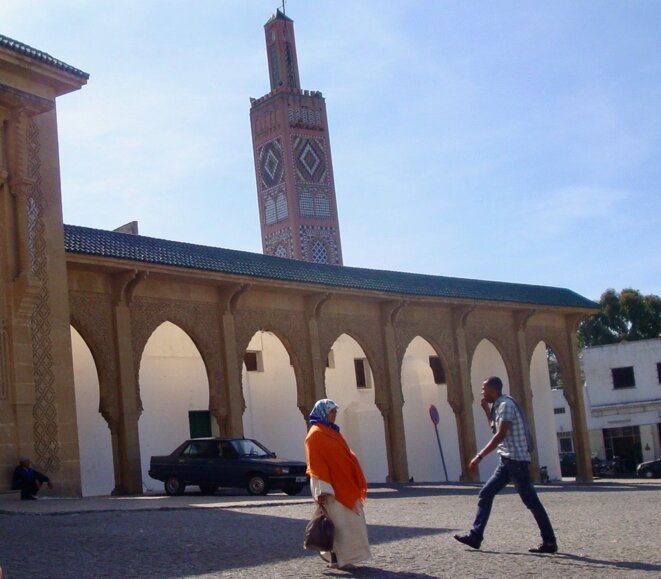 The streets of Tangiers in Morocco. © Rachida El Azzouzi
Women therefore only gain access to public areas because men authorise it, and within certain limits. Men continue to base their identity on sexual differentiation, which is the reason why they are reluctant to allow women to have more presence in public spaces and the reason why this stereotypical separation of the sexes exists. The street is seen as a male domain. If women venture there they do so at their own risk and peril.
It has become the norm for women to internalise this issue, as shown by the warnings and advice handed down by mothers to their daughters. Among other things they are told not to go out alone in deserted areas, not to stay out late at night, not to react to verbal aggression, and to adopt a strategy of silence which represents the only weapon a woman has to protect her and to avoid reprisals. Harassment on the streets is factored into the way young girls are brought up. They are taught at a very early age how to face up to it and handle it.
MP: You've worked on the issue of public spaces in the city of Rabat, the Moroccan capital. How does the city's construction help exclude women and encourage attacks?
S.M.: The city's public areas are gender-specific. There are several different areas in the city, some are male areas, some are female areas, there are some areas where women are tolerated and some areas which are forbidden to women. In terms of urban development, for example, the medina [editor's note, the narrow, walled area in the city] clearly represents the different roles assigned to men and women. In fact, this area was divided into two very different social worlds: an exterior world that is public and male, and an interior world which is private and female. The exclusion of women from public life is the most obvious aspect of the unequal relationship between the sexes in traditional society.
Women lived there anonymously. They were identified with the home, the dar, which is sacred and inviolable, a place of intimacy. The small streets, the driba, were an extension of this private area and protected the most sacred places: the homes where women lived. These women were not just protected in the medina by the narrow, dark streets but also in the home itself, which was organised on the basis of being closed off. It's the same with the town's public spaces. Women can only go there in the company of a "man" out of respect for norms and for safety reasons.
Women can't have their own night-time leisure activities unless it's in the context of the family. Their "natural" fragility is deeply rooted in many women's minds and it is the reason for their attachment to remaining in their private domain. When you ask women about going to public areas at night you hear expressions such as "boundaries", "constraints", "fear", "not their place", "it's not something normal", "it's forbidden", "breach of social norms"... At night women are still considered to be "guilty". Moreover, they are also subjected to police checks aimed at preventing any assaults.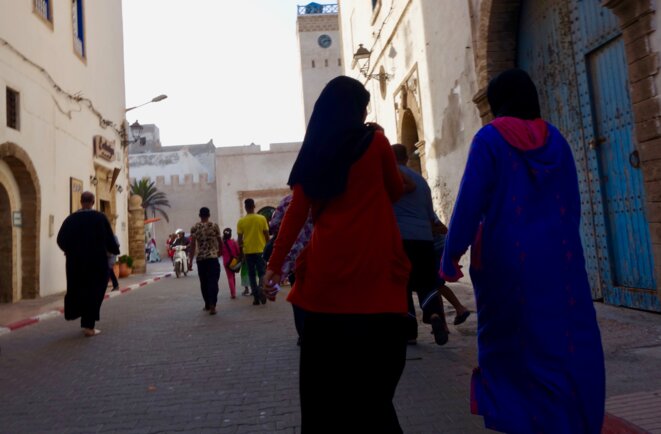 The town of Essaouira on Morocco's Atlantic coast, 2017. © Rachida El Azzouzi
MP: Do urban public spaces lead to more sexual violence than rural areas?
S.M.: Yes. Sexual assaults in the streets are encouraged by the anonymity that public spaces in cities offer, where women outside the family circle are seen as readily approachable, unlike in the rural world where everyone knows each other. The presence of women outside and the enlargement of female areas in cities has led to an identity crisis among men – even if the men are not all the same - who are not sufficiently prepared for this mixing. This leads to assaults on women, it's a way for men to exercise their domination.
MP: Has there been an increase in the number of attacks on women or does it seem as if there are more because we're speaking about them more, and that the wall of silence, taboo and shame that paralyses so many victims is progressively being broken down?
S.M.: Sexual violence has always existed. But the considerable development in social media and blogs, which cater for the varied needs of women in how they can express themselves, in particular through the choice to stay anonymous and use nicknames to give them greater freedom of expression, plus the evidence from videos have contributed to the highlighting and denunciation of violence against women. New media has become an issue in the mobilisation of women, who have always find it hard to exercise their freedom of expression.
The presence of women 'is not accepted'
MP: How does one fight against this violence and make sure that public spaces are no longer the exclusive domain of men?
S.M.: It starts from childhood with a non-sexist education and ways of ensuring equality in social mixing between the two sexes, especially when it comes to access to public areas. It's equally important to get women involved in urban planning; their presence in municipal management is essential because they are the only ones who can get across a female conception of the town. This is the only way that women will have a full role in the town and feel at home there. The Moroccan state must continue to promote equality between men and women in public policy. It must fight against gender-based discrimination in relation to access to employment, housing, mobility, services and access to leisure areas for women.
The state must criminalise sexual harassment on the street in order to dissuade perpetrators. Awareness initiatives such as night markets for women in the town should take place, as occur in countries such as Canada, where there are organised feminist walks to understand the town in terms of safety and put up posters in shop windows to indicate that a woman in difficulty can find help there.
MP: The sexual deprivation of Moroccans, resulting from the criminal code which forbids sexual relations outside of marriage, and the absence of of sexual education are often put forward as reasons to explain such levels of violence. What do you think of this argument?
S.M.: It's partly true. However, Moroccans have always used strategies to get around and bypass the established norms to achieve their goals. So despite the religious, moral and legal bans on sexual relations outside of marriage, such relationships have always existed and are carried out in secret, whether consensual or forced.
In my view one of the most important catalysts, which explains the violence, is the traditional division of the public space which still has such an impact. Sexualised differences and the different places occupied by men and women are still perceived as legitimate. The public area is still seen as a male domain and the presence of women there is not at all accepted.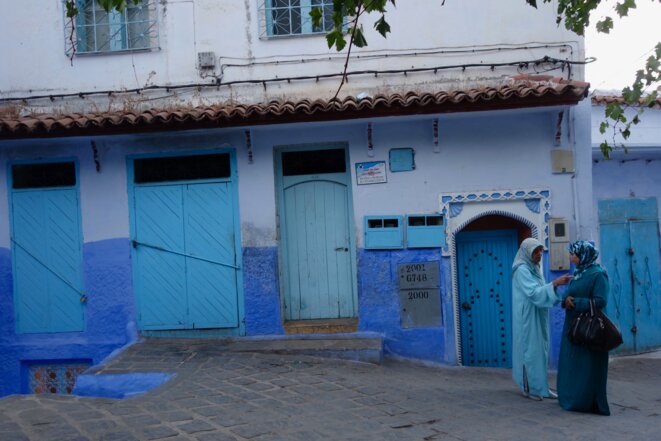 Street scene in Chefchaouen, Morocco, 2016. © Rachida El Azzouzi
MP: Sexual violence, social discrimination, inequality in terms of inheritance … apart from some very timid steps forward the situation for women in Morocco is not very cheering. How do you promote legal quality between the sexes in societies marked by patriarchal mentalities that are resistant to change?
S.M.: Morocco has made some progress. Moroccan society has seen a process of modernisation which has had some impact on the status of women. Rapid urbanisation, education, women's salaries, changes in the traditional family structure, Morocco signing up to international treaties, including the Convention on the Elimination of all Forms of Discrimination Against Women, family planning and the change in the personal status or family code are all factors which have led to a change in women's circumstances.
The process of democratisation, which has accelerated since the start of the 1990s, has allowed the issue of women to emerge into the public domain. In recent times women have moved into areas which were reserved for men, such as politics. They continue to suffer major injustices. They are affected by under-employment and by lack of [financial] security. They have to deal with the rise in Muslim populism which wants to send them back to their traditional role and, in certain cases, restrict their freedoms.
Many women continue their fight to attack these injustices. National and regional networks constitute a major force. They allow for synergy, consultations, solidarity and communal action at different levels, such as the network Le Printemps ('Spring') for democracy and equality which was born in 2011 when the constitution was revised and which groups together around 20 associations.
---------------------------------------------------------------------------------
The French version of this article can be found here.
English version by Michael Streeter