Keyword: 2007 French presidential election campaign
Related keywords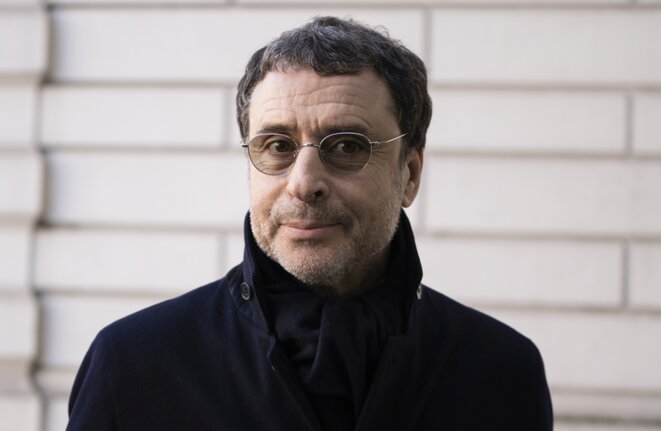 Alexandre Djouhri, pictured in London on February 26th 2019. © Niklas Halle'n/AFP
One of the key suspects in the marathon judicial probe into alleged funding of former French president Nicolas Sarkozy's 2007 election campaign by the regime of late Libyan dictator Muammar Gaddafi was this weekend placed in preventive detention in France after losing a two-year legal battle to avoid his extradition from Britain. French judges have formally placed Alexandre Djouhri under investigation for nine alleged offences, including "active corruption", aiding and abetting, and receiving, the proceeds of the "misappropriation of public funds", "money laundering the proceeds of corruption", "forgery and the use of forgeries" and "tax fraud". Fabrice Arfi and Karl Laske report.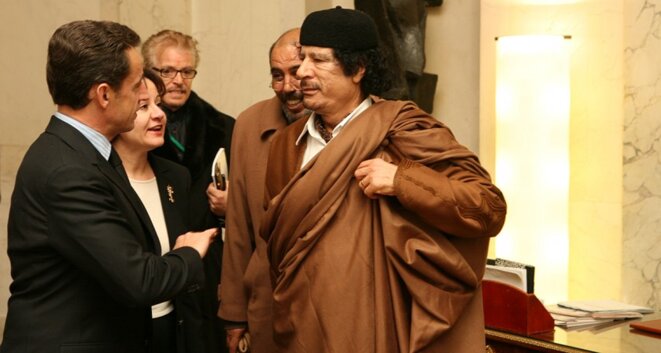 Moftah Missouri, standing behind Mummar Gaddafi during a meeeting with Nicolas Sarkozy. © DR
In a lengthy interview with Mediapart earlier this month in Tunisia, where he now lives in exile, Moftah Missouri, who served for 15 years as the personal advisor and interpreter of the late Libyan dictator Muammar Gaddafi, details his first-hand knowledge of Nicolas Sarkozy's confidential dealings with the Gaddafi regime, before and after he became president. Sarkozy was last month placed under formal investigation in a French judicial probe into Gaddafi's suspected secret funding of his 2007 election campaign, and Missouri, who told Mediapart the Libyan leader confirmed to him in person the illicit financing, says he is willing to testify before the French magistrates.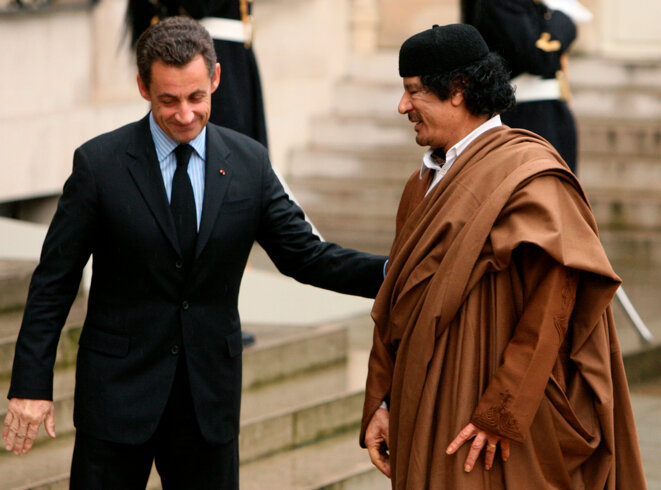 December 10th 2007: Nicolas Sarkozy welcomes Libtyan dictator Muammar Gaddafi on his first official visit to France. © Reuters
Mediapart has obtained access to extracts of the transcripts of the questioning last week of former French president Nicolas Sarkozy by officers of France's anti-corruption police agency, OCLCIFF, and also by the magistrates in charge of their investigation into the suspected financing of his 2007 presidential election campaign by the late Libyan dictator Muammar Gaddafi. They reveal how Sarkozy, who after more than 30 hours of questioning was placed under investigation on March 21st for "illicit funding of an electoral campaign", "receiving and embezzling public funds" from Libya, and "passive corruption", was unable to provide convincing answers on a number of key questions, and how also he appeared to place responsibility for some of the most compromising evidence of collusion with Gaddafi's regime on his close staff, including lifelong allies and friends Claude Guéant and Brice Hortefeux. Fabrice Arfi and Karle Laske report.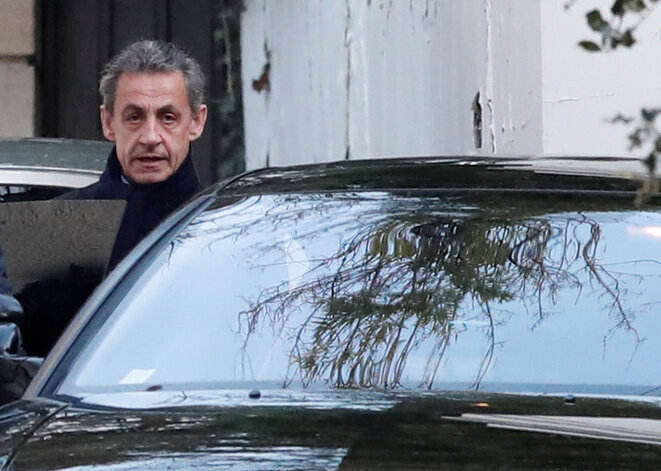 Nicolas Sarkozy leaving his Paris home Wednesday morning for a second day of questioning. © Reuters
Nicolas Sarkozy was placed under formal investigation by magistrates on Wednesday for "illicit funding of an electoral campaign", "receiving and embezzling public funds" and "passive corruption" at the end of almost 48 hours of questioning by French police investigating evidence that the former French president's 2007 presidential election campaign was partly funded by the regime of the late Libyan dictator Muammar Gaddafi. It is unprecedented in France for a former president to face prosecution for having been sponsored by a foreign power. Fabrice Arfi and Karl Laske report on the latest events and the background to the case, which followed Mediapart's first revelations in 2011.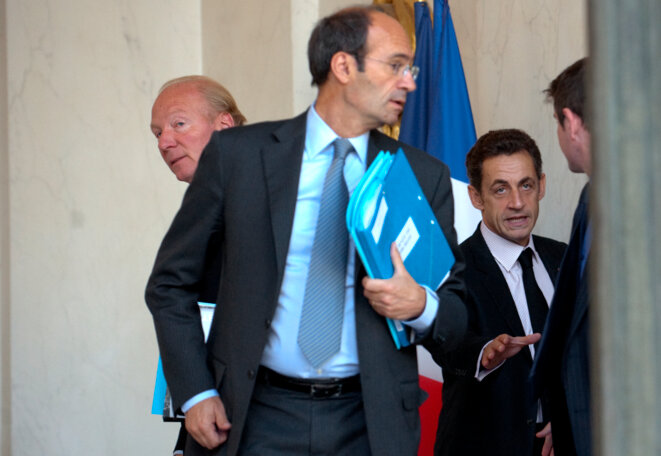 Éric Woerth (centre) treasurer of the 2007 presidential election campaign of Nicolas Sarkozy (right). © Reuters
A French judicial investigation into the suspected illegal financing of Nicolas Sarkozy's 2007 presidential election campaign by the regime of late Libyan dictator Muammar Gaddafi, opened after evidence of Tripoli's agreement to make the payment was published by Mediapart, has in recent weeks stepped up questioning of suspects and witnesses in the case who have confirmed the abundant use of cash sums to pay campaign staff. Several former managers and secretaries of the campaign were placed in custody and questioned by police who also carried out searches of their homes. Fabrice Arfi, Karl Laske and Mathilde Mathieu report.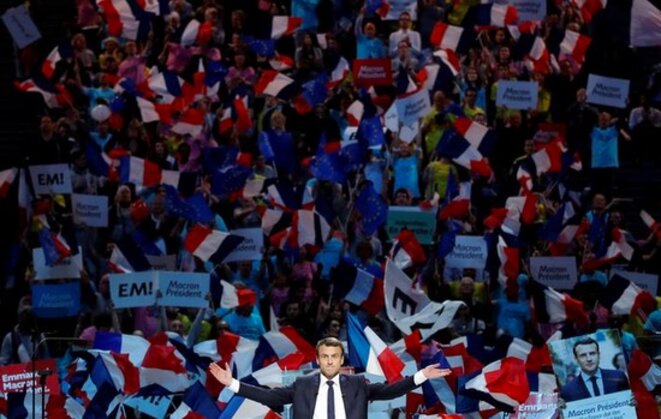 Emmanuel Macron just a few days before the first round of the election. © Reuters
The elimination of the candidates for the two main parties of government, centrist Emmanuel Macron coming top and the spectacular breakthrough by radical left Jean-Luc Mélenchon and his Unbowed France movement constitute a political upheaval without precedent since 1958. After Sunday's first-round French presidential election vote, each political camp is now talking about a complete realignment of the political battlefield, and everything needs to be rebuilt. This is excellent news, argues Mediapart's editor François Bonnet.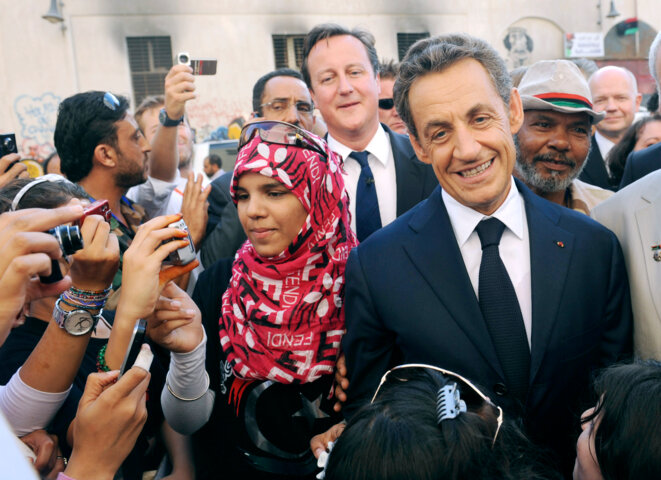 Nicolas Sarkozy and David Cameron visiting Benghazi. © Reuters
A report published this week by the UK parliament's foreign affairs committee made public its highly critical conclusions after a one-year inquiry into Britain's involvement in the 2011 military intervention in Libya which led to the overthrow of the regime of Muammar Gaddafi. The committee described the operation, which was led by France, as ill-prepared, ill-informed and without a cohesive strategy. No parliamentary inquiry into the military campaign has ever been held in France, and what exactly fuelled then-president Nicolas Sarkozy's eagerness to remove Gaddafi remains uncertain, although a number of clues point to a motive ignored by the UK committee of MPs. Fabrice Arfi reports.
Magistrates in Bordeaux last week ordered that Patrice de Maistre, former wealth manager for L'Oréal heiress Liliane Bettencourt, should continue to be kept in preventive detention while they continue investigations into his role in a series of massive and mysterious cash withdrawals from the billionaire's secret Swiss bank accounts. The judges have uncovered further evidence, described by one source close to the case as "solid", that suggests some of the money was used to illegally fund outgoing French President Nicolas Sarkozy's 2007 election campaign – which is also suspected of being illegally financed by the late Libyan dictator Muammar Gaddafi. Lawyers for Maistre complained that he was being kept in jail to "pressure" him into confessing the scam. Michel Deléan reports on the latest developments in the Bettencourt case, now rapidly closing in on Sarkozy, who will hand over office to newly-elected François Hollande on Tuesday.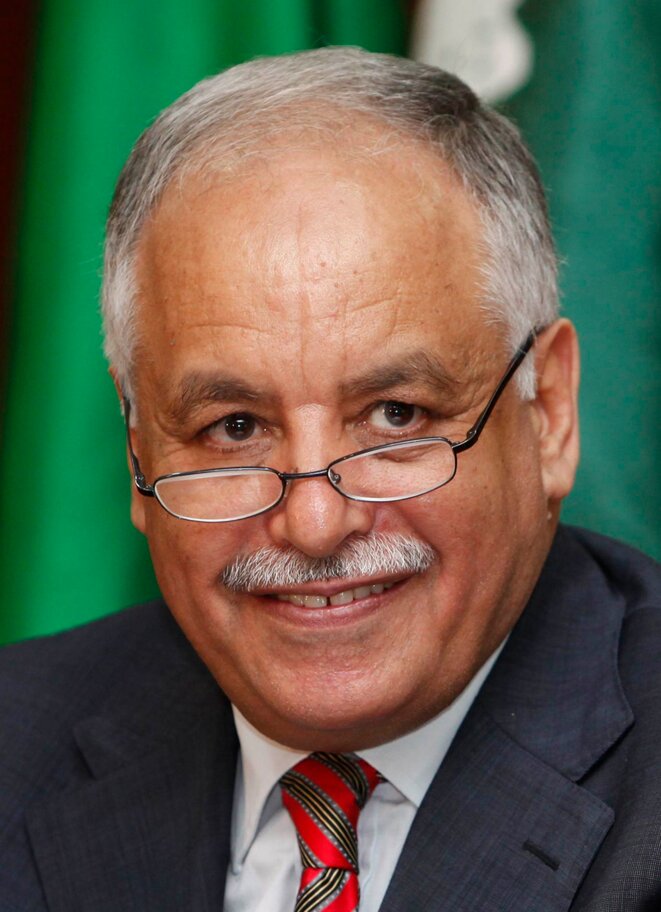 M. Baghdadi © Reuters
Former Libyan Prime Minister al-Baghdadi al-Mahmoudi has confirmed that the regime of Colonel Muammar Gaddafi secretly provided 50 million euros for Nicolas Sarkozy's 2007 election campaign. "We took part in Mr Sarkozy's success and in the financing of his 2007 presidential campaign," Mahmoudi said in an interview with Mediapart, conducted through his lawyer. "The figure of 50 million euros is correct." Mahmoudi's confirmation follows the publication by Mediapart of a December 2006 document, signed by the then head of Libya's foreign intelligence agency, Moussa Koussa, detailing how the Gaddafi regime agreed to "support the electoral campaign" of Sarkozy for the "sum of fifty million euros", while the secret payments were to pass via the Libyan African Portfolio, a sovereign wealth investment fund. Fabrice Arfi and Karl Laske report.
Far-right leader Marine Le Pen has announced she will cast a blank protest vote in next Sunday's presidential election final round.
The BBC reports on Nicolas Sarkozy's announcement he will sue Mediapart for suggesting Muammar Gaddafi planned funding his 2007 election campaign.
French President Nicolas Sarkozy has announced he is to sue Mediapart over its report of plans by the former Libyan regime of Colonel Muammar Gaddafi to fund his presidential election campaign in 2007. Mediapart stands by all the evidence it has revealed, writes Editor-in Chief Edwy Plenel, who explains here why Sarkozy's reaction, and the accompanying denials of two protected former Gaddafi henchmen, were entirely predictable.