Keyword: 2007 presidential election campaign
Related keywords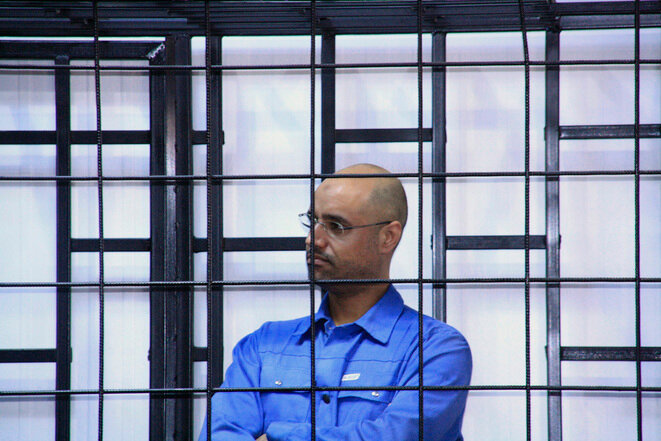 Saïf al-Islam Gaddafi appearing before a court in Zintan, Libya, on May 15th 2014. © Reuters
In August this year, Saïf al-Islam Gaddafi, son of the late Libyan dictator Muammar Gaddafi, sent a lengthy written statement to French magistrates investigating evidence that France's former president Nicolas Sarkozy secretly received millions of euros from the dictator's regime to finance his 2007 election campaign. Mediapart has gained access to the statement in full, and reveals here the most notable extracts, in which he corroborates the accounts of the illegal funding, details how it was organised, and relates how Sarkozy and his close entourage sought, as a return favour, to overturn a life sentence handed by a Paris court to Gaddafi's intelligence chief in absentia for his role in the 1989 bombing of a French airliner which killed 170 passengers and crew. Karl Laske and Fabrice Arfi report.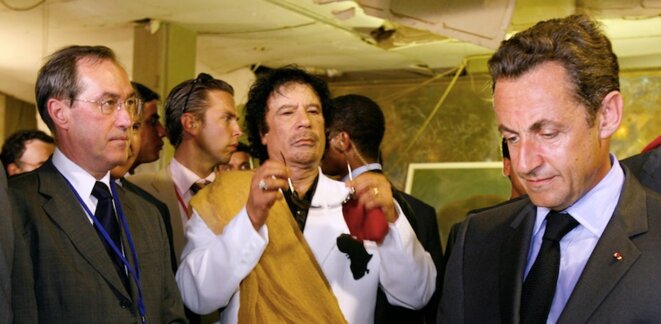 Left to right: Nicolas Sarkozy's chief of staff Claude Guéant, Muammar Gaddafi and the newly elected president Sarkozy in Tripoli in July 2007. © Reuters
Former French president Nicolas Sarkozy appeared on French television on Thursday in an attempt to dismiss evidence that this week led to him being placed under investigation for "illicit funding of an electoral campaign", "receiving and embezzling public funds" from Libya and "passive corruption" by magistrates leading a probe into the alleged funding of his 2007 election campaign by  late Libyan dictator Muammar Gaddafi. Sarkozy adopted the stance of victim, claiming that a Libyan document approving the secret funding,  revealed by Mediapart in 2012, was a "forgery", when he misled viewers about expert findings on its veracity and even denied the fact that their conclusions led to his suit against Mediapart being thrown out twice by judges. Mediapart reporters Fabrice Arfi and Karl Laske detail here the hard facts about the evidence that the former president knowingly chose to ignore.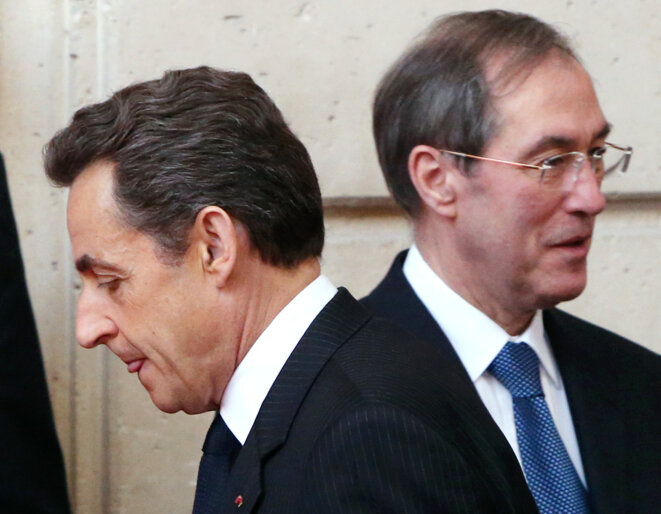 Nicolas Sarkozy and his right-hand man Claude Guéant, March 27th, 2012. © Reuters
Police officers from France's anti-corruption squad, the OCLCIFF, have produced a preliminary and damning report into the claims that the Libyan regime under Muammar Gaddafi funded the 2007 presidential election campaign of Nicolas Sarkozy. It raises questions about the role of Éric Woerth who at the time was treasurer of Sarkozy's campaign, later became a minister and is now president of the finance committee at the National Assembly. Meanwhile judges have ordered the seizure of properties belonging to Sarkozy's former chief-of-staff and right-hand man, Claude Guéant. Fabrice Arfi and Karl Laske report.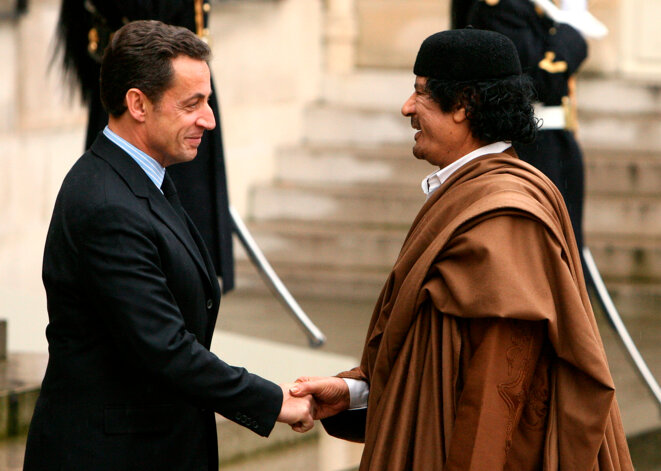 En 2007, la lune de miel. © Reuters
Two French judges have found there are no grounds for challenging the authenticity of an official Libyan document revealed by Mediapart in 2012 and which declares that the Gaddafi regime had agreed to fund Nicolas Sarkozy's 2007 presidential election campaign to the sum of 50 million euros. The magistrates, in charge of an investigation prompted by a lawsuit launched by Sarkozy against Mediapart for "forgery" and "use of forgery", have thrown out the case after years of thorough expert appraisals of the document and witness statements. Mediapart's editor-in-chief Edwy Plenel details the judgment and the background to the case.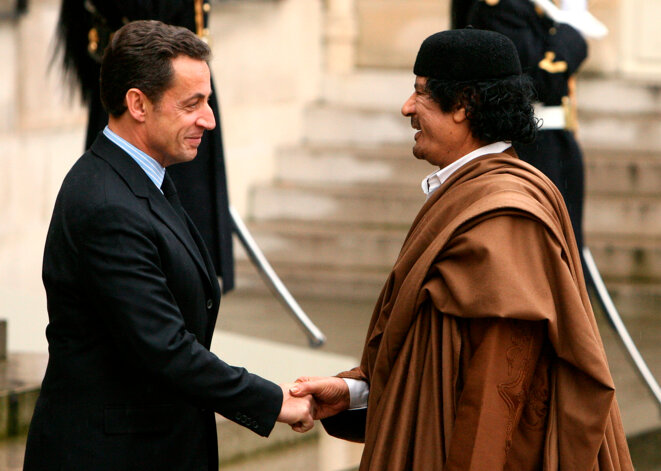 En 2007, la lune de miel. © Reuters
A document published by Mediapart detailing how the Gaddafi regime in Libya agreed to secretly fund Nicolas Sarkozy's 2007 presidential election campaign is genuine, according to the conclusions of an expert analysis ordered by a French judge. The evaluation, involving highly sophisticated technology, was carried out as part of a judicial investigation into a complaint lodged against Mediapart by the former president for for 'forgery and use of forgery'. The emphatic conclusion follows on a graphologists's report that found the signature on the document was indeed that of Muammar Gaddafi's spy chief, Moussa Koussa. Fabrice Arfi reports.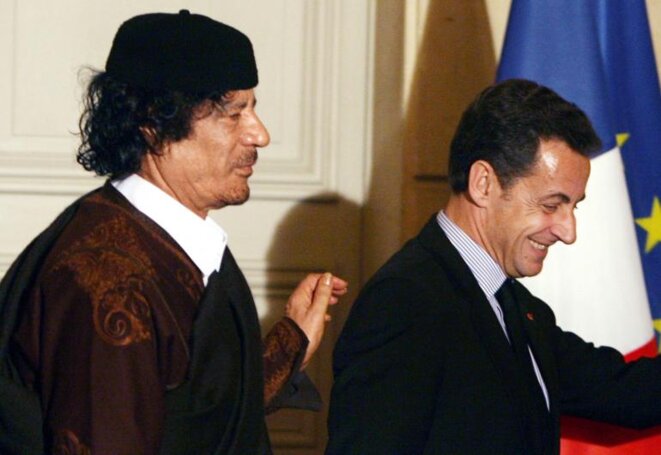 © Reuters
On November 14th, Mediapart revealed that a judicial investigation had authenticated key evidence that the regime of late Libyan dictator Muammar Gaddafi had agreed to secretly finance the 2007 election campaign of former French president Nicolas Sarkozy. Yet this information of important public interest has remained ignored by French news agencies and rolling news broadcasters. To stifle news it suffices to not report it, writes Mediapart editor-in-chief Edwy Plenel. He explains here why this website has now decided to publish in full the contents of the judicial report which confirms as genuine an official Libyan document detailing the plans for the funding scam - and which was first published by Mediapart in 2012.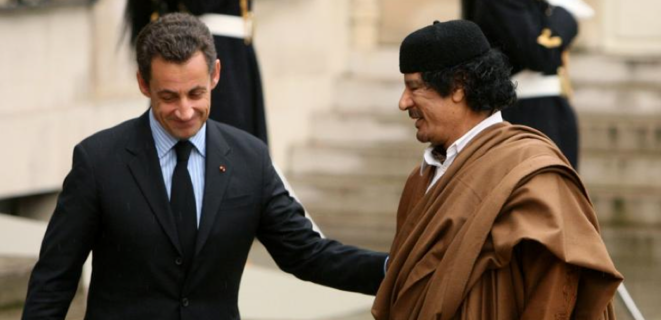 Dans la cour de l'Elysée en décembre 2007. © Reuters
In April 2012, Mediapart published an official Libyan document that revealed that the regime of the late Libyan dictator Muammar Gaddafi approved payment of 50 million euros to fund Nicolas Sarkozy's successful 2007 presidential election campaign. The publication of the document prompted the opening of a judicial investigation into the claims that Gaddafi illegally financed Sarkozy's campaign, and the ongoing probe represents a major threat to the former president who this month announced his return to active politics. "About Libya, the judges know that the documents are false," said Sarkozy in an interview published last weekend. But in fact, as Fabrice Arfi and Karl Laske report, the magistrates leading the investigation have collected statements from numerous experts whose testimony gives credence to the document published by Mediapart.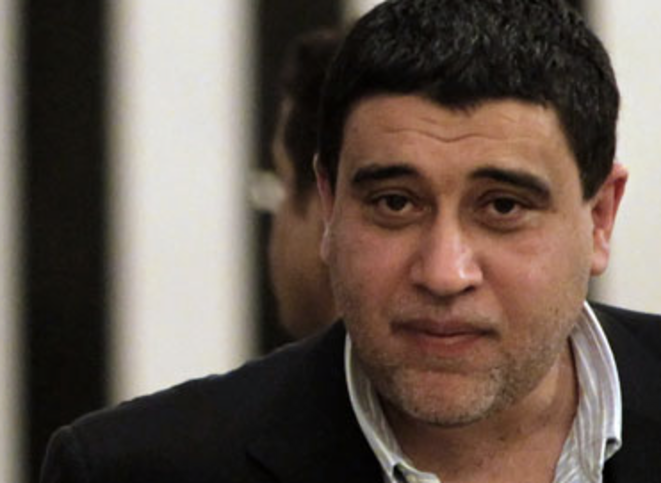 Mohamed Ismail
Mohammed Ismail (pictured), a former aide to Saïf al-Islam, the son of the late Libyan dictator Muammar Gaddafi, has confirmed claims that Gaddafi funded the 2007 election campaign of former French president Nicolas Sarkozy, Mediapart can reveal. "Part of the funds went through North Africa Commercial Bank in Beirut, and from there to a bank account in Germany affiliated with Ziad," Ismail told Mediapart, referring to Ziad Takieddine, a Paris-based businessman and arms dealer who worked as a key advisor to Sarkozy's aides in their dealings with the former Libyan regime. "Other parts were funnelled through bank accounts in Panama and Switzerland," he added. Fabrice Arfi and Karl Laske report.
Gaddafi funding of Sarkozy election campaign : a first-hand witness confirms © Mediapart
A senior aide to the late Libyan dictator Muammar Gaddafi has revealed that Gaddafi personally told him that his regime illegally funded Nicolas Sarkozy's 2007 election campaign to the tune of 20 million dollars. Moftah Missouri, who was Colonel Gaddafi's personal interpreter, who was given the rank of ambassador and who also served as a minister in the regime, made the disclosure in an interview with French state television channel France 2, to be broadcast Thursday evening. During the interview, also confirms the veracity of a document published by Mediapart in April 2012 in which Gaddafi's funding of Sarkozy's campaign is detailed. Fabrice Arfi and Karl Laske report.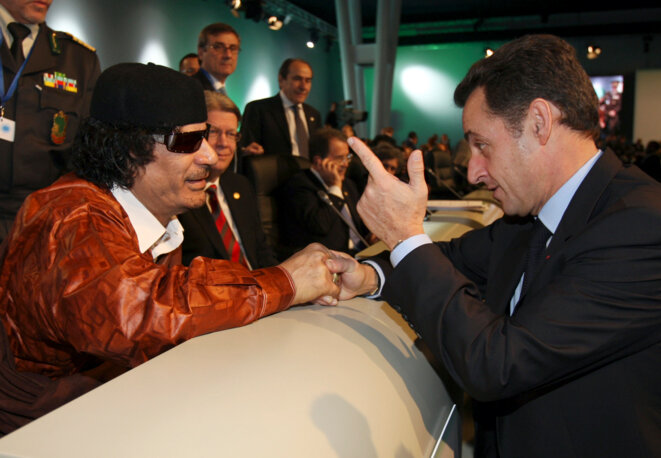 © Reuters
An independent judicial investigation has been opened into the suspected illegal funding of Nicolas Sarkozy's 2007 presidential election campaign by the former Libyan regime of Colonel Muammar Gaddafi, the Paris public prosecutor's office confirmed Friday. The investigation into "money laundering, aiding and abetting money laundering and handling of the proceeds", "influence peddling", "active and passive corruption", "fraud and use of the proceeds of fraud" and "misappropriation of company assets" by "unidentified persons" follows evidence uncovered during a preliminary investigation by the public prosecutor's office, prompted by Mediapart's exclusive revelations published last year.