Related keywords
President made surprise announcement in emotional live statement on TV, saying he was conscious of "risks" to French Left if he stood again.
Leaked internal documents cited by French radio indicate the French carmaking giant, which has recovered from near bankruptcy in 2013, is planning to shed 2,133 jobs through voluntary agreements because of uncertainty over Brexit and falling sales of diesel vehicles.
The former socialist economy minister who left government after criticising austerity policies said François Hollande's presidency left 'a feeling of waste'.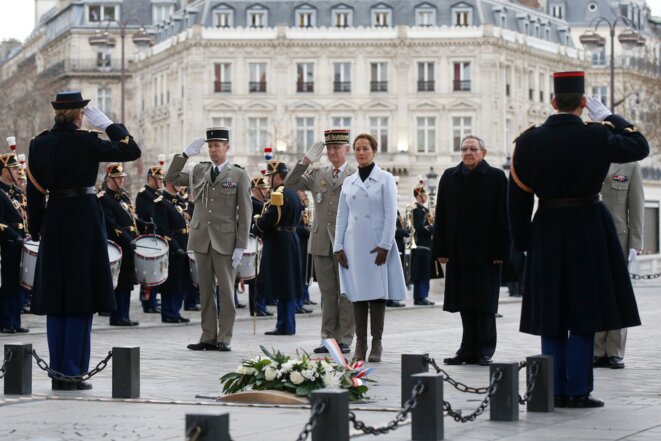 Ségolène Royal with Cuban President Raul Castro at a ceremony in front of the Arc de Triomphe in Paris, February 1st. © Reuters
Ségolène Royal has led an up and down political career over three decades. After serving three ministerial posts and three terms as an MP, she lost, as socialist candidate, the 2007 presidential elections to Nicolas Sarkozy, narrowly lost her 2008 bid to become Socialist Party leader, was humiliated in the 2011 socialist primaries, and lost in legislative elections in 2012. But, retaining a power base as a local council leader in mid-west France, the 63-year-old former wife of President François Hollande is now back in the stable of power. Made environment minister in 2014, her ministry emerged from this month's government reshuffle with added powers, including her role as president of post-COP 21 UN climate talks. But she is also regarded as a key figure for Hollande's hopes of re-election in 2017. Mathieu Magnaudeix reports.
Some 74 percent of those surveyed do not want re-run of 2012 presidential election when socialist leader beat former conservative president.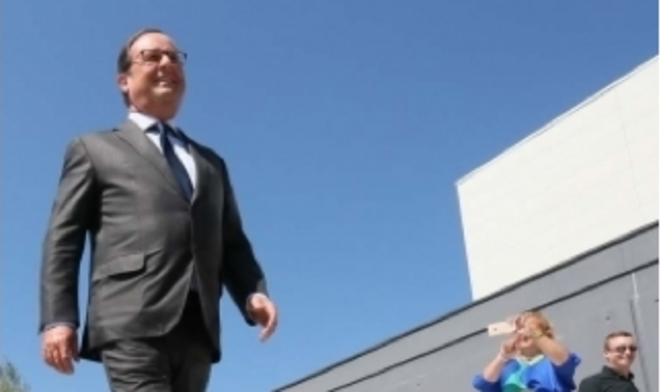 Hollande le 20 août.
While many of his opponents and rivals have begun losing ground, frought by party infighting, the horizon towards a re-election as French president in 2017 is now clearing for François Hollande. In a remarkable turnaround from the calamitous situation just 12 months ago, a drubbing for the long-unpopular president is no longer certain, and a new term in office has become plausible, even a certainty for some of his entourage. But, Mediapart editor François Bonnet argues here, that is to underestimate the political boomerang that represents the profound social crisis in France that marks his presidency, and the unprecedented and developing European crises he has failed to address.
Strauss-Kahn came second in poll out of a group of Socialist Party figures regarded as potential candidates for France's 2017 election.
Speaking on French television, Manuel Valls said he was 'scared for my country, I'm scared that it will crack in the face of the Front National'.
Victory for Marine Le Pen's far-right party would be a disaster for both France and Europe, argues The Financial Times.
EU officials are to grant an extra two years to French government, who now have until 2017 to bring deficit down to under 3% of GDP.
Survey suggests president of Front National would win first round of voting if election were held today - but lose in second round.
President went on radio to discuss the economy, conflicts in Syria and Ukraine, the rise of the far right and efforts to curb global warming.
Former French president says if he becomes head of the UMP he will start from scratch and seek to unite people with similar ideas.
In lengthy TV interview the under-fire French president also said that he would not stand for re-election in 2017 if jobless rate does not fall.