Keyword: 2017 French presidential elections
Related keywords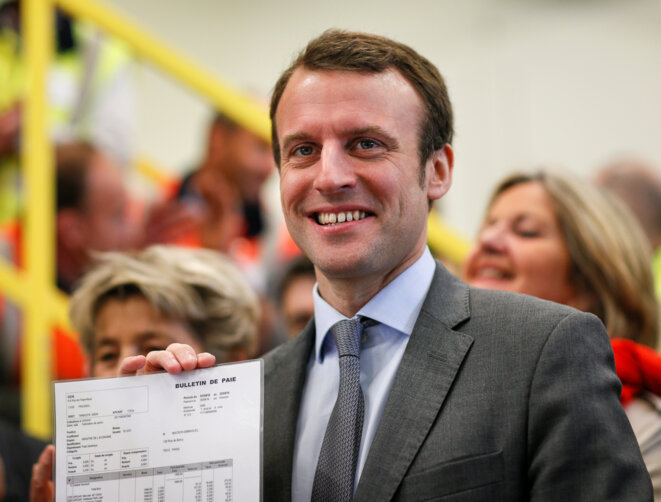 Emmanuel Macron in May 2016. © Reuters
In order to finance his election campaign, Emmanuel Macron succeeded in raising almost 13 million euros in what was a remarkable achievement for his maverick centrist political movement En Marche ! created barely one year before his election as president. But contrary to the image put about by his campaign team that it was the result of a spontaneous surge of popular support, the funds were primarily sourced from a powerful network of bankers, financiers and businessmen, as information gathered from the massive leak of hacked En Marche ! internal documents and verified by Mediapart reveals.
Emmanuel Macron, elected in presidential elections on May 7th, officially took over the reins of power on Sunday in a handover ceremony with outgoing François Hollande marked by Macron's upbeat speech on his confidence to "give back to the French their confidence in themselves".
Emmanuel Macron is to travel to Germany to meet Chancellor Angela Merkel on Monday, the day after his inauguration as France's new president, when the two leaders are expected to seek agreement on measures to strengthen the eurozone.
France goes back to the polls next month for crucial legislative elections to decide the composition of the 577-seat lower house, the National Assembly. President-elect Emmanuel Macron's newly-created maverick centrist movement is hoping to win a majority and, in the process, smash the power of traditional parties of the Left and Right and halt the surge of the far-right. Whatever the outcome of this most uncertain battle for survival, the configuration of the French political scene will emerge profoundly altered, argues political scientist Fabien Escalona.
Admiral Mike Rogers, US National Security Agency director and head of US Cyber Command, told a Senate committee that the agency tipped off its French counterparts before the hack of Emmanuel Macron's campaign became public 36 hours ahead of the second round of the presidential campaign.
Experts from US- and Japan-based cybersecurity firms have suggested that the massive pre-election hacking of documents from French president-elect Emmanuel Macron's campaign team, and which were posted online with reportedly fake contents, was the work of groups reportedly affiliated to Russian military intelligence.
France's president-elect Emmanuel Macron joined outgoing head-of-state François Hollande for VE Day commemorations in Paris on Monday in a public display of friendship between the two men, when it was announced that Macron would be sworn into office next Sunday.
Russian President Vladimir Putin on Monday congratulated France's newly-elected president Emmanuel Macron, whose campaign staff  previously accused Russia of orchestrating a dirty tricks campaign against him, adding that it was "especially important to overcome mutual mistrust and unite efforts to ensure international stability and security".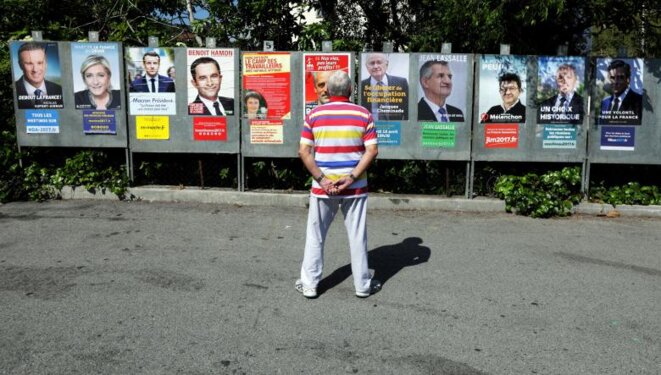 Campaign posters of the 11 candidates in southern France. © Reuters
Maverick centrist Emmanuel Macron has come first and far-right leader Marine Le Pen second in Sunday's first-round voting in France's presidential elections, setting up a knockout second-round contest between the two on May 7th. While the final results are yet to arrive, conservative candidate François Fillon and radical-left Jean-Luc Mélenchon were neck-and-neck in third and fourth place respectively. Socialist Party candidate Benoît Hamon came fifth with about 6% of the vote, a historically low figure for his party. Follow the results, reactions and analyses as they happened throughout the evening. Reporting by Graham Tearse and Michael Streeter.
Amid increased security France's 47 million registered voters, of whom opinion polls estimate nearly a quarter are still undecided, began voting Sunday in the first round of a presidential election thriller, with the top four candidates neck and neck and when only the top-scoring two will proceed to the knockout round in two weeks time.
The tight presidential contest, in which four out of 11 candidates are leading opinion polls neck-and-neck, kicked off Saturday in France's overseas territories and départements, including Guiana, in South America, where a last-minute agreement to end a crippling social movement was reached between protestors and Paris.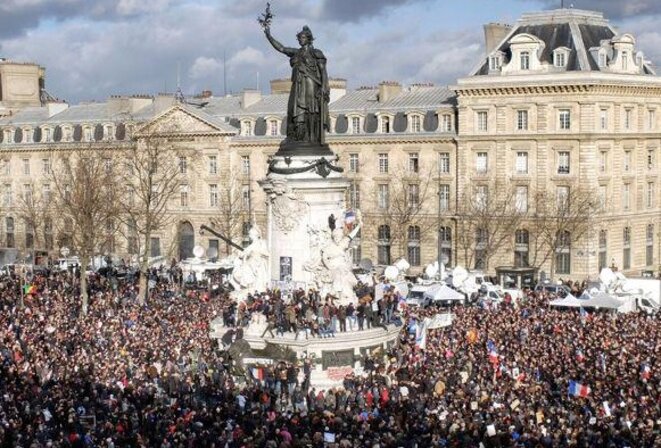 A rally at the Place de la République in central Paris.
The good news to arise out of the French presidential election campaign is that it has accentuated the crisis of the French presidential system, argues Mediapart's publishing editor and co-founder Edwy Plenel. The bad news is that it is being played out like a game of Russian roulette. What will be the final result is all the more uncertain because of the potential influence of events like Thursday's terrorist attack in Paris. Which is why, aside the vote itself, we must above all trust in the role of society and the mobilisation of citizen movements.
As voting in the first of a two-round presidential election begins in France on Sunday, the shootings in central Paris on Thursday which left one police officer dead and two others wounded, in an attack claimed by the Islamic State group, terrorism has led the agenda of the closing campaigns, notably among rightwing candidates.  
The centrist French presidential candidate Emmanuel Macron, leading polls before first-round voting on Sunday, held a phone conversation with former US president Barack Obama on Thursday, giving the former economy minister a clear boost just as his rivals are narrowing the gap between frontrunners.