Keyword: 2017 presidential election
Claims have emerged that prosecutors were pressured to move fast in a fraud inquiry against former prime minister François Fillon, his main right-wing rival in France's 2017 presidential race.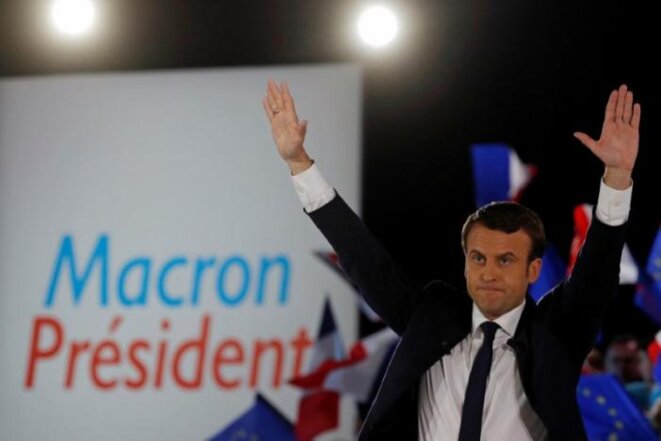 The next president of France: Emmanuel Macron. © Reuters
Independent centrist candidate Emmanuel Macron was on Sunday elected as France's next president in a landslide victory over his rival, far-right leader Marine Le Pen. Final results gave Macron a 66.1% share of votes cast against 33.9% for Le Pen, a remarkable win for the 39-year-old political maverick but which was significantly boosted by an anti-Le Pen vote and tempered by the unusually high rate of abstentions and blank votes. Meanwhile, despite Le Pen's defeat her score represents a historic surge in support for the far-right giving it its highest-ever result, as attention now turns to the crucial legislative elections in June to elect France's 577 MPs. Follow here the election night reactions and analyses as the events unfolded. Reporting by Michael Streeter and Graham Tearse.
Polling in France takes place against background of hacking that is 'clearly an attempt at democratic destabilisation', claims Macron's team.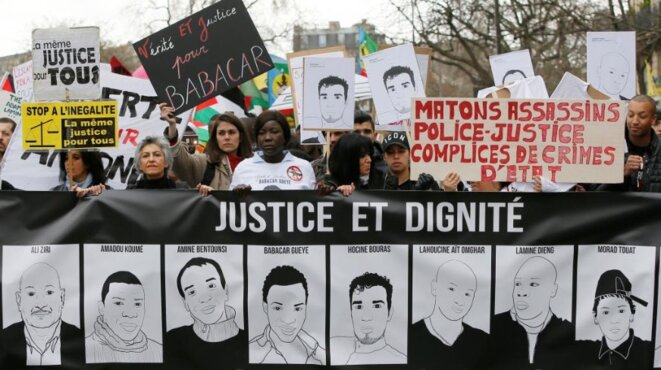 Nearly 7,000 demonstrators marched in Paris on March 19th, 2017, against police violence. © Reuters
The residents of France's working-class multi-ethnic areas abstained from the first-round elections in greater numbers than the national average. Yet if they turn out in force in Sunday's second round vote between Emmanuel Macron and Marine Le Pen they could yet have a big say in the outcome. Though fed up with being told who to vote for, many of the inhabitants come from immigrant backgrounds and already experience everyday racism they fear will only get worse if the far-right win power. However, many are also afraid Macron's liberal economic policies will make their lives even harder. Carine Fouteau assesses the mood in areas that have been largely overlooked in the French presidential campaign.
Contest marked the first in French TV history to feature every candidate in race, with all eleven getting to speak for about 18 minutes each.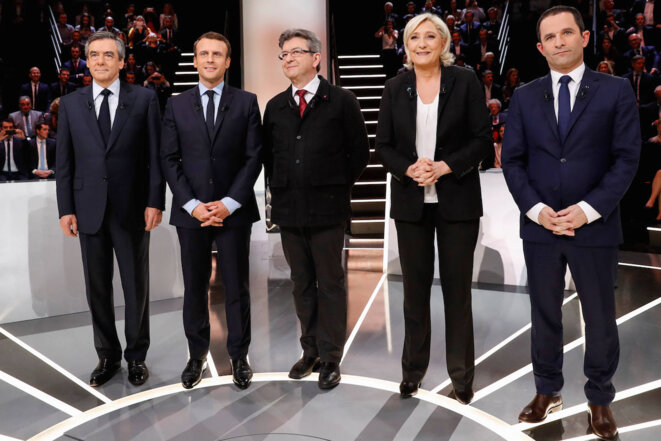 The five main candidates at a televised debate on TF1 on 20th March, 2017. © REUTERS
The chatter about the French presidential election focuses on the likely high abstention rate, the record number of undecided voters, a possible last-minute surge by the Right and whether one can trust the polls. In particular, just under three weeks from the first round of voting, the talk is of how unpredictable and hard to forecast this 2017 election is. But, Hubert Huertas, argues it is no more unpredictable than usual. It is just that when it comes to the mood of voters, the rules have changed.
The further you travel on RER commuter tran from Paris , the greater the support for the anti-immigrant, anti-Europe Front National. 
Presidential candidate François Fillon's wife is placed under investigation on suspicion of complicity in misappropriating public funds.
Presidential candidate without a party overtakes official socialist candidate Benoît Hamon in polls and vows to make second round of election.
Benoît Hamon on the evening he won the socialist primary election in January 2017. © Reuters
The official Socialist Party candidate in the French presidential election, Benoît Hamon, has been deserted by a section of the right wing of his own party who are opting to support the independent centrist Emmanuel Macron. The latest high-profile figures to support Macron are former Paris mayor Bertrand Delanoë and defence minister Jean-Yves Le Drian, a close ally of President François Hollande. Some in Hamon's team say the defections make it easier for their candidate to make his pitch on the left. But as Stéphane Alliès and Lénaïg Bredoux report, his campaign is so far pretty much inaudible.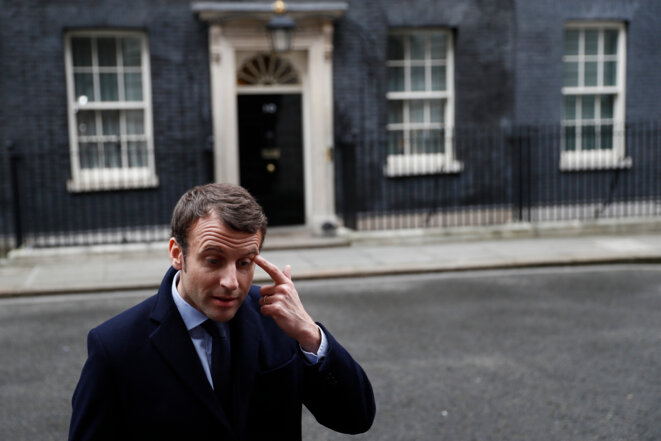 Emmanuel Macron outside 10 Downing Street where he met British PM Theresa May on February 21st, 2017. © Reuters
The independent centrist candidate Emmanuel Macron has no public money behind him to help his presidential campaign, as he has no established political party. Instead he is relying on donations both via the internet and from private gatherings with wealthy supporters. Opponents have raised questions over the former economy minister's links with the world of money and business, as well as the declarations of his personal assets which seem to suggest he spent large amounts of money while working as a merchant banker. Those rivals seek to paint him as a candidate for "global capitalism". His entourage are irritated by such a depiction but, given his background in the world of finance, they have little choice but to accept it, report Mathieu Magnaudeix and Mathilde Mathieu.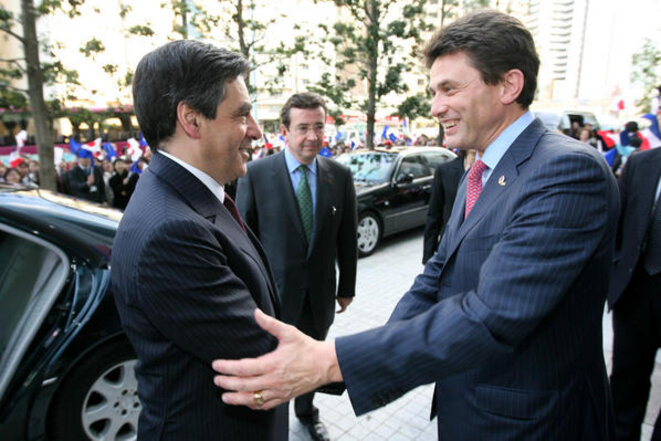 François Fillon (left) and his friend Henri de Castries, former CEO of AXA. © DR
On February 6th the beleaguered right-wing presidential candidate was forced to admit that the major insurance firm AXA was a client of his consultancy firm 2F Conseil. Between 2012 and 2014 the group paid 200,000 euros to Fillon, who was a Member of Parliament at the time. The money was apparently paid to the former prime minister because he could "open doors in Brussels and Berlin" as new European Union insurance regulations were being implemented. Mediapart's Martine Orange argues that the affair is a clear example of conflict of interest.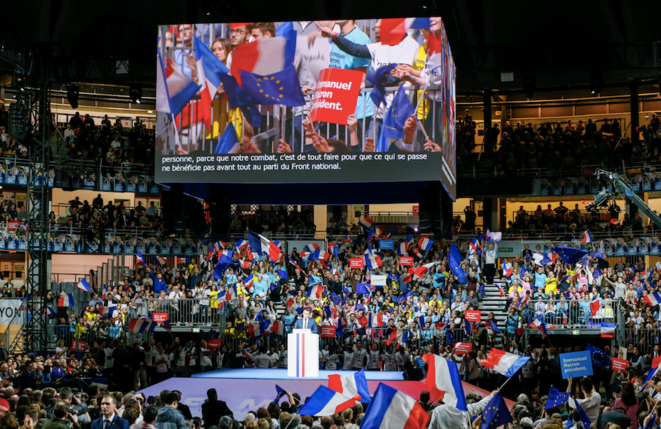 The glitzy Emmanuel Macron rally at Lyon on Saturday February 4th, 2017. © Reuters
With just over 70 days to go before the first round of the French presidential election, former economy minister Emmanuel Macron continues to attract large crowds to his rallies and is doing well in the opinion polls. Yet what does the founder of the 'En Marche!' political movement - who keeps talking about "bringing people together" - actually plan to do if he is elected president? Mathieu Magnaudeix attended Macron's latest gathering but came away little the wiser.
Like many of leading French politicians, François Fillon has his own 'micro' party which is used to develop policy ideas and raise funds. But Mediapart can reveal that the micro party run by Fillon, whose candidacy for the French presidency has been rocked by the so-called "fake jobs" scandal involving his wife Penelope, is discreetly banking donations from members of the public supporting his official electoral campaign. "It's madness!" says one senior figure on the Right. Mathilde Mathieu reports.