Keyword: 2017 presidential elections

Does President Emmanuel Macron's approach to government encourage the confusion of public and private interests?
Two current affairs sum up the nature of 'Macronism', the approach to government adopted by the French president Emmanuel Macron since his election in May 2017. One involves his chief of staff at the Élysée and claims that he faces a clear conflict of interests between the public and private sectors, the other concerns the hefty discounts that the Macron campaign received on various campaign services during the presidential election. Both stories highlight the same problem: the failure of France's watchdogs to adequately monitor public life. Fabrice Arfi reports.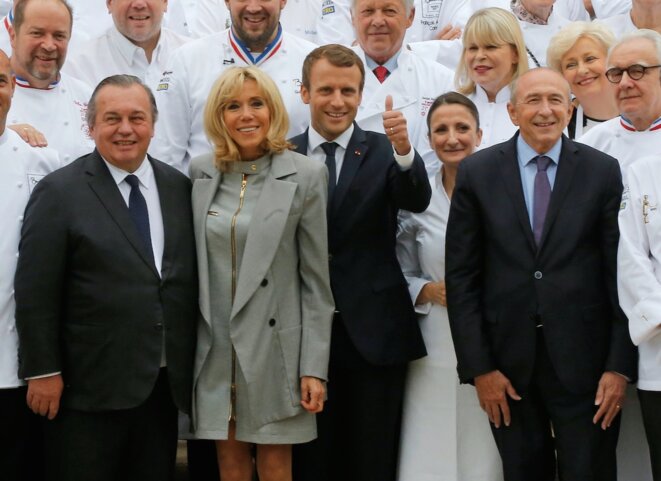 Events organiser Olivier Ginon, left, with Brigitte Macron, President Emmanuel Macron and interior minister Gérard Collomb at the Elysée in September 2017. © Reuters
According to election campaign accounts seen by Mediapart, the French events organisers GL Events gave Emmanuel Macron significant discounts on services it provided for his successful election campaign. The company run by Olivier Ginon, an ally of interior minister Gérard Collomb and currently very much in favour at the Elysée, claims these were normal business discounts available to everyone. Yet according to the information seen by Mediapart, conservative candidate François Fillon did not benefit from similarly advantageous rates from the same company. Antton Rouget reports.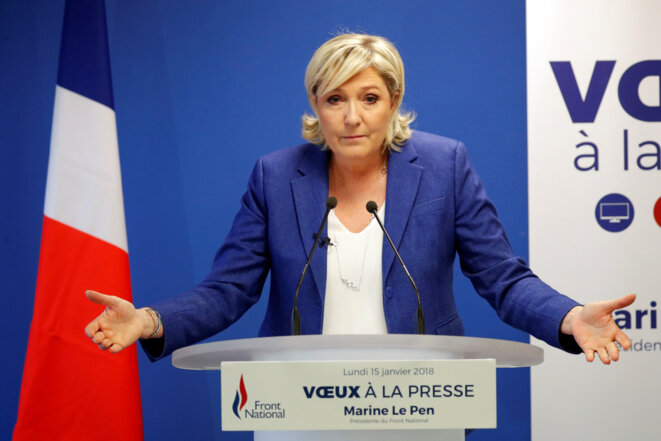 Marine Le Pen during the traditional New Year address to the French press in Paris, January 15th 2017. © Reuters
French far-right Front National party leader Marine Le Pen was once tipped as the likely winner of last year's presidential elections, sending shockwaves across Europe, before she finally lost to Emmanuel Macron. In the build-up of her campaign, and little known to the wider public, her policy programme was developed with the help of senior French civil servants, dubbed by her party as "night-time visitors" and whose names were kept secret. But in this joint investigation, Mediapart and Buzzfeed have obtained access to documents which reveal the true identities of several of them. They are nearly all graduates of France's elite higher education schools and include former members of France's Council of State and the French national audit body, along with a prefect and advisor to the director-general of the French gendarmerie, and a director of a major French construction firm. Marine Turchi and David Dufresne report.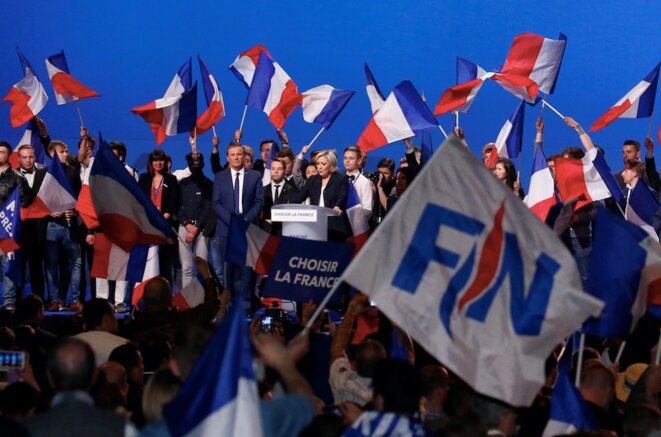 The far right's Marine Le Pen during a politcal rally at Villepinte near Paris on May 1st, 2017. © Reuters
Mediapart is calling for a vote for Emmanuel Macron against Marine Le Pen in the second round of the French presidential election on Sunday May 7th. This is not out of approval for his manifesto, writes Mediapart's publishing editor and co-founder Edwy Plenel, but in defence of democracy as an arena where one has the freedom to object - including against Macron's policies. For under the authoritarian and identity-obsessed far right, he says, this fundamental right would certainly come under challenge.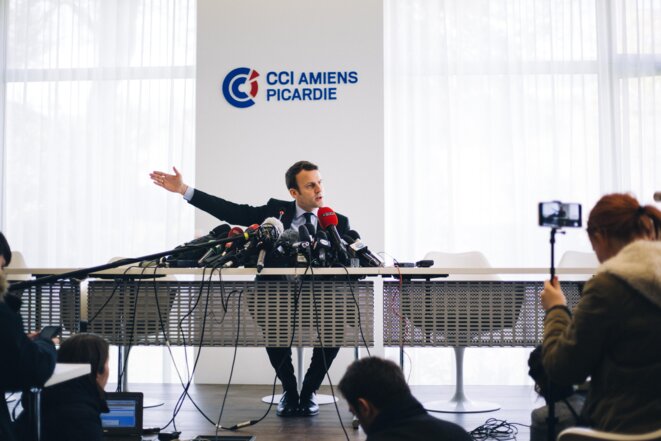 Emmanuel Macron at the Chamber of Commerce in Amiens, April 26th, 2017. © Nicolas Serve / Hans Lucas
Emmanuel Macron's appeals for a unified front against the far right's Marine Le Pen in the run-off for the presidential election have been hit by a major handicap – himself. The former merchant banker and civil servant's CV, image and policies repel many on both the Left and Right. In response he has sought to offer pledges for those who did not vote for him in the first round. But in essence, says Mathieu Magnaudeix, the centrist candidate is holding to his policy line and is aiming for a major and rapid realignment of French politics if he is elected.
Opponents of the independent candidate claim he would struggle to govern because he would be unlikely to muster a parliamentary majority.
The Aube département or county in the north-east of France is a rural area that also has pockets of industrialisation. Here, apart from the 'fake jobs' controversy surrounding right-wing candidate François Fillon, the presidential election campaign seems not to have had much of an impact so far. This has left the far-right Front National to take advantage of the relative indifference of the other candidates towards issues affecting those who live in the French countryside. Mathilde Goanec reports.
Candidate has denounced a left-wing 'institutional coup d'état' as he faces mounting pressure to quit the presidential race over 'fake jobs' scandal.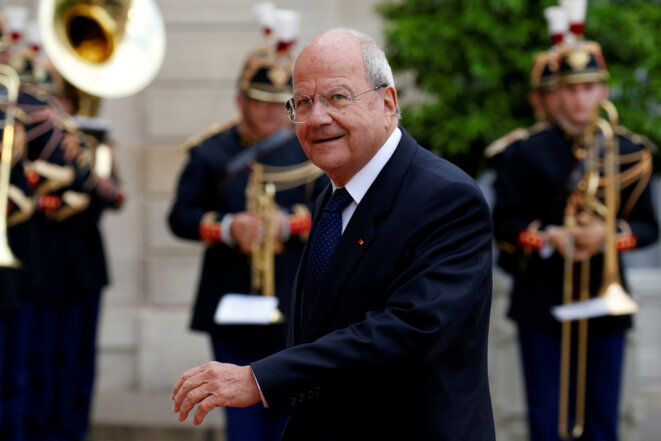 Friend of François Fillon: billionaire Marc Ladreit de Lacharrière at the Élysée on July 11th, 2016. © Reuters
Right-wing François Fillon's presidential campaign has been thrown into turmoil after claims that his wife Penelope was paid €500,000  as his parliamentary assistant despite doubts she ever performed that role. It is also claimed that Penelope Fillon received €100,000 from a magazine owned by a billionaire ally of former prime minister Fillon, even though she appears to have done little work for it. The couple have been questioned by investigators, while new claims emerge that the family may have pocketed close to a million euros in all. Now Mediapart can reveal that a key advisor on Fillon's election campaign was given a job at a charitable foundation run by the same billionaire, Marc Ladreit de Lacharrière, at the time she began working for the presidential candidate. Yet there is no public trace of the advisor's work at the foundation. Antton Rouget investigates a case that will raise yet more questions surrounding the finances of the frontrunner to be the next French president.
Front National party leader Marine Le Pen, tipped by pollsters to reach the second round of France's presidential elections this spring, is making a French exit from the European Union one of her major campaign pledges, along with resinstating the franc as national currency within a euro-shadowing group of currencies with other nations disenchanted with eurozone policies.
Front National leader Marine Le Pen, running for presidential office in elections next spring, said her party would refuse public education and health services for illegal immigrants.
French Prime Minister Manuel Valls, 54, has announced his resignation in order to stand in primary elections to choose his Socialist Party's candidate for next spring's presidential elections, following President François Hollande's decision last week not to stand.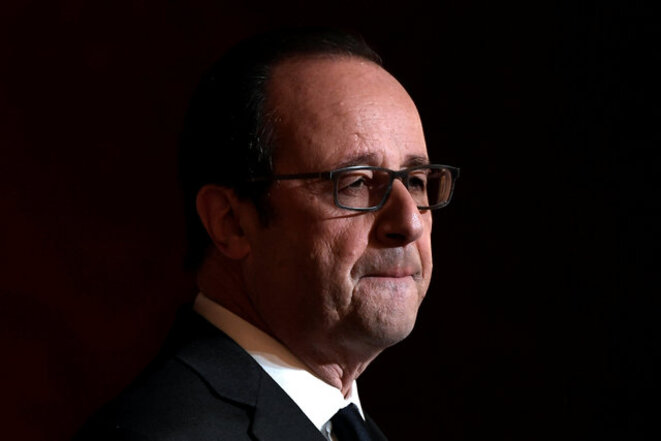 Not seeking re-election: François Hollande. © Reuters
Under attack from within his own political camp, President François Hollande announced on Thursday night that he will not be standing for re-election in France's presidential elections next year. His decision, announced live on television, followed a period of high tension in the highest echelons of the state during which the head of state had come under fire from his own prime minister, Manuel Valls. Mediapart's Lénaïg Bredoux reports on what led the socialist president to take this momentous decision, the first time under France's Fifth Republic that a president has chosen not to seek a new term.
A spokesman for the conservative frontrunner candidate for the 2017 presidential elections, Alain Juppé, has said the UK border post in Calais will, if he becomes president, be closed as an 'uncomfortable consequence' of Brexit.