Keyword: 2022 French presidential elections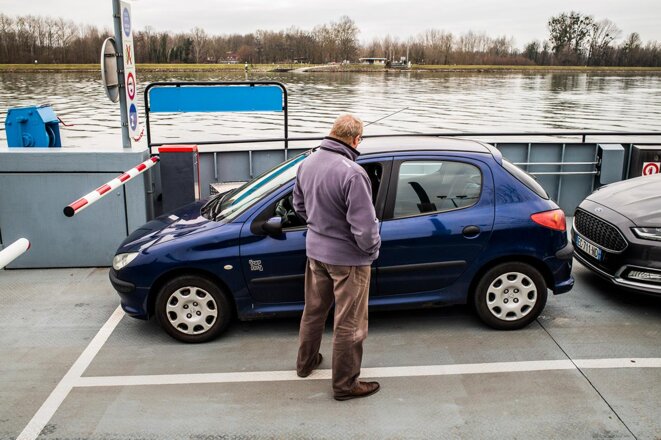 On the ferry across the Rhine, between France and Germany. © Pascal Bastien pour Mediapart
The Bas-Rhin département or county in north-east France, which borders Germany, is dominated politically by the Right and far-right. Mediapart visited the region to test the mood on the ground and found that more and more local people, and especially those in rural areas, are choosing to abstain from voting. Quietly, and with no fanfare, swathes of people in this area are saying a discreet farewell to the world of politics. Mathilde Goanec reports from the towns of Drusenheim and Haguenau.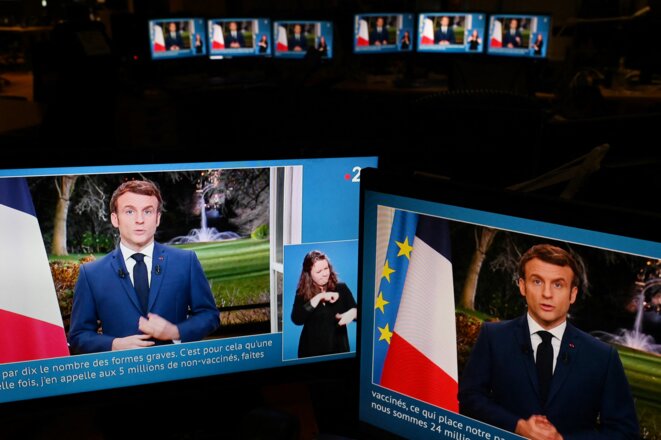 Emmanuel Macron during his televised New Year's message on December 31st 2021, the last of his presidency. © Martin Bureau/AFP
On Friday evening Emmanuel Macron delivered the final New Year's presidential broadcast to the nation of his five-year term of office. Ahead of April's presidential elections – for which Macron has yet to officially declare himself as a candidate – the incumbent gave a rapid overview of what he sees as his achievements in office. Despite the Covid pandemic, President Macron sought to describe a political landscape that embraced both "optimism" and "tolerance" - an assessment, says Ellen Salvi, that stands in stark contrast to the reality of his presidency. Political opponents immediately accused the president of being "out of touch".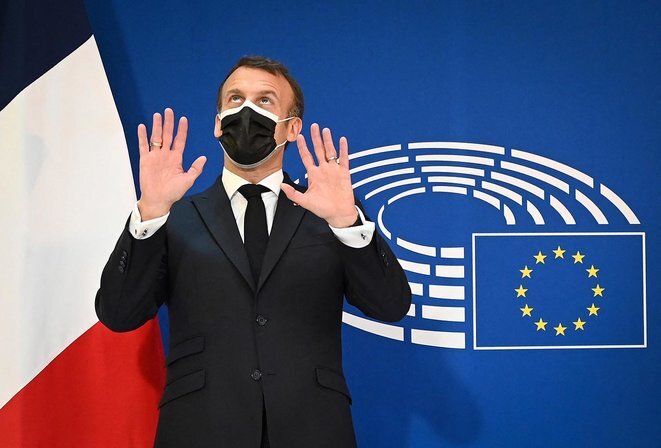 Emmanuel Macron at the European Parliament in Strasbourg, May 9th 2021. © Photo Frédéric Florin/AFP
Emmanuel Macron has still to announce his widely expected bid for a second term in office in next April's presidential elections. His eventual rivals accuse him of unfairly using his position to already campaign in disguise, and notably when France takes over the rotating, six-month presidency of the EU Council on January 1st. As Ellen Salvi reports, it will give Macron the opportunity of testing his election campaign arguments to win over the Eurosceptics among his potential electorate on the Right, and notably on the handling of the Covid-19 crisis and immigration controls.
As the clock ticks down for next April's presidential elections in France, the divided French Left, which with several candidates is split and poorly positioned for success against the conservative and far-right hopefuls, is set to have yet another challenger in the race after Christiane Taubira, a Black Guyanese former socialist justice minister, announced that she will probably stand and 'use all my strength' to unite her political camp.
Far-right candidate Eric Zemmour has repeatedly spurred controversy by attempting to whitewash the extent of Marshal Philippe Pétain's collaboration.
While Pécresse would trail Macron in April's first round by 20 percent to his 23 percent, she would win a second run-off by 52 points to 48, the Elabe group survey published on Tuesday evening indicated.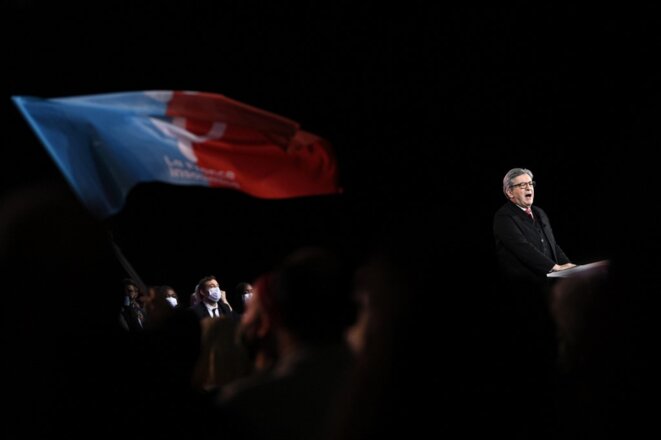 Jean-Luc Mélenchon speaking at his rally in the La Défense district of Paris, December 5th 2021. © Photo Anne-Christine Poujoulat / AFP
At his first major political rally ahead of next year's presidential elections, radical left politician Jean-Luc Mélenchon positioned himself as a bastion of the Left against the Right and far right in France.  The veteran founder of La France Insoumise also showed at the gathering in Paris that he was able to pull together a diverse range of figures from across the left of the political spectrum. Pauline Graulle reports.
Valérie Pécresse, a former minister under Sarkozy, will run for Les Républicains after beating off challenge from right-winger Eric Ciotti.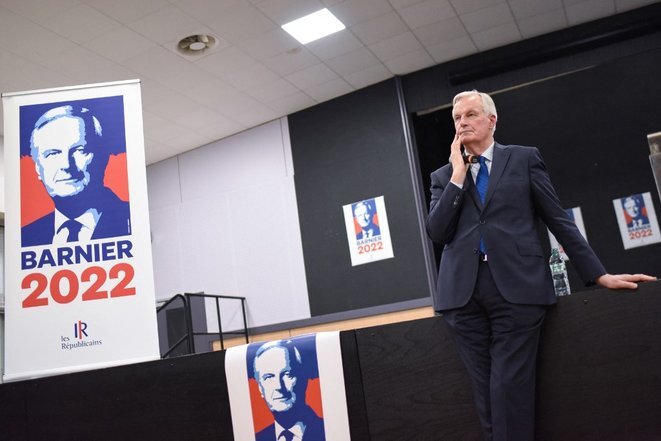 Michel Barnier at a campaign meeting in Montreuil-Juigné, north-west France, November 4th 2021. © Sebastien Salom-Gomis / AFP
Michel Barnier, a former EU commissioner and chief Brexit negotiator for the bloc, is one of five contenders to become the presidential candidate for France's conservative Les Républicains party, which will choose the nominee in a vote this week. Barnier, 70, has moved from outsider to frontrunner, the result of a remarkable ideological U-turn; once a champion of European integration and a 'humanist' approach to immigration, which he regarded as a positive phenomenon, he now pledges to suspend further immigration and to make France independent of the EU's legal institutions. As Ilyes Ramdani reports, Barnier's sudden shift rightwards has proved a strategic success, notably among the nationalist current in his party.
The polemicist is trying to re-energize campaign after recent stumbles and a slide in the polls. 
As French President Emmanuel Macron opens a museum dedicated to the exonerated Jewish soldier, ultra-nationalists like maverick far-right polemicist and expected candidate in next year's presidential elections, Éric Zemmour, again question his innocence.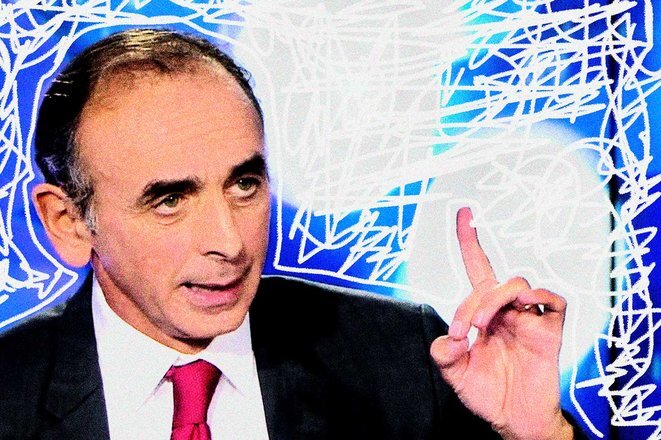 Éric Zemmour: "I don't care about demonization." © Photo montage Mediapart
French far-right doyenne Marine Le Pen, who just months ago appeared in the running to reach the final, second-round play-off in next April's presidential elections, is now facing a serious challenge for her electoral turf from a maverick presidential contender, the polemicist and TV pundit Éric Zemmour. While he has no party structure behind him, he is increasingly backed by the ultra-right and its ideologues, who feel betrayed by Le Pen's attempts to purge her party's more outspoken extremists and paper over its racist image. "I don't care about demonization," says fervently anti-Islam Zemmour who, despite his Jewish origins, has garnered the support of notorious anti-Semites. Lucie Delaporte reports.
The Socialist will campaign on her story of 'overcoming class prejudice' in bid to win back voters for the left in 2022.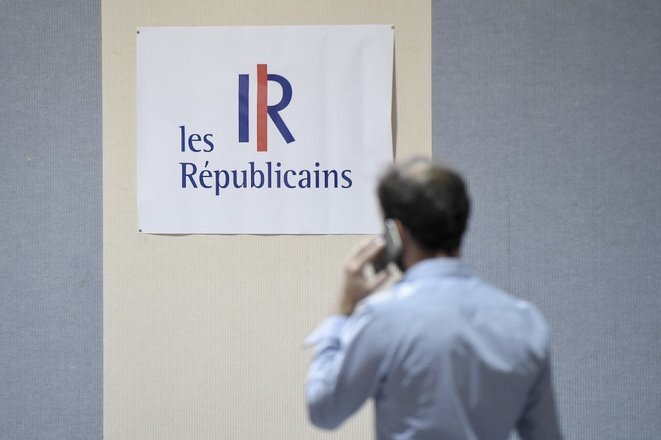 © Sebastien Salom-Gomis / AFP
Ahead of next year's presidential elections, France's conservative party, Les Républicains, has yet to choose its candidate to stand against a widely expected, although as yet unannounced, re-election bid by Emmanuel Macron. But the party has now published its policy programme. Ilyes Ramdani reports.