Keyword: 2022 French presidential elections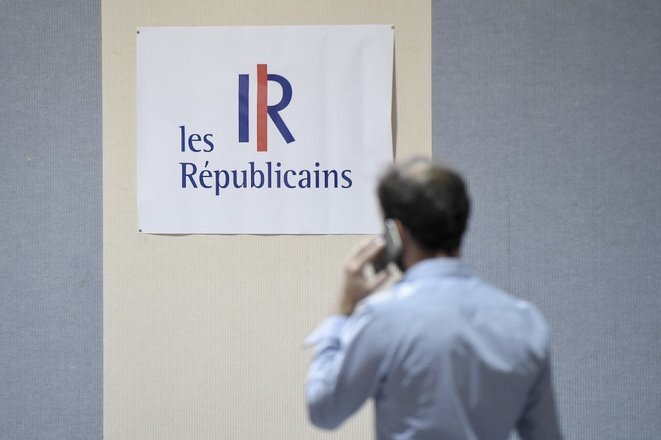 © Sebastien Salom-Gomis / AFP
Ahead of next year's presidential elections, France's conservative party, Les Républicains, has yet to choose its candidate to stand against a widely expected, although as yet unannounced, re-election bid by Emmanuel Macron. But the party has now published its policy programme. Ilyes Ramdani reports.
Michel Barnier, 70, who led the European Union's negotiations with Britain to reach a deal over the latter's departure from the bloc, has announced he will stand as a conservative candidate in next year's French presidential elections.
Originally a hybrid of centre-left and soft conservative, French President Emmanuel Macron has tacked rightward over the past year, cracking down on Islamism and talking tough on identity politics and law and order, observes The Times.
Marine Le Pen, 52, was on Sunday re-elected as leader of the far-right Rassemblement National party, the former Front National, during its congress in the southern town of Perpignan, setting in train her 2022 presidential election bid. 
The French conservative Les Républicains party, which has been reeling from electoral defeat and internal divisions since political maverick Emmanuel Macron's arrival in power in 2017, now senses blood after their relative success in regional elections.
Emmanuel Macron on a walkabout in Valence, south-east France, after he was slapped by a man in the neighbouring town of Tain L'Hermitage, June 8th 2021. © Nicolas Guyonnet / Hans Lucas via AFP
After he was slapped earlier this week in a town in south-east France by a man shouting a medieval royalist battle cry, President Emmanuel Macron described the assault as an "incident" that should be "relativised", and that "all is well". On the contrary, writes Mediapart publishing editor Edwy Plenel in this opinion article, all is going badly, and the slap illustrates the far-right violence that has been set loose by the cynicism and irresponsibility of the Macron presidency.
Speaking in a radio interview, Jean-Luc Mélenchon, leader of the radical-left La France insoumise (France unbowed) party warned that a 'serious incident or a murder' would occur at the height of next year's presidential election campaign, citing tragic events during previous campaigns and seemingly suggesting they are part of a recurrent plot to change the outcome of the vote.
France is to launch a 'National Agency for the Fight Against Manipulation of Information' in September, in an effort to prevent foreign powers such as Russia and China from using covert means to influence French voters in presidential and parliamentary elections due in 2022.
French President Emmanuel Macron this week began a six-week 'tour de France' with a trip to the south-west  of the country, presented by his staff as an attempt to better understand the grass-roots concerns of the nation but which political observers regard as the beginning of his campaign for re-election in 2022.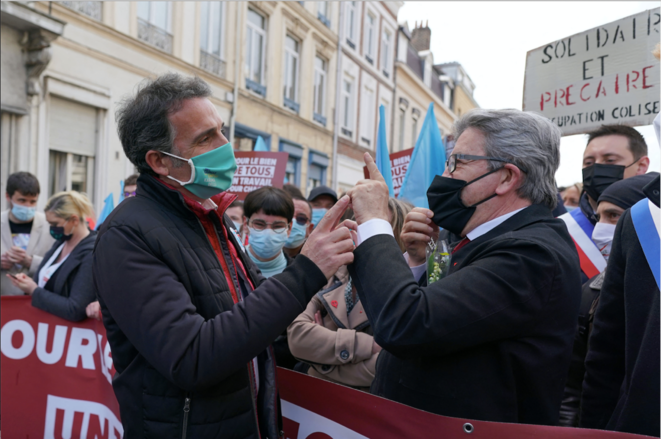 Not seeing eye-to-eye: Éric Piolle from the Green EELV party (left) with radical-left LFI party leader Jean-Luc Mélenchon in Lille, May 1st 2021. © SYLVAIN LEFEVRE/Hans Lucas/ Hans Lucas via AFP
In just less than 12 months, France goes to the polls in presidential elections. On the Left, two distinct blocs are emerging, with separate policies and strategies, no common candidate and the prospect of a political crash. But could growing forecasts of a strong performance, and even victory, by the far-right yet force a union of the Left? Pauline Graulle reports.
Regional and presidential votes in next two years will prove an electoral test for Europe Écologie-Les Verts's claim of an 'historic turning point'.
Marine Le Pen, the 51-year-old leader of France's far-right Rassemblement National party, the former Front National, and who reached but lost the second-round playoff against Emmanuel Macron in France's 2017 presidential elections, has announced she will stand in the country's next presidential elections due in 2022.