Related keywords
The ex-head of state was  found guilty of seeking to bribe a judge and handed a three-year sentence, two of them suspended.
Ex-head of state is accused of offering a plum job in Monaco to a judge in exchange for inside information on an inquiry into his campaign finances.
Sarkozy has become France's first modern head of state to appear in the dock on charges of corruption and influence peddling.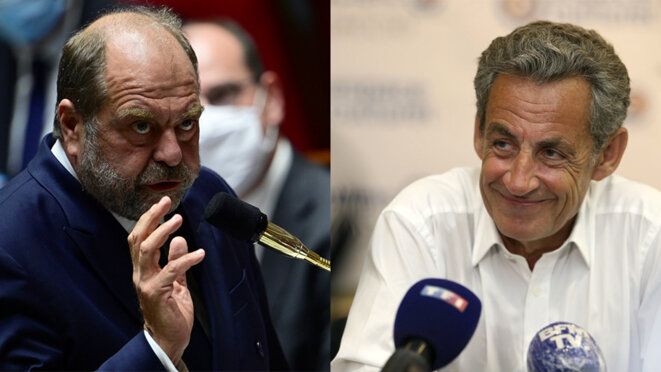 Defence lawyer turned minister of justice Éric Dupond-Moretti and ex-president Nicolas Sarkozy. © AFP
In 2014 prosecutors from France's financial crimes prosecution unit the Parquet National Financier (PNF) wanted to discover the identity of the 'mole' inside the legal world who had tipped off Nicolas Sarkozy that his phones were being tapped as part of what became known as the 'Bismuth' affair. When details of this hunt were revealed by Le Point magazine it caused an outcry among many top lawyers - including defence lawyer Éric Dupond-Moretti who is now the minister of justice - and an investigation was launched into the actions of the PNF. At the time, many in the former president's entourage felt the revelations proved there was a sustained attempt to discredit him. But the Ministry's of Justice's inspectorate which investigated the affair has just reported, and finds that the PNF's actions were legal and proper. As Fabrice Arfi and Michel Deléan report, the report's verdict will be seen as a setback for the ex-head of state