Keyword: Conflans Saint-Honorine attack
The leaders of the main political parties, associations and trade unions joined demonstrations in solidarity with murdered teacher Samuel Paty on Sunday afternoon in Paris, Place de la République, and in many other cities including Lyon, Toulouse, Strasbourg, Nantes, Marseille, Lille and Bordeaux.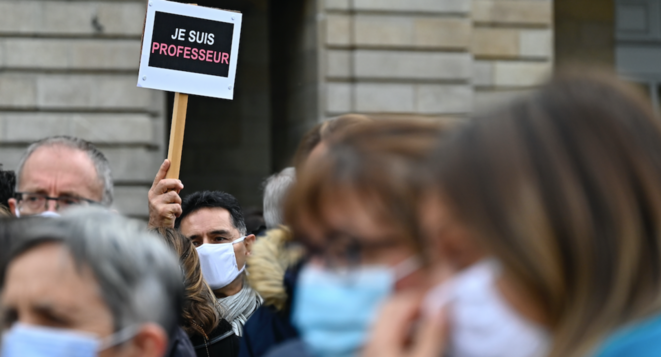 A demonstration showing solidarity with murdered teacher Samuel Paty, held at Rennes in west France on Saturday October 17th. © Bertrand Guay/AFP
A few minutes after the horrific murder of Samuel Paty near Paris, his attacker Abdoullakh Abouyezidovitch A. posted a photo of the history teacher's head on his Twitter account. Mediapart can reveal that at the end of August the 18-year-old Russian-born Chechen had also posted a photomontage of a mock decapitation. It has also emerged that several people had flagged the youth's Twitter account to the authorities in recent months. Matthieu Suc reports.