Amid widespread outrage in Ferance over video images of an apparently racist and fierce assault by Paris police of black music producer Michel Zecler last weekend, President Emmanuel Macron released a statement on Facebook describing the attack as 'shameful', adding that 'those who apply the law must respect the law'.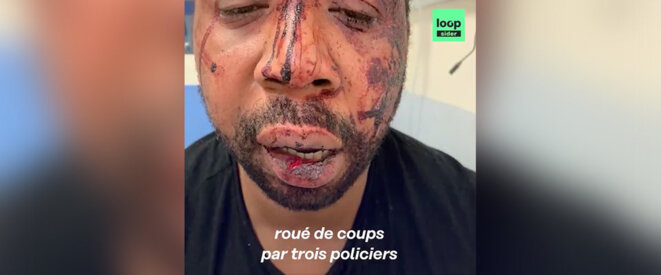 An image of Michel Zecler following the assault by three French police officers in Paris on November 21st. © Loopsider
There has been widespread outrage in France after video footage emerged of three police officers apparently gratuitously beating a black music producer in Paris, who was left with serious injuries from punches, kicks, baton blows and the explosion of a tear gas grenade in his studio last weekend. François Bonnet argues here that the events highlight how interior minister Gérald Darmanin has made a policy of flattering the most extremist fringes of the police, creating disorder amid heightened police violence. It is high time, he writes, for Darmanin to go.