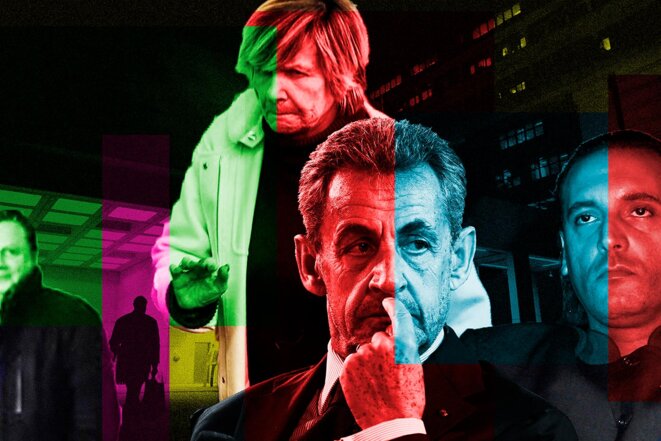 Noël Dubus, 'Mimi' Marchand, Nicolas Sarkozy and Hannibal Gaddafi. © Photomontage Sébastien Calvet / Mediapart avec AFP
France's financial prosecution unit the Parquet National Financier (PNF) has broadened the scope of its investigation into claims that Ziad Takieddine, a key witness over allegations that Libya helped fund Nicolas Sarkozy's 2007 presidential campaign, was induced to change his evidence. Well-connected Paris paparazzi boss Michèle 'Mimi' Marchand is one of those under investigation over the allegations. Prosecutors now also want to look at suspicions of an extraordinary plan to bribe judges in order to free one of the late Libyan dictator Muammar Gaddafi's sons from prison in Lebanon. The idea was that, in exchange, a grateful Hannibal Gaddafi would then speak out and clear the former president's name over the 2007 election funding allegations. As Fabrice Arfi, Karl Laske and Antton Rouget report, the affair could potentially now become an international scandal.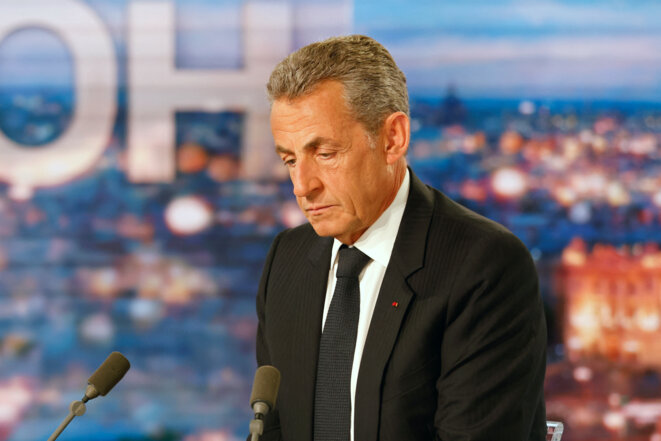 Nicolas Sarkozy on the news bulletin of TF1 television station, March 3rd 2021. © Ludovic MARIN / AFP
In November 2020 Ziad Takieddine, a key witness in the judicial investigation into Libyan funding of Nicolas Sarkozy's 2007 presidential election campaign, retracted his evidence. The apparent volte-face by a man who had previously said Nicolas Sarkozy had been corrupted by Libyan money in the affair was seized on by the former president's supporters as a turning point in the lengthy judicial saga. But Takieddine's retraction was not a genuine one. New legal documents seen by Mediapart – who originally broke the story of the alleged funding scandal - show the scale of the media manipulation used to help Nicolas Sarkozy. The former president's role in this is now at the heart of this part of the investigation. So, too, is the role played by the so-called 'queen of the paparazzi' Michèle 'Mimi' Marchand who is currently in custody in connection with the case. She has told detectives that her role in the affair was to: "Kill Mediapart".  Fabrice Arfi, Karl Laske and Antton Rouget report.