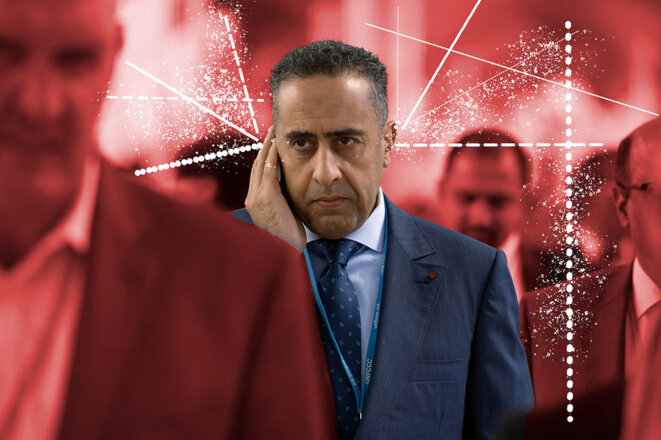 Abdellatif Hammouchi during a visit to the COP22 international conference on the climate at Marrakesh, November 8th 2016. © Photo Illustration Mediapart avec Fadel Senna / AFP
The Pegasus scandal has helped throw a spotlight on the repressive regime in Morocco, which is accused of using the Israeli-made spyware to target the phones of thousands of people, including politicians and journalists in France. In particular it has focused attention on the North African kingdom's top cop and spy chief Abdellatif Hammouchi and his role in the affair. As Mediapart reports, this key figure in the Moroccan state apparatus is feared in many Western capitals, including Paris.
The legal action follows revelations that its intelligence services used the Pegasus mobile phone spyware against dozens of French journalists. 
French head of state and and 15 members of the French government may have been among potential targets in 2019 of surveillance by spyware made by the Israel-based NSO Group, according to a newspaper report.
Data leak and forensics suggest NSO's surveillance tool Pegasus was used against journalists at some of world's top media companies. Mediapart was among those organisations targeted.