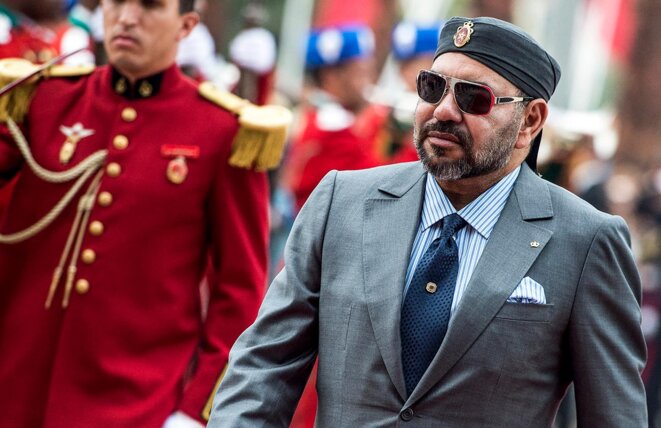 The king of Morocco, Mohammed VI, during the opening of the Agdal railway station at Rabat, on November 17th 2018. © Photo Fadel Senna / AFP
The revelations about the use made by certain countries of the Pegasus spyware against journalists around the world have focused attention on Morocco's close surveillance of the media. As Mediapart – itself a victim of Moroccan spying - here reveals, the North African kingdom's clampdown targets not just independent journalists and publications but human rights activists too. The regime has also cynically made use of the #MeToo movement and the subsequent heightened global awareness about sexual and sexist violence to discredit those who criticise and oppose it by manipulating or fabricating evidence of a sexual nature.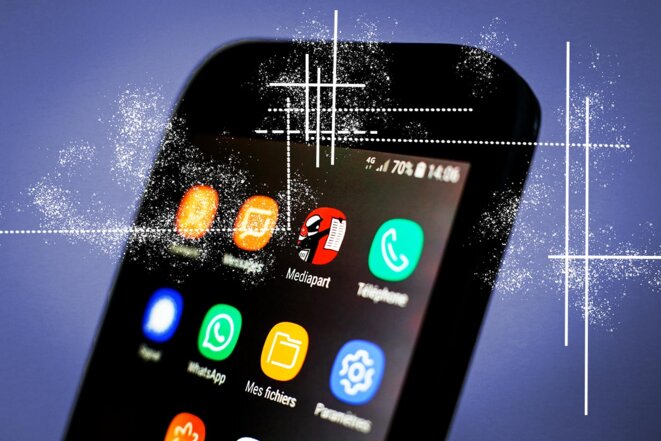 © Photo illustration Sébastien Calvet / Mediapart
Mediapart has started legal action after revelations that two of our journalists had their phone hacked with the Pegasus spyware by the Moroccan secret services. The software, made by Israeli firm NSO Group, was sold to government clients around the world and was supposedly to be used only to "fight serious crime and terrorism". But a date leak and investigations by various media around the world show that some countries drew up lists of telephone numbers that could be targeted with the spyware – and these lists include many journalists. Among them are Mediapart's co-founder and publishing editor Edwy Plenel and reporter Lénaïg Bredoux.  Analysis has shown their phones were infected with the spyware by Moroccan agents in 2019 and 2020. Mediapart has filed a formal complaint with the state prosecutor in Paris, which has now opened a criminal investigation. Meanwhile it has also emerged that French president Emmanuel Macron's phone was targeted with the spyware by Morocco in 2019.