Related keywords
At a ceremony in front of the Sorbonne University in Paris, teacher Samuel Paty, who was murdered  last Friday by an Islamic extremist for showing cartoons of prophet Muhammad to pupils in a class on civic rights, was posthumously awarded France's highest honour for civil merit, the Légion d'Honneur, by President Emmanuel Macron. 
French President Emmanuel Macron, speaking four days after a teacher was beheaded by a Muslim fundamentalist for having shown his pupils cartoons of the Prophet Mohammad, on Tuesday said 'actions will be stepped up' against Islamist extremism and announced the dissolution of a pro-Hamas group he said was 'directly implicated' in the attack.
The father of a pupil at the school where teacher Samuel Paty had shown cartoons of the Prophet Muhammad in a lesson on civic rights had exchanged mobile phone text messages with the teacher's killer before the attack in a north-west Paris suburb, according to reports on Tuesday.
The leaders of the main political parties, associations and trade unions joined demonstrations in solidarity with murdered teacher Samuel Paty on Sunday afternoon in Paris, Place de la République, and in many other cities including Lyon, Toulouse, Strasbourg, Nantes, Marseille, Lille and Bordeaux.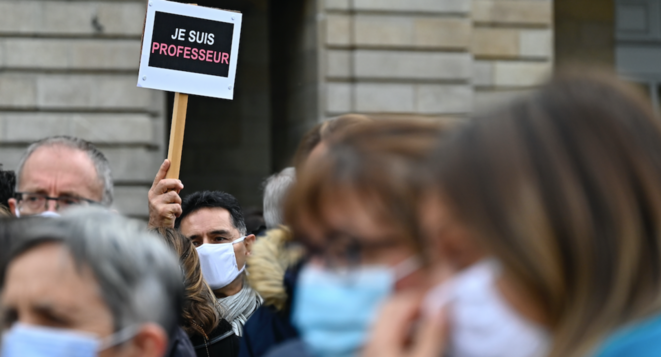 A demonstration showing solidarity with murdered teacher Samuel Paty, held at Rennes in west France on Saturday October 17th. © Bertrand Guay/AFP
A few minutes after the horrific murder of Samuel Paty near Paris, his attacker Abdoullakh Abouyezidovitch A. posted a photo of the history teacher's head on his Twitter account. Mediapart can reveal that at the end of August the 18-year-old Russian-born Chechen had also posted a photomontage of a mock decapitation. It has also emerged that several people had flagged the youth's Twitter account to the authorities in recent months. Matthieu Suc reports.