Beginning on April 4th, Mediapart has published a series of investigations into the circumstances of the 7.8-billion-euro sale by France to India of 36 Rafale fighter jets, which is clouded by suspicions of corruption on a large scale. In this short video with English subtitles, Yann Philippin explains the key results of Mediapart's investigations into this most complex story.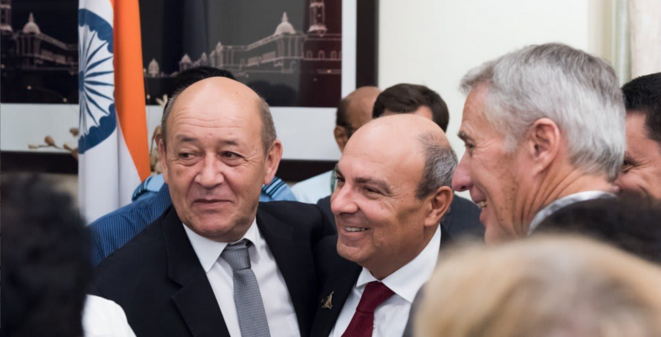 Then French defence minister Jean-Yves Le Drian (l) celebrates with Dassault CEO Dassault Aviation CEO Éric Trappier (c) the signing of the Rafale deal in September 2016. © Dassault Aviation
In this final report in a three-part investigation into the controversial sale by France to India of 36 Rafale fighter aircraft, Mediapart reveals, with hitherto unpublished documents, how an influential Indian business intermediary was secretly paid millions of euros by Rafale manufacturer Dassault Aviation and French defence electronics firm Thales. They succeeded in removing anti-corruption clauses from the fighter contract which was subsequently signed by then French defence minister, now foreign minister, Jean-Yves Le Drian. Yann Philippin reports.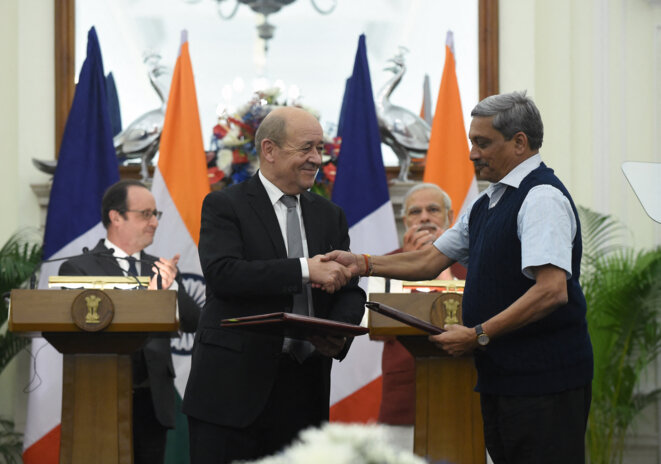 French defence minister Jean-Yves Le Drian shakes hands with his Indian counterpart Manohar Parrikar in New Delhi on January 25th 2016 during a joint press conference with Indian prime minister Narendra Modi and French president François Hollande. © Prakash Singh / AFP
In 2016 France and India signed a 7.8-billion-euro deal for the purchase of 36 Rafale jet fighters made by French defence group Dassault. Mediapart can reveal that, alongside this controversial deal, Dassault also agreed to pay one million euros to a middleman who is now under investigation in India in connection with another defence deal. The French anti-corruption agency Agence Française Anticorruption (AFA) discovered this separate arrangement during a routine audit of Dassault. The AFA nonetheless decided not to alert the prosecution authorities over the payment. This is the first part of Mediapart's investigation into a state scandal which also raises questions over the both the justice system and the political authorities. Yann Philippin reports.