Related keywords
French government seeks to criminalise sites that pose as neutral sources of information but in fact promote anti-abortion propaganda.
His rival in Right's presidential primary, Alain Juppé, has urged Fillon to 'clarify his position' on abortion ahead of Sunday's decisive poll.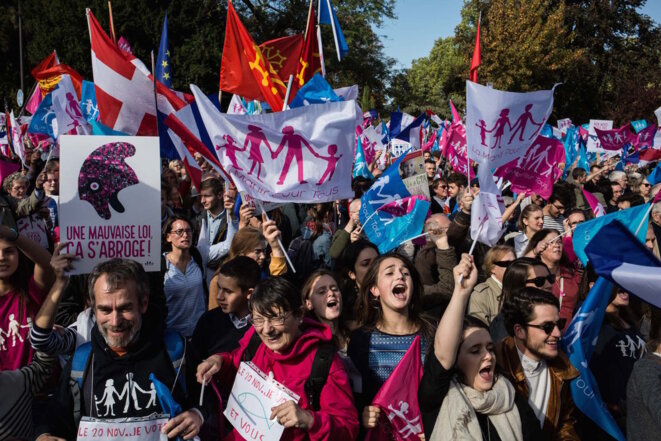 Anti-gay marriage demonstrators on the streets of Paris, Sunday October 16th. © Nicolas Serve
The movement that led opposition to France's law allowing for same-sex marriages, which was introduced in May 2013, called its supporters back on the streets of Paris on Sunday, in a test of its strength to influence conservative candidates in next year's presidential and parliamentary elections. While calling for a repeal of the law, it more realistically also targets, among other issues, adoption rights for gay couples and their access to artificial reproduction methods and surrogate pregnancy. As Lucie Delaporte reports, the largely right-wing and Catholic movement called 'La Manif Pour Tous' is, a fact unknown to many in France, part of a broad alliance of similarly-minded campaigning groups across Europe, the United States and Russia.
The proposed law will allow women to obtain an abortion at up to 12 weeks into a pregnacy, and removes requirement of being in distress.
Anti-abortion protestors claimed 40,000 rallied against a bill of law that will remove a mother's 'situation of distress' as a condition for aborting.
The French state will now reimburse 100 percent of the cost of abortions while teenage girls will be offered free and anonymous contraception.
French parliament approves law for total refund of the cost for all abortions, and to provide free contraception to girls aged between 15 and 18 years.