At a news conference with South African President Cyril Ramaphosa in Pretoria, the French head of state said Africa made up around 20% of the world's need for vaccines but only 1% of vaccine production.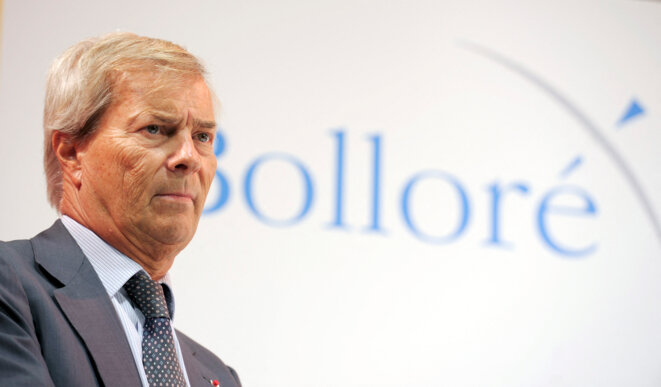 Businessman Vincent Bolloré. © Eric Piermont / AFP
The businessman had negotiated a deal with the French financial prosecution unit, the Parquet National Financier, under the terms of which he would have only received a fine of 375,000 euros over a corruption case in West Africa. But on Friday February 26th a court in Paris rejected the plea bargain agreement, ruling that it was too favourable to Vincent Bolloré, whose group has a string of economic interests in African countries. Fabrice Arfi and Yann Philippin report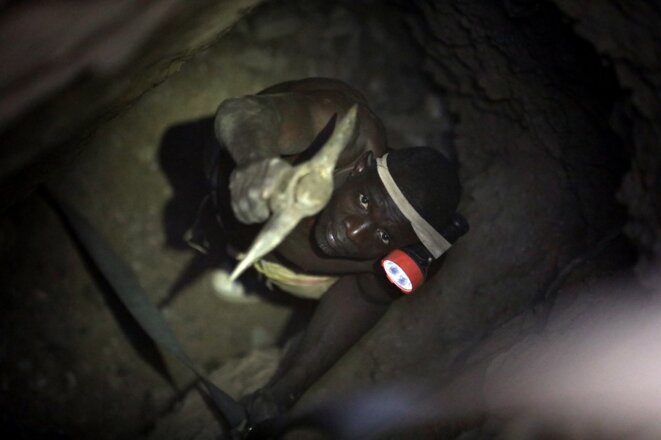 A gold mine in Nigeria in December 2019. © Kola Sulaimon/AFP
Around a quarter of the world's gold production is in Africa and extraction of the precious metal has been been stepped up as its price on world markets has increased. But a significant proportion of this mining is carried out illegally by small-scale miners and much of the gold then finds its way into the hands of criminal and armed groups across the continent before being sold in the Middle East. Fanny Pigeaud reports on attempts to clean up the sector through stronger regulations.
Souleymane Bachir Diagne, a philosopher from Senegal who is currently living and working in the United States, has spoken out about the current global health crisis and the inequalities and prejudice that it has revealed and the outdated thinking it has exposed about Africa. In an interview with Mediapart's Rachida El Azzouzi the academic discusses why so many observers still only discuss the continent through the prism of disease and disaster. Souleymane Bachir Diagne explains that despite many of them having a colonial past, developed countries of the North do not really know modern Africa and the progress it has made in recent decades. He calls on African countries and people to proclaim their achievements to the rest of the world, and talks of the need to 'decolonise' our minds.
Comments by two French health experts who suggested a vaccine for the Covid-19 coronavirus could be tested in Africa have been dismissed by World Health Organization (WHO) Director General Dr Tedros Adhanom Ghebreyesus as a 'disgrace', a hangover from the 'colonial mentality', when he also assured 'this will not happen'.
In TV debate one doctor suggested trials in Africa to see if a tuberculosis vaccine would prove effective against coronavirus.
An exhibition in Paris reveals Poland's now forgotten colonial ambitions in the 1930s. In doing so, it makes a link between past Polish attitudes to colonies and other peoples and the racist reflexes of some governments in Central and Eastern Europe today. Ludovic Lamant reports.
Discussions are now to be held over future of the CFA franc in west and central Africa, which critics say is a colonial relic
There has been a steep increase in the number of African visitors who have had their visa applications rejected by the French authorities over the last five years. According to applicants and lawyers, requests to visit France regularly get turned down for no good reason. Yet, as Fanny Pigeaud reports, a recent case in Nantes in western France shows that some visa refusals can be overturned by the courts.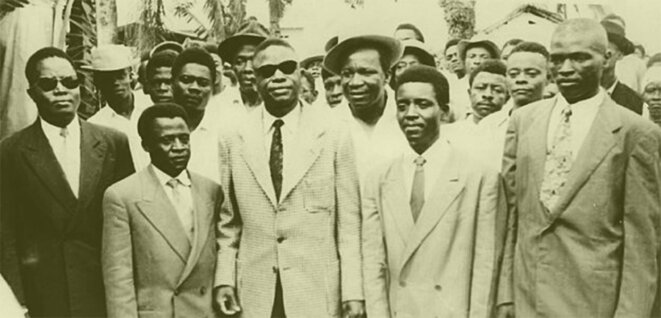 Ruben Um Nyobè, centre, in dark glasses. © DR
Ruben Um Nyobè is a symbolic figure in the story of anti-colonial resistance in Africa. A champion of independence in his native Cameroon, Nyobè was killed by the French army in 1958 after which France and its local allies sought to wipe him from the country's collective memory. In his latest album Cameroon musician Blick Bassy pays homage to Ruben Um Nyobè, his achievements and his personal struggle in an attempt to spark new interest in his life and writings. Fanny Pigeaud reports.
Populists in Italy have accused France of continuing to colonise many African states.
Report commissioned by President Macron recommends the restitution of artworks taken during France's colonial era.
After France's ambassador to Washington, Gérard Araud, wrote a letter of protest to US-based TV comedian Trevor Noah over his claim that because of the black players in France's football team 'Africa won the World Cup', Noah, a black South African, has publicly replied 'I am not saying it as a way to exclude them from their Frenchness, but using it as a way to include them in my Africanness'.
French president held talks at the 31st African Union summit taking place in Mauritania's capital Nouakchott.