Related keywords
Discussions are now to be held over future of the CFA franc in west and central Africa, which critics say is a colonial relic
There has been a steep increase in the number of African visitors who have had their visa applications rejected by the French authorities over the last five years. According to applicants and lawyers, requests to visit France regularly get turned down for no good reason. Yet, as Fanny Pigeaud reports, a recent case in Nantes in western France shows that some visa refusals can be overturned by the courts.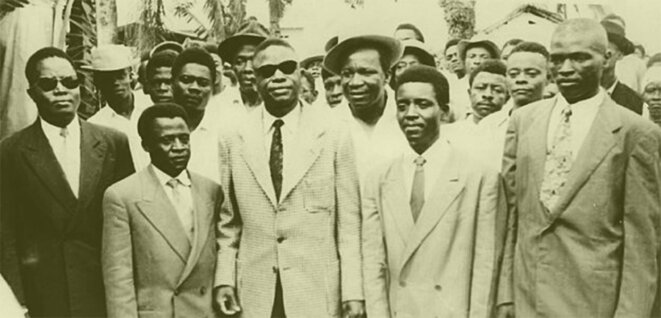 Ruben Um Nyobè, centre, in dark glasses. © DR
Ruben Um Nyobè is a symbolic figure in the story of anti-colonial resistance in Africa. A champion of independence in his native Cameroon, Nyobè was killed by the French army in 1958 after which France and its local allies sought to wipe him from the country's collective memory. In his latest album Cameroon musician Blick Bassy pays homage to Ruben Um Nyobè, his achievements and his personal struggle in an attempt to spark new interest in his life and writings. Fanny Pigeaud reports.
Populists in Italy have accused France of continuing to colonise many African states.
Report commissioned by President Macron recommends the restitution of artworks taken during France's colonial era.
After France's ambassador to Washington, Gérard Araud, wrote a letter of protest to US-based TV comedian Trevor Noah over his claim that because of the black players in France's football team 'Africa won the World Cup', Noah, a black South African, has publicly replied 'I am not saying it as a way to exclude them from their Frenchness, but using it as a way to include them in my Africanness'.
French president held talks at the 31st African Union summit taking place in Mauritania's capital Nouakchott.
The French government has appointed a French art historian and a Senegalese scholar to lead a feasibility study into an initiative by  President Emmanuel Macron to return African cultural artefacts currently held by museums in France, a move that one French historian said will 'make European curators quake in their boots'.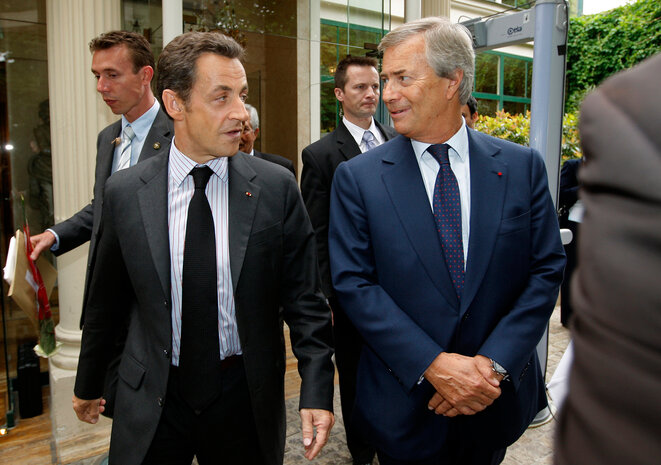 Vincent Bolloré with President Nicolas Sarkozy in March 2008. © Reuters
The French businessman Vincent Bolloré has been placed under formal investigation over the alleged corruption of foreign public officials and complicity in corruption. The probe into the well-connected businessman, who has amassed much of his fortune through his dealings in Africa, relates to how one of its companies won the concessions to run the ports at Lomé in Togo and Conakry in Guinea, and the use of his communications firm in the electoral campaigns of African leaders. Martine Orange gives the background to the allegations.
Bolloré, who has business interests in West Africa, is suspected of corrupting foreign officials and complicity in corruption, his lawyer said.
Speaking in Burkina Faso, French president pledged to shed his country's colonial attitude and forge new relationship with continent.
French President Emmanuel Macron leaves on Tuesday for visits to Burkina Faso, Ghana and Ivory Coast, officially with the aim of boosting cooperation on education, the digital economy and the environment, and ending with an EU-African-nation summit in Abidjan where migration will top the agenda.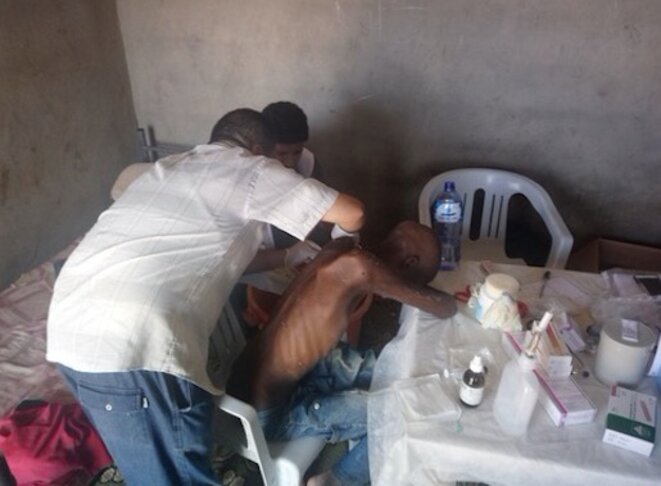 French medics treating a migrant who survived kidnapping in Libya © Aurélien Sigwalt
Behind the fate of thousands of migrants who have died while attempting to cross by sea to Europe lies the even greater tragedy of those who perish on the overland journey through Africa to reach the shores of the Mediterranean Sea, according to estimates of UN agency the International Organization for Migration (IOM). Those who survive the trying conditions of the clandestine routes north from sub-Saharan countries face further danger in Libya, where many are herded into detention centres amid appalling conditions, while others fall victim to kidnappers. Carine Fouteau reports.
Hosting the leaders of Germany, Italy, Spain, Chad, Niger and Libya in Paris, President Macron said it was time for greater coordination.