Agnès Buzyn faces investigation over  claims of "endangering the lives of others" said prosecutors, but not for a second possible offence of "failure to stop a disaster".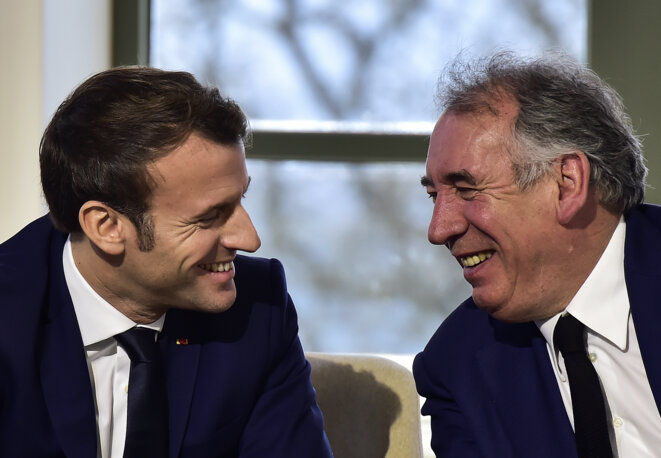 Emmanuel Macron and his political ally François Bayrou in January 2020. © AFP
As a presidential candidate Emmanuel Macron insisted he wanted to dispense with the old ways of doing politics. Yet over this summer President Macron has approved a series of appointments of loyal followers and advisers as well as political allies who have faced difficulties but whose support he may need. And as Manuel Jardinaud reports, this form of presidential patronage is exactly what French presidents have always done.
Former French prime minister Édouard Philippe, who stepped down on Friday to become mayor of the town of Le Havre, former health minister Agnès Buzyn and her successor Olivier Véran, are to be investigated over their handling of the Covid-19 virus epidemic after a special court for judging members of government over wrongdoing while in office accepted nine complaints lodged against them.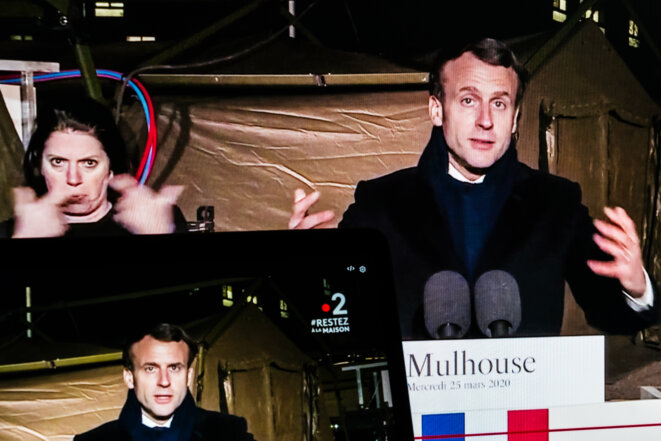 In the front line: President Emmanuel Macron has donned the mantle of a wartime leader. © AFP
The French government's public utterances during the coronavirus crisis have cruelly exposed its shortcomings, its method of thinking and the extent to which it is out of touch with events on the ground. There have been contradictory instructions, a slowness to express gratitude to those tackling the crisis on the front line, and great emphasis on the country being "at war". Inside the government, writes Mediapart political journalist Ellen Salvi, some are worried about the image the executive is giving of itself during the crisis.
French health minister Agnès Buzyn, who has been leading the national response to the coronavirus epidemic, stepped down on Sunday to become President Macron's LREM party candidate for mayor of Paris after former government spokesman Benjamin Griveaux, originally appointed for the bid, quit on Friday over revelations of a sex video he purportedly features in. 
French health minister Agnès Buzyn has announced that the country's heathcare system will stop all current partial refunds of homeopathic medecines prescribed by practitioners by 2021, following a report from the country's National Authority for Health at the end of June which concluded that there was no benefit to the medicine, saying it had "not scientifically demonstrated sufficient effectiveness to justify a reimbursement".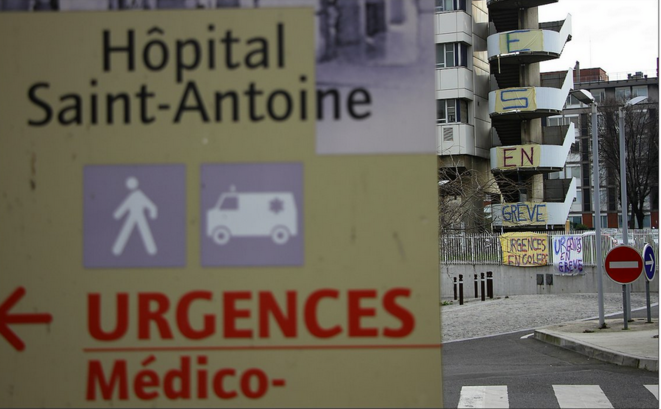 The Saint-Antoine hospital in Paris where the protest began. © DR
On May 25th some 200 emergency department nursing staff met in Paris to discuss their growing strike action, which has so far been largely ignored by the government. A national demonstration will be held in the French capital on June 6th as part of their protest over what they claim are overcrowded casualty wards, a lack of beds and a shortage of staff. Accident and emergency doctors are now also calling for a walk-out. Caroline Coq-Chodorge reports on a growing protest within the French health system.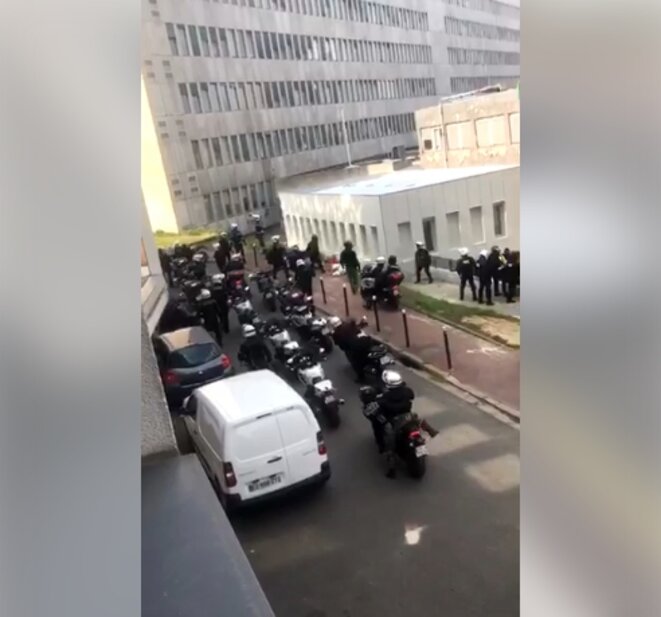 Police on motorbikes inside the grounds of Pitié-Salpêtrière hospital, May 1st 2019.
The Pitié-Salpêtrière hospital in Paris has been at the centre of a major controversy after incidents that took place there in the aftermath of this year's annual May Day demonstrations. Throughout the evening of May 1st and into the following morning, several members of the government and senior health managers in Paris insisted the well-known hospital had been "attacked" by violent demonstrators. Yet in fact there was no such attack: instead, a few dozen protestors sought refuge in the hospital's buildings to escape police tear gas and charges. There was no threatening behaviour from protestors towards hospital staff and none of them damaged the premises. However, some were later hit by the police. Now interior minister Christophe Castaner has formally retracted his use of the word "attack". Dan Israel reports.
Health minister has already announced investigation into phenomenon of babies born with no or stunted arms for which no cause has been found.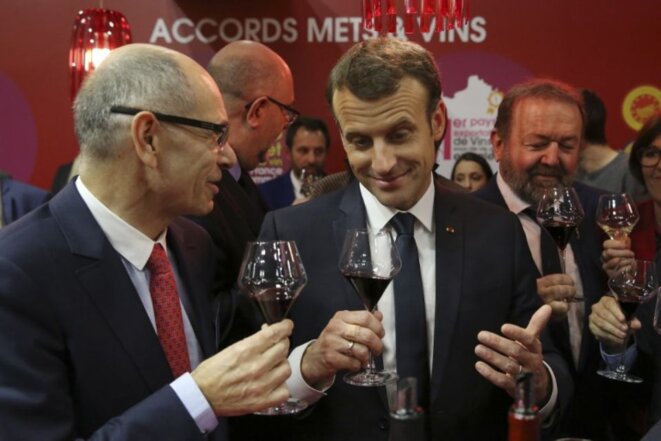 Sharing a glass: Emmanuel Macron at the Salon de l'Agriculture farming show in 2018. © Reuters
At the request of the French president's office, France's wine sector is preparing to publish a prevention plan against alcohol abuse. However, President Emmanuel Macron's advisor at the Élysée on the issue, Audrey Bourolleau, herself used to be a lobbyist for this powerful sector until last year. Yet despite this apparently glaring conflict of interest, the advisor has continued to be involved in the issue. Antton Rouget reports.