Related keywords
Bernard Cazeneuve met the US tech giants in California, asking them to work directly with French authorities to erase online terror propaganda.
French defence minister Jean-Yves Le Drian and the CEO of the jet's maker Dassault travelled to Cairo to seal the multi-billion euro deal.
The agreement announced on Saturday provides for tighter border controls and increased cooperation between French and British police.
Russian president says adoption by gay couples goes against his country's values and will seek changes in an agreement regulating adoptions.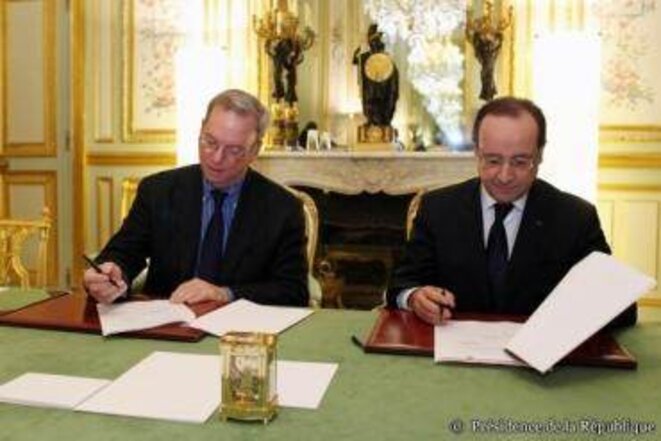 © Elysée
There was all the atmosphere of a joint press conference between heads of state when French President François Hollande and Google Executive Chairman Eric Schmidt this month announced an agreement had been reached between the US search engine giant and the French press over Google's use of article contents. Google will make a one-off payment of 60 million euros to fund development of the publishers' presence on the internet, while it will also offer to increase their online revenues using Google's advertising platforms. However, as Dan Israel and Jérôme Hourdeaux report, what was presented as a "historic" compromise is in reality a long-term victory for Google over an ailing, cash-strapped press, while the details of the deal are, curiously, to remain secret.   
France and the UK agree EU plan for the European Central Bank to supervise eurozone banks, with London taking part in decision-making process.
President Hollande walks tightrope with reforms to ease labour costs and layoff procedures, while also offering guarantees against job losses.
Google has reached what it called a "pioneering" agreement with French publishers for digitising out-of-print books, ending six years of litigation.
This article has been censored
A ruling by the Versailles court of appeal on July 4th 2013 has ordered that Mediapart must remove from its website all articles which contain extracts from the so-called 'butler tapes' at the heart of the Bettencourt affair. The penalty for not doing so is 10,000 euros per article per day (effective from July 21st). Mediapart has appealed against the ruling.