European aerospace group Airbus, citing the worldwide slump in aircraft orders caused by the Covid-19 virus pandemic, announced on Tuesday it is to axe 15,000 jobs, representing 15% of its worforce, including 5,000 posts in France where its planes are assembled.
French wine producers are demanding their government and aircraft manufacturer Airbus set up a 300 million-euro fund to compensate them over their losses from the imposition by the US of tariffs of 25 percent on a range of European exports, including wine, in retaliation for EU subsidies of Airbus, arch-rival of Boeing.
The European aerospace group is likely to pay large fines to end inquiries by Britain's SFO fraud investigation unit and other authorities.
The US is targeting tariffs at European aircraft and aerospace parts, as well a range of industries including food, wine, tractors and luxury goods,   in the first stage of a two-way battle with the European Union over subsidies received by aircraft manufacturers Airbus and Boeing.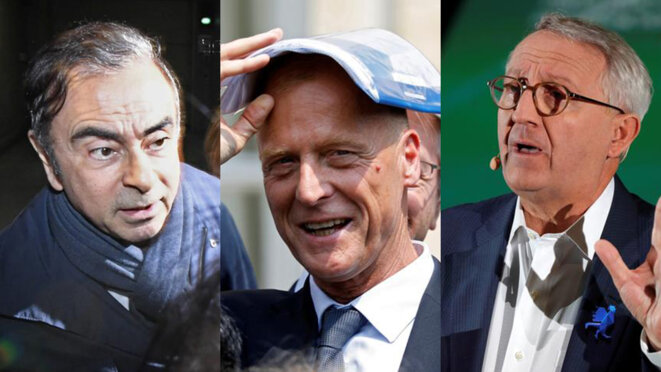 Left to right: Carlos Ghosn, formerly of Renault, Tom Enders who is leaving Airbus and Thierry Pilenko of TechnipFMC. © Reuters
Over the years there have been repeated scandals about the lavish top-up pensions awarded to the bosses of some of France's biggest firms, most recently involving Renault, Airbus and energy industry engineering firm TechnicFMC. Now, in a bid to end such controversies, the government's finance minister Bruno Le Maire is promising legislation to restrict the level of these lucrative perks. But as Mediapart's Martine Orange reports, the measure already looks as if it will be little more than window dressing.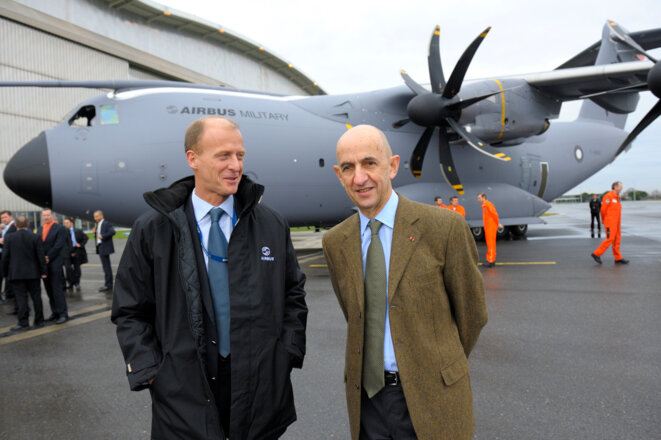 Thomas Enders, left, and Louis Gallois were joint CEOs of Airbus between 2005 and 2007. © Reuters
Secret documents obtained by Mediapart and German publication Der Spiegel show for the first time how Airbus gave direct orders to an intermediary to hand out 9.5 million euros in commissions to help clinch the sale of its aircraft in Egypt. This deal is now being examined by France's fraud prosecution unit and British fraud detectives who are carrying out a major investigation into alleged corruption by the giant European aircraft manufacturer. Yann Philippin and Virginie Le Borgne report.
French Prime Minister Edouard Philippe is at the centre of controversy over his decision to charter a luxuriously equipped Airbus plane at a cost of 350,000 euros to fly him and his staff back to France from Japan, leaving a French air force jet at his disposition to return empty, which he said was because of night-flight comfort and the need to return early to Paris before President Emmanuel Macron left on a foreign trip.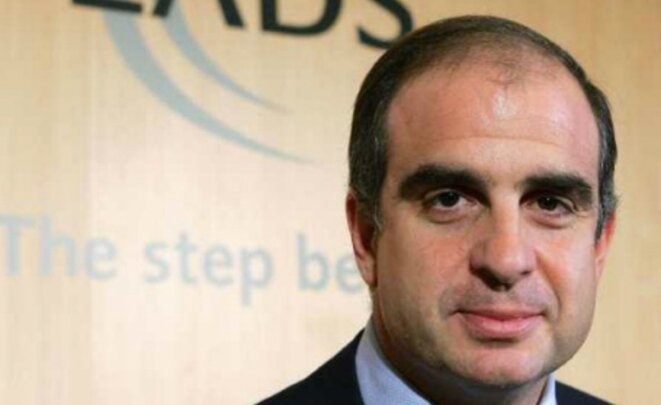 Jean-Paul Gut, director of EADS International and group strategy until June 2007. © dr
The former commercial director of EADS – now Airbus – Jean-Paul Gut, who set up the commercial and marketing system that is now at the centre of parallel corruption investigations by French and British police, received a 'golden parachute' of around 80 million euros, it can be revealed. A joint investigation by Mediapart and German weekly Der Spiegel also shows that the European aerospace group was willing to continue using Gut as a highly-paid consultant even after he left his lucrative post in 2007.

Airbus is one of Europe's flagship industrial groups.
The French and British investigations into alleged corruption at the European aerospace and defence group Airbus centre on claims that hundreds of millions of euros of hidden commissions were paid out as part of massive export deals. Here Mediapart reveals details of a secretive system which flourished inside the group for 15 years and which today threatens some of its most senior figures. Martine Orange and Yann Philippin investigate.
Airbus military aircraft division boss Fernando Alonso said he 'really' hopes that France will join development of a German-Spanish project to build a new fighter aircraft, while adding that Britain's withdrawal from the EU made it 'difficult' to envisage its involvement in the programme.
After furious reaction from France to a last-minute decision by Poland not to buy 50 Airbus-built helicopters, the Polish deputy defence minister slammed Paris for disinviting Poland from an arms fair and claimed his country taught the French how to use cutlery. 
French president said to be dismayed that Warsaw has ditched plans to buy 50 Caracal helicopters, claiming deal was not in Poland's interests.
Agreement to buy the Airbus Caracal helicopters is part of a 2.5 billion euro package of deals that the two countries agreed in October 2015.
Officials says Air France Airbus A320 was flying at 5,500 feet as it neared Charles de Gaulle airport when co-pilot noticed drone approaching.