Related keywords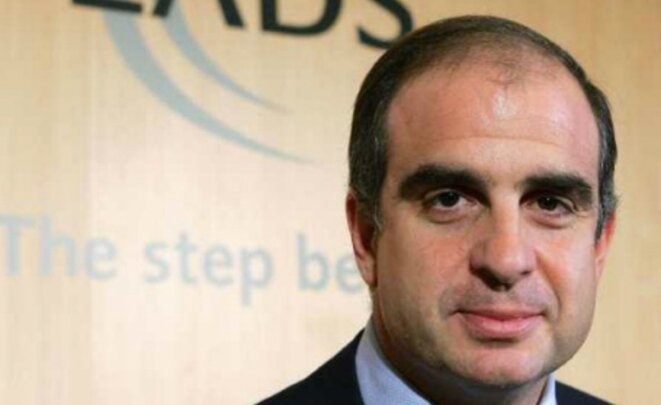 Jean-Paul Gut, director of EADS International and group strategy until June 2007. © dr
The former commercial director of EADS – now Airbus – Jean-Paul Gut, who set up the commercial and marketing system that is now at the centre of parallel corruption investigations by French and British police, received a 'golden parachute' of around 80 million euros, it can be revealed. A joint investigation by Mediapart and German weekly Der Spiegel also shows that the European aerospace group was willing to continue using Gut as a highly-paid consultant even after he left his lucrative post in 2007.

Airbus is one of Europe's flagship industrial groups.
The French and British investigations into alleged corruption at the European aerospace and defence group Airbus centre on claims that hundreds of millions of euros of hidden commissions were paid out as part of massive export deals. Here Mediapart reveals details of a secretive system which flourished inside the group for 15 years and which today threatens some of its most senior figures. Martine Orange and Yann Philippin investigate.
Airbus military aircraft division boss Fernando Alonso said he 'really' hopes that France will join development of a German-Spanish project to build a new fighter aircraft, while adding that Britain's withdrawal from the EU made it 'difficult' to envisage its involvement in the programme.
After furious reaction from France to a last-minute decision by Poland not to buy 50 Airbus-built helicopters, the Polish deputy defence minister slammed Paris for disinviting Poland from an arms fair and claimed his country taught the French how to use cutlery. 
French president said to be dismayed that Warsaw has ditched plans to buy 50 Caracal helicopters, claiming deal was not in Poland's interests.
Agreement to buy the Airbus Caracal helicopters is part of a 2.5 billion euro package of deals that the two countries agreed in October 2015.
Officials says Air France Airbus A320 was flying at 5,500 feet as it neared Charles de Gaulle airport when co-pilot noticed drone approaching.
Deal marking French automaker Peugeot's return to Iran anounced, as Iranian president's visit overcomes lunchtime wine menu disagreement.
Iranian president Hassan Rouhani expected to secure valuable trade deals following lifting of sanctions over Iran's nuclear programme.
Lancement d'Ariane 5 © Arianespace
Control of Arianespace, the pan-European company that provides commercial launch services for spacecraft, is to be handed over to a joint venture between Airbus Group and French aero-engine maker Safran. The privatisation, via a transfer of majority shares in the company held until now by the French national space studies agency, the CNES, is expected to be formally detailed at the Paris Air Show which opens on Monday. The move has accentuated mounting tensions between staff and management of the company, amid fears of job cuts and the end of a 35-year collective public adventure that spearheaded the European space industry. Martine Orange reports on the deep malaise surrounding a controversial privatisation to be underwritten by taxpayers.
The Airbus A319 landed safely at Paris Charles de Gaulle airport after reportedly developing 'technical' problems one hour into its flight.
What caused the German airliner to crash near Digne in southern France remains unknown but initial suggestions point to mechanical failure.
France has raised €707 million from a sale of part of its shares in Airbus parent EADS, the latest step to simplify the group's ownership structure.
French investigators accused of "protecting" Airbus after implicit criticism of the manufacturer was sliced from Air France Rio-Paris crash report.